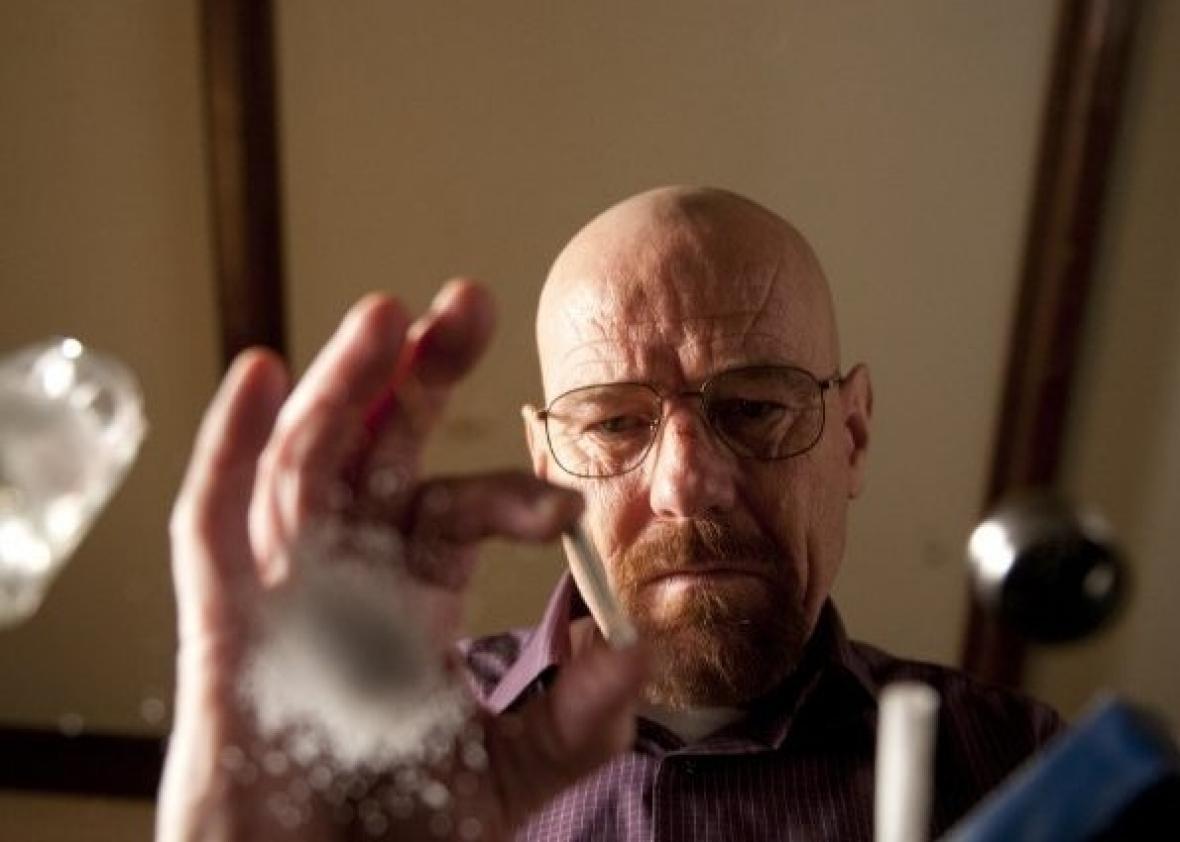 Netflix knows a lot about us—how late we're willing to stay up to finish a movie, and how many hours we're capable of sitting motionlessly entranced by a TV show, for instance. But now the company has crunched the numbers to figure out the exact episode of our favorite shows that hooked us: Netflix analyzed data for 25 shows, and found the episode within each series after which 70 percent of people continued watching for the rest of its first season. Some hook episodes come far later than others; Breaking Bad and Scandal had us at episode two, while other shows, like Mad Men and How I Met Your Mother, needed a little more time to sink their claws in.
So, according to Netflix, here are the grabbiest episodes in recent TV history:

Arrow—Episode 8: Oliver (Green Arrow) finds a potential ally in the Huntress, and begins to train her. But her thirst for vengeance leads the Huntress to kill the leader of a Chinese crime organization.

Bates Motel—Episode 2: Norman Bates' half brother/cousin Dylan begins raising hell at home, insulting their mother and spurring Norman to fight with him.  
Better Call Saul—Episode 4: Jimmy (Saul) stages a publicity stunt to get new clients by "rescuing" a precariously dangling worker.
Bloodline—Episode 4: Danny, the oldest Rayburn son and usually a black sheep, settles in at the inn. John (the second eldest Rayburn son) and Marco (fiancé of Meg Rayburn, Danny and John's little sister) find a burned boat.
BoJack Horseman—Episode 5: BoJack and Diane (BoJack's autobiography ghostwriter) go on a business trip, and BoJack's couch-squatter Todd begins to show BoJack's house to paying tourists who think it's David Boreanaz's house.
Breaking Bad—Episode 2: Walt and Jesse have to figure out how to dispose of the bodies of Emilio Koyama and Krazy 8, while Skyler grows increasingly suspicious.
Dexter—Episode 3: The Ice Truck Killer's next victim is found at a hockey rink. Lt. Laguerta calls for the investigation of a security guard, whom they suspect might be the culprit.
Gossip Girl—Episode 3: As Ivy League reps flood the school and tensions rise between best friends/rivals Serena and Blair, Blair turns to her perpetual partner in crime, Chuck, to discover a juicy secret about Serena.
Grace & Frankie—Episode 4: Grace and Frankie are reunited with their exes (who are now together), Robert and Sol, for the first time in public at a funeral.
House of Cards—Episode 3: A crisis in his home district draws Frank away from union negotiations, as Zoe's growing career as a journalist presents its own knotty politics—she has become a much-sought-after TV news guest, which begins to frustrate her editor-in-chief.
How I Met Your Mother—Episode 8: When Lily and Marshall move in together, Ted worries he might be becoming a third wheel in his own apartment—and begins to express his frustration as passive aggressively as possible until he and Marshall decide to settle it with a duel, using the swords on the wall.
Mad Men—Episode 6: Peggy is frustrated to find she's excluded from the execs' after-hours meetings, and tries to find a way in. Meanwhile, Don and Duck struggle to get along.
Marco Polo—Episode 3: Marco attempts to figure out the mysterious Blue Princess, as political tensions move to the forefront.
Marvel's Daredevil—Episode 5: Matt Murdock (Daredevil) and his best friend/law partner Foggy Nelson take on a new case.  Meanwhile, villainous businessman Wilson Fisk has some scary plans for Hell's Kitchen.
Once Upon a Time—Episode 6: Charming's life gets fleshed out through flashbacks, as David is forced to choose between his wife Kathryn, and Mary Margaret, with whom he's fallen in love.
Orange is the New Black—Episode 3: A bizarre inmate named "Crazy Eyes" (aka Suzanne) has taken a special interest in Piper—and begins a misguided attempt to woo her.
Pretty Little Liars—Episode 4: The girls unite in an attempt to deal with "A," but it doesn't work.
Scandal—Episode 2: Olivia (Kerry Washington) turns her focus to a new client under investigation who needs protection. President Grant nominates his first Supreme Court justice—who is no stranger to Olivia's most recent client. Meanwhile, a reporter approaches Quinn at the hospital for information, causing him some problems of his own.
Sense8—Episode 3: The Sensates find that their power is necessary to survive.
Sons of Anarchy—Episode 2: Jax (Charlie Hunnam) has an idea to keep the new deputy police chief off the Sons of Anarchy Motorcycle Club's tails.
Suits—Episode 2: The judge in Harvey's patent case has a personal vendetta against him (because he insists Harvey had an affair with his wife), while Pearson Specter Litt partner Louis Litt tries to blackmail junior partner Mike Ross into smoking pot with fantasy football mogul Tom Keller, in the hopes of bringing him in as a client.
The Blacklist—Episode 6: The next name on the Blacklist is a beautiful but lethal corporate terrorist, Gina Zanetakos.
The Killing—Episode 2: To kick off the murder investigation, Sarah Linden and Stephen Holder question the deceased Rosie Larsen's parents, her companions, and City Councilman Darren Richmond.
The Walking Dead—Episode 2: Sheriff Deputy Rick Grimes and a few members of the group manage to make contact with the rest of their group. All of the stranded members—except for one, who is left trapped—make their escape.
Unbreakable Kimmy Schmidt—Episode 4: Kimmy's boss Jacqueline Voorhees introduces her to her plastic surgeon, while Titus auditions for a Spider-Man musical.
---