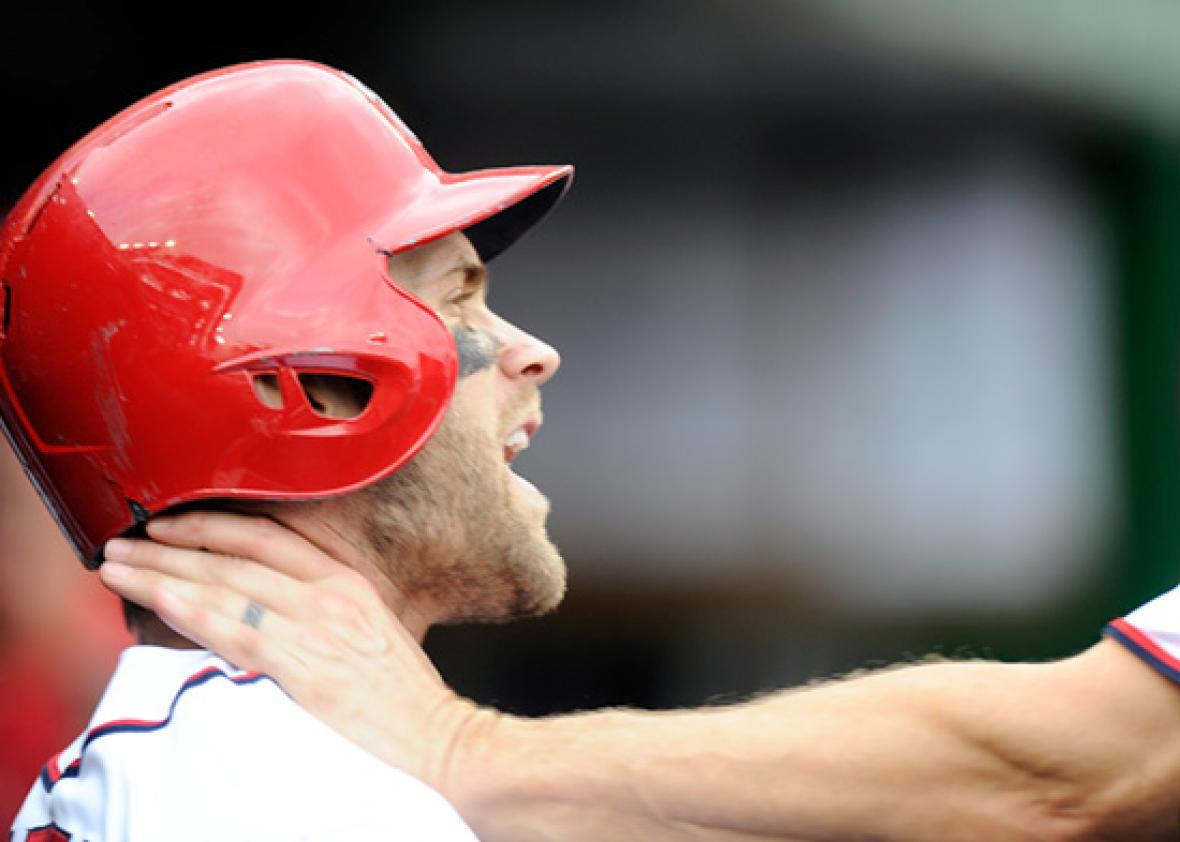 On Sunday, the Washington Nationals' disastrous season reached a new low when All-Star closer and noted jerk Jonathan Papelbon attacked his superstar teammate Bryce Harper in the Nationals' dugout. The skirmish began after Papelbon became demonstrably annoyed that the 22-year-old Harper—the presumptive National League MVP—failed to run out a pop fly to the relief pitcher's liking. Harper retorted that he would be happy to "fight [Papelbon] right now," and Papelbon took him up on the offer. The next inning, Papelbon promptly surrendered a two-run homer.
Today, the Nationals suspended Papelbon for four games for his role in the altercation; with those missed games added to a previous three-game suspension, he won't pitch for the Nationals again this year, and some think that the separation should be made permanent. Papelbon makes $13 million dollars, has 349 career saves, and is acclaimed as one of the best high-leverage relievers in baseball. The Nationals have already picked up his $11 million option for 2016. Yet many commentators are suggesting that the Nationals would be better off without him. The question the Nationals now have to decide: Has Papelbon crossed the Rocker Line?
The Rocker Line is my name for the point at which a jerky yet effective relief pitcher outlives his usefulness to his team. It's named for former Atlanta closer John Rocker. The Braves star was coming off a season in which he recorded 38 saves, 104 strikeouts, and a 2.49 ERA in 72 ⅓ innings when, in a December 1999 Sports Illustrated story, he called one of his black teammates "a fat monkey" and proceeded to disparage Asians, foreigners, gay people, young mothers, bad drivers, and Mets fans. Though Rocker was only 25 years old when the Sports Illustrated story appeared, the piece essentially ended his major league career; he was traded to Cleveland in 2001, was out of baseball by 2004, and these days occasionally pops up in Cooperstown on Hall of Fame induction weekends selling T-shirts emblazoned with the slogan "Speak English."
Rocker was neither the first nor the last temperamental reliever whose bad behavior has overshadowed his pitching ability. In fact, the unhinged closer is such a trope that it inspired not one but two of the best fictional baseball characters of all time. One noteworthy early example of a player crossing the Rocker Line comes from before Rocker was even born. "Playboy pitcher" Bo Belinsky played for five different teams from 1962 to 1970, going from the starting rotation to the bullpen to the unemployment office as team after team grew tired of his bibulous pugnacity. "Bo was suspended, arrested, banished to the minor leagues, traded, and traded again and again," Pat Jordan wrote for Deadspin in 2011. "He never had that knack of later, more beloved playboy athletes like Joe Namath of cultivating his persona precisely up to, but not beyond, that point at which his public would become annoyed, bored, and eventually furious with him."
During a 17-year big league career that ended in 2009, the relief pitcher Julián Tavárez pitched for 11 different teams and wore out his welcome at each stop thanks to his fondness for throwing at former teammates, disparaging homosexuals, body-slamming umpires, fighting opposing players during spring training, and injuring himself after punching inanimate objects. "Távarez is exactly the sort of ignorant asshole that fans just love to watch fail," wrote one blogger in a 2007 post deeming Tavárez one of the worst Cubs in recent memory.
Failed prospects and journeymen aren't the only players who cross the Rocker Line, though. In 2008, 26-year-old Francisco "K-Rod" Rodríguez set a major league single-season record by saving 62 games for the Los Angeles Angels of Anaheim. But he was apparently a big enough jerk that, during that year's All-Star Game, fellow American League closer Mariano Rivera allegedly requested a locker as far away from Rodríguez as possible, so that he wouldn't have to deal with the young player's antics. In 2009, Rodríguez signed with the New York Mets, and over the next two-and-a-half seasons recorded 83 saves and a 3.05 ERA; he also picked fights with opposing players and his own coaches, was brought up on domestic violence charges, and "suffered a torn ligament in his right thumb while allegedly striking the grandfather of his children," as ESPN's Adam Rubin put it. In July 2011, the exasperated Mets traded Rodríguez to Milwaukee for cash and two players to be named later; although those two players would go on to log just eight cumulative innings with the team, the Mets still probably won the trade.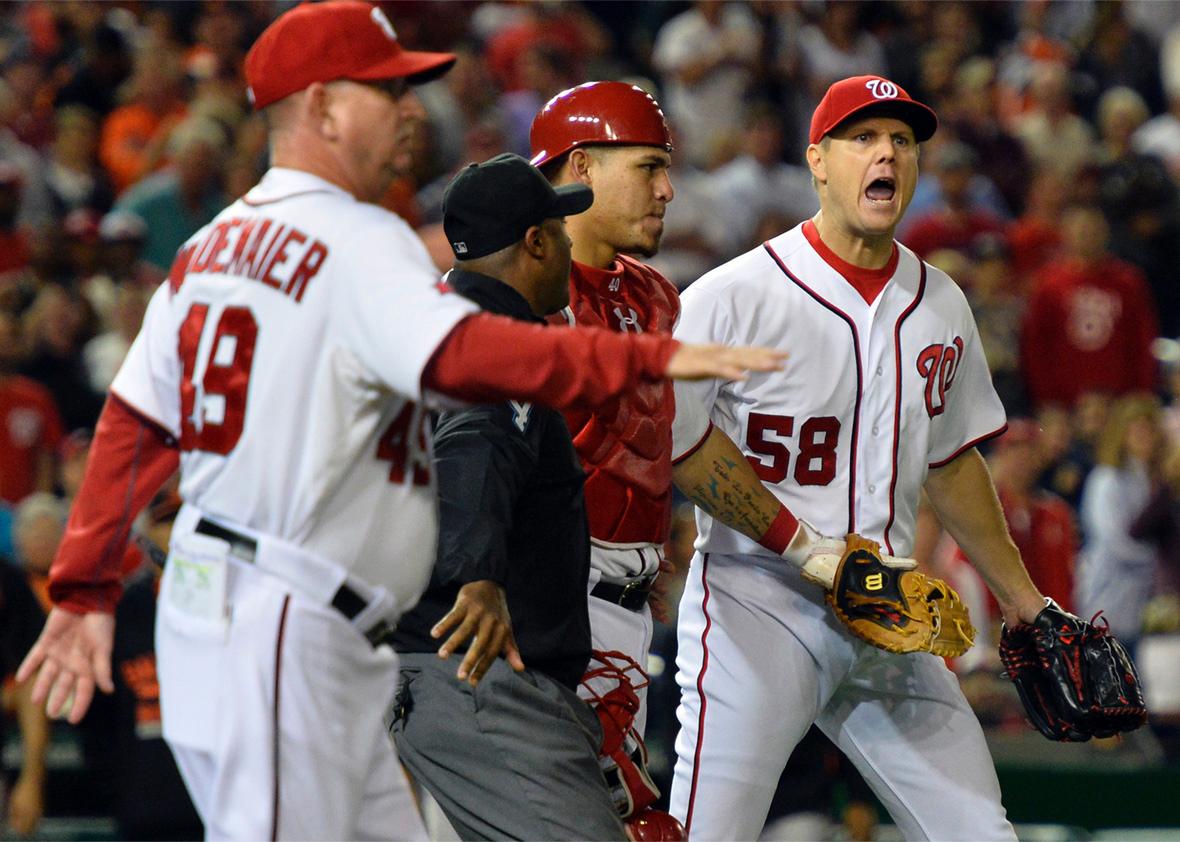 Papelbon is a pitcher in the Rodríguez mold: a talented player who is easy to dislike. He began this season with the Philadelphia Phillies and was traded to Washington after publicly complaining about how much he hated playing for Philadelphia. He supplanted the Nationals' existing closer, Drew Storen, a well-liked player who took the demotion poorly. Papelbon continued to badmouth his former team after coming to Washington, claiming that he had been "one of the few [Phillies] that wanted to actually win." Papelbon is the sort of player who thinks that he plays the game the right way and thus is obliged to speak out against those players who don't. Earlier this month, Papelbon threw a ball at the head of Orioles star Manny Machado after Machado had stopped to admire one of his own home runs earlier in the game. The incident landed Papelbon a three-game suspension, and it also annoyed Bryce Harper, who rightly feared that, as the Nationals' biggest star, he would soon become the object of the Orioles' retaliation.
Papelbon made the All-Star team this year, and that's a big reason why he continues to get chances: He's still a very good pitcher. But the contracts will probably stop coming as soon as his skills start to show the least bit of deterioration. John Rocker's early exit from baseball corresponded to a sharp performance decline; after leaving the Braves, he posted a 6.00 cumulative ERA with three teams over parts of three seasons. But it's also the case that notably jerky players have less margin for error than their more genial counterparts. In a 2005 Sporting News article on the topic, former Tigers reliever Todd Jones wrote that "If you're a good player and you're a jerk, it's like all of baseball makes a mental note of the fact that you're a jerk. The minute your skills diminish, you're done—whether you're a cleanup hitter, a front-line starter or a premier closer."
This is especially true for relief pitchers like Papelbon, who are usually among the most fungible players on a baseball team's roster. Some sabermetricians used to say that literally any effective relief pitcher could be a closer. That assertion hasn't really been proved true, but it is true that there are plenty of freely available fair-to-middling relievers out there who aren't abrasive jerks. The Nationals wouldn't have to look very hard to find a replacement-level pitcher who could match Papelbon in posting a negative Wins Above Replacement and surrendering ninth-inning home runs to scrubs like Andres Blanco.
"You've played 63 innings this year," said former big leaguer Mark DeRosa this morning on MLB Central, referring to Papelbon. "You're toe-stepping a guy who's played in 1,262 innings, who's hitting .336 with 41 homers, is gonna be the National League MVP, and you're questioning whether or not he goes to the post every day. That's tired, OK? No reliever should tell a position player anything about hustle." It's certainly possible that Bryce Harper needs to run a little bit harder on pop-ups and other presumed outs. But he needs to hear that message from his manager, not from a dyspeptic clubhouse cancer whose big mouth writes checks that his on-field performance can't cash.
---