Disney has come a long way from its '60s rendition of sweet little Mowgli and his gaggle of jungle friends. In this first trailer for Disney's live-action film The Jungle Book, Mowgli (played by Neel Sethi) spends most of his time running for his life. The trailer begins with Scarlett Johansson, who voices a conniving cobra named Kaa, crooning to Mowgli about his origins. Her voiceover continues through shots of Mowgli riding Baloo the bear (Bill Murray), backing away from a herd of elephants, and running from the tiger Shere Khan (Idris Elba) and the orangutan King Louie (Christopher Walken), respectively. 
Directed by Jon Favreau, the film tells the story of Mowgli's flight through the jungle from Shere Khan, a tiger who's been hunted and wounded by men, and who wants to kill Mowgli now he's beginning to resemble one. He's guided by a panther named Bagheera (Ben Kingsley) and, of course, by Baloo. (Lupita Nyong'o plays his protective wolf mother.)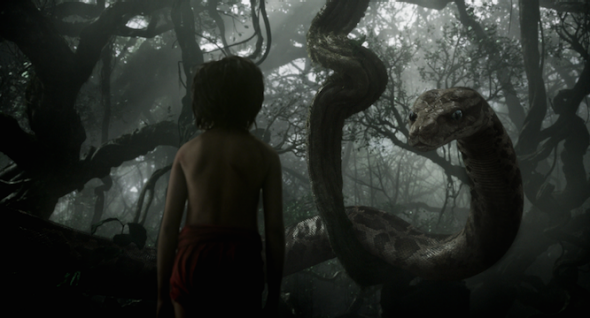 Perhaps the most remarkable part of the new Jungle Book is that, during filming, Sethi was running from nothing. The film is a CG and live-action hybrid—the jungle animals and environment were all computer-generated and fused with Sethi's performance. The effect is a lush, hyper-real rainforest filled with larger-than-life creatures that aren't afraid to make eye contact.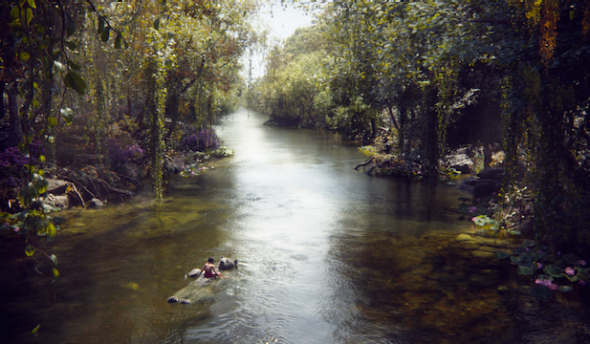 ---