The media loves publishing's Cinderella stories, whether it's single mom J.K. Rowling scribbling her way to fame and fortune in an Edinburgh coffee shop, or a literary novelist like Cormac McCarthy whose decades of hard work and modest acclaim suddenly blossom into a series of best-sellers. But what about the many gifted writers for whom the stars don't miraculously align, the ones apparently headed for glory who somehow get sidetracked, who publish the wrong book at the right time (or vice-versa)? And what marvelous books do readers miss out on when a literary career falters?
Only five years ago, the British novelist Scarlett Thomas seemed poised to break out in the United States. Her fourth literary novel, The End of Mr. Y, published in 2006, had been a cult hit, championed by book bloggers, compared to The Matrix and the novels of Umberto Eco, praised in the New York Times as a "smart, stylish and dizzying" exhibition of Thomas' "ample storytelling ability." Thomas' next novel, Our Tragic Universe, got the full-court press, stateside: A gorgeous, slip-covered advance reader's copy for the press and the book trade, its page edges dyed an inky black, sporting a gilded cover illustration that embodied the whirling, idea-driven nature of Thomas narratives. To launch Our Tragic Universe and present Thomas to the American press as a novelist of import, Harcourt brought her to New York for a luncheon well-attended by reporters and critics. (Being a big fan of The End of Mr. Y, I jumped at the chance.)
Just a few years later, Thomas' most recent novel, The Seed Collectors, has been out for months in the U.K., but has no U.S. publisher. So what happened? How did the career of a novelist as smart, talented, inventive, and diverting as Scarlett Thomas end up stumbling in the U.S.? The answer to that question has to do with how literary careers acquire (or fritter away) momentum, with broad differences in taste between the two nations—and with luck.
The fate of most books is a fragile thing; readers and the media get distracted easily. Any author's beloved brainchild is more likely than not to slip through the cracks because it came out on the eve of a huge news event, or when the reading public was preoccupied with some other time-devouring darling, whether it be by George R.R. Martin, Karl Ove Knausgaard, or Elena Ferrante. If a novel does seize that fickle attention, it had better deliver on its promises, or the author may never get a second chance. Even when a novelist scores a big hit, the book that follows it isn't guaranteed anything more than an advantage in garnering review attention. Pop quiz: Can you name the titles of the novels that Alice Sebold, Yann Martel, Mark Haddon, and Patrick Suskind published after The Lovely Bones, The Life of Pi, The Curious Incident of the Dog in the Night-Time, and Perfume?
Some novelists pivot brilliantly. Kate Atkinson wrote three well-received, somewhat experimental novels before 2000, one of which won Britain's prestigious Whitbread Award, but her sales, particularly in the U.S., were tapering off. Then, in 2006, she published the first in a series of four genre-bending mysteries featuring the private detective Jackson Brodie. These proved so popular that Atkinson's next literary novel, Life After Life, followed them onto the best-seller list despite its unconventional narrative structure.
It also helped that Life After Life was Atkinson's masterpiece: a surefooted and gorgeous exploration of chance, time, and the limits that circumscribe any individual life. I enjoyed Our Tragic Universe, but not so much so that I can't see why it failed to capitalize on the success of The End of Mr. Y. But I've also read The Seed Collectors and found it witty, profound, bracingly unsentimental, brimming with imaginative energy and great writing. It might just redeem Thomas in the eyes of many American readers, and win her some new fans—that is, if they ever get the chance to read it. 
Before she turned to literary fiction, Thomas wrote three mysteries featuring a sleuth who was also a lecturer in English literature. Her literary novels often introduce the most extravagant genre tropes into the mundane lives of their young, overeducated, underpaid characters, people who speculate about the nature of the cosmos and how our understanding of it affects our desire to sit on the sofa eating pizza. In The End of Mr. Y, the narrator, Ariel Manto (an anagram for "I am not real"), discovers a copy of a famously rare, cursed book by the Victorian writer who's the subject of her thesis, a work reputed to kill everyone who reads it. From it, she learns how to make a homeopathic potion that allows her access to an alternate dimension of this universe. The form of the plot, with its precipitous opening-up into a previously unimagined realm, mirrors the huge expansion of understanding brought on by the metaphysical ideas that mesmerize its author: infinity, consciousness, eternity.
In this respect, the contemporary novelist Thomas most resembles is Haruki Murakami, but where Murakami's loner-everyman heroes have a smoothed, generalized quality, Thomas' narrators are spiky, cantankerous, and self-defeating. Mr. Y is also the kind of novel that would beguile some of the enormous readership that faithfully follows David Mitchell. But where Mitchell has an untroubled relationship with the devices he borrows from genre science fiction and fantasy (a bit too untroubled, to judge from the very creaky finale of last year's The Bone Clocks), Thomas does not. 
"I started my career writing formulaic fiction," Thomas told the website Bookslut in 2007, "where my editor even went so far as to remind me of the 'rules' I should be following. I was writing this inauthentic claptrap that was superficially about pain but was really the furthest thing from real pain and confusion." Her follow-up to The End of Mr. Y vented some of her frustration with those rules and the various popular recipes for how to construct stories, from Aristotle's theory of tragedy to Joseph Campbell's hero's journey. Meg, the narrator of Our Tragic Universe, is another of Thomas' broke young women, living in the picturesque seaside town of Dartmouth, unable to extract herself from a relationship with a guy whose family has, with ample justification, nicknamed him Eeyore. Meg writes series YA mysteries and science fiction under various pseudonyms while starting and deleting her "real novel" dozens of times. For extra cash, she agrees to pen a stunt piece for a newspaper in which she will follow, and make fun of, the regimens recommended in some New Agey self-help and pop-science books.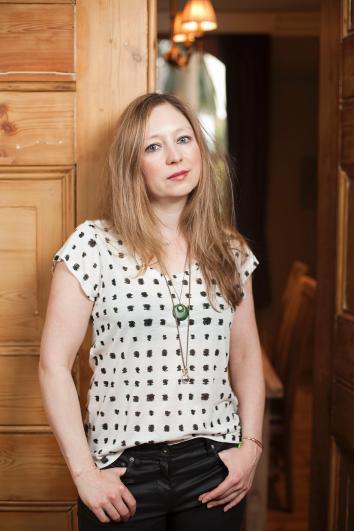 Our Tragic Universe is an attempt to point out how inadequate most stories are at accounting for the reality of our lives. Meg spends much of the book walking her dog, knitting with friends, humoring her boyfriend, wondering what to make for dinner, and hoping to run into her crush, a much older married man. Strange events, some of them apparently triggered by her research for the newspaper story, begin to seep in from the edges of this picture, but for much of the novel, Thomas deliberately avoids introducing the sort of mechanical crises, complications, and adventures that would make the proceedings more conventionally exciting. The characters themselves complain about how artificial and predictable most stories are. In short, it's a book about stories that tries mightily to avoid telling a story—or at least not the kind of story Thomas was once ordered to crank out.
You can see why Thomas might want to write a novel like this. It's harder to see why masses of people would want to read it, especially if they have been primed for thrills by the mind-blowing escapades of The End of Mr. Y. A writer writes the book she needs to write at the time she needs to write it, and it makes no sense to fault an artist for doing what feels necessary. But timing does matter. Thomas' American publisher did the best they could for the book, although Thomas (who confessed at the luncheon I attended that she suffered from a fear of flying) wasn't able to travel the United States on a publicity tour when it was published. Friends I'd persuaded to read Our Tragic Universe on the basis of my enthusiasm for The End of Mr. Y complained that "nothing happened" in the novel. Thomas' nascent American following failed to grow. 
In an email, Francis Bickmore, publishing director of Thomas' U.K. publisher, Canongate, mentioned reviews comparing The Seed Collectors to the work of Muriel Spark and Iris Murdoch. "One wonders," he wrote, "whether in today's more risk-averse market Spark and Murdoch would get deals themselves if they were writing now." Thomas herself, on Twitter, attributes her difficulty selling the American rights for The Seed Collectors to the book being "Too weird, British, far too much sex, 'unlikeable' characters who drink too much."*
It's true that The Seed Collectors has the sort of sharp, satirical edge that seldom lands well with earnest American readers. (It's remarkable how often complaints that a novel's characters are "unlikeable" come down to this national discomfort with satire.) The story concerns a tangled extended family of distinguished botanists and their descendants, several of whom were orphaned when their parents set out for a Pacific island in search of a fabled plant with tremendous and possibly fatal mind-altering properties, never to return. There is a lot of sex, much of it not very nice, and one of the characters in particular wages an endless and doomed (but also quite funny) battle against her rampant appetites for food, wine, and high-end toiletries.
Still, each of these flawed people is exquisitely drawn, from a man whose infertility triggers a cascade of cranky masculine self-doubt to a teenage girl whose ambition to become a tennis champion gets derailed by an incipient eating disorder. Thomas' metaphors sing: "What is it about the first sip of a crisp Sauvignon Blanc on a mild spring day? It's like drinking a field of cold, slightly shivery flowers." Occasionally, and gloriously, the point of view shifts to a robin, whose lingo is vaguely Chaucerian. When he gets a nibble of one of the clan's rare, intoxicating plants, his "flight is swipping and meteorous and he does not need to visit the bird table at all. He is wick! He is fire-swift! He can also sit in stilth and ro for longtime and mull, and for a time he forgets about the sparrowhawks and pussy cats and the long grey squirrel."
The Seed Collectors strikes me as Thomas' most accomplished novel yet. Her prose is better than ever. She's expanded her sympathies beyond the preoccupations of cerebral grad students and restrained her tendency to wander too far off into the margins of the cosmos. Yet she's kept the philosophical bent of her earlier work; hers will never be mere comedies of manners. There is a question at the heart of this novel, one that I won't spoil, that captures the paradox of being human.
True, American readers have long preferred that our speculative novels of ideas come from men, while demanding that female authors be nicer to their characters. But that is changing, and female novelists ranging from Jennifer Egan to Rachel Kushner to Claire Messud have coaxed open many minds since Our Tragic Universe was published five years ago. It's not just that Scarlett Thomas deserves another chance with American readers: American readers deserve another chance with her. Which lucky publishing house will be the one to give it to us?
Correction, Sept. 10, 2015: This article originally misidentified Francis Bickmore as the director of the publishing house Canongate. Bickmore is the publishing director of Canongate. It also misidentified him as a woman, he is a man. (Return.)
—
The Seed Collectors by Scarlett Thomas. Canongate (U.K.).
See all the pieces in the Slate Book Review.
Sign up for the Slate Book Review monthly newsletter.