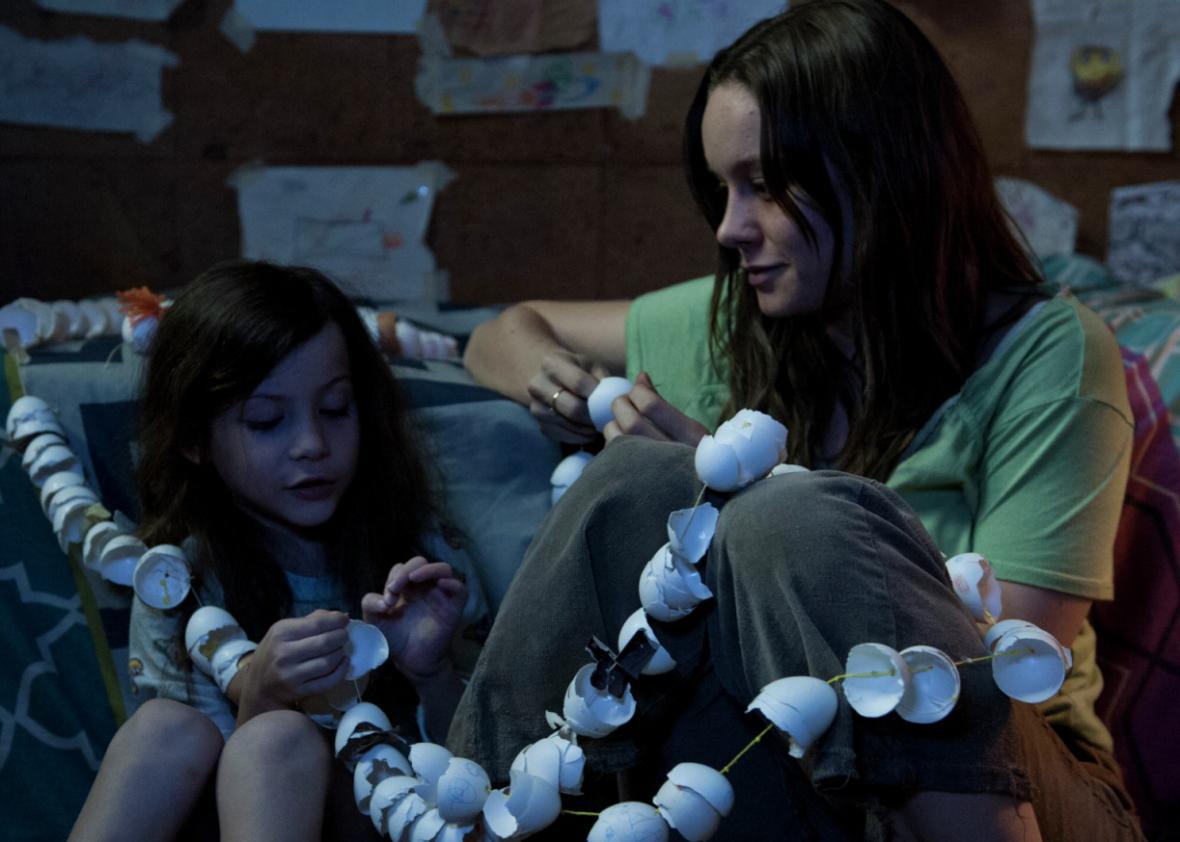 In Room, based on Emma Donoghue's 2010 novel of the same name, Ma (Brie Larson) and her 5-year-old son, Jack (Jacob Tremblay), have been held captive in a shed since before Jack was born. After seven years in isolation and with no connection to the outside world save a television and a skylight, Ma decides that it's finally time to try to break out. Director Lenny Abrahamson's film, which will come to theaters October 16, is screening at the Toronto International Film Festival throughout the week .  
In a festival press conference Monday afternoon, Larson discussed a specific memory from her childhood that helped tap her into the intense mother-child dynamic that drives the film. When Larson was 7, she moved with her mother and younger sister from Sacramento to Los Angeles. They lived in a studio apartment, "a little bit bigger than in Room," she said, "but the bed came out of the wall." While they all had just a few spare items and her mom could only afford for them to eat Ramen, she remembers those times as some of the "greatest" in her life.
I was so happy—my mom has this incredible imagination and she instilled so much life in that space that I never felt like I was lacking, and I didn't realize that we didn't have anything. And there was one moment that I also remembered in the silence, that really struck me and moved me very deeply: we would all three sleep in that same bed that came out of the wall, and I remember waking up in the middle of the night to my mom, her hands over her mouth, trying to be quiet, but just sobbing uncontrollably, convulsions, sobbing, shaking, and I didn't know why. And I remember thinking it was like a toy was taken away from me. And I didn't realize until many years later that my father had asked for a divorce and that's why we had moved to Los Angeles and she was dealing with it completely alone, but had created this world of imagination with me and my sister. So sometimes you never really fully understand why you're attracted to a project until you start getting deeper into it.
Much of what Larson described is translated onto the screen—as novelist Emma Donoghue noted at another point during the press conference, despite the horrifying circumstances, Jack is never not loved in the story. "He's getting the best-case scenario of intense, 24-hours-a-day mother love," the author said. "Anyone who thought the story was dark at first, they kind of find their way through the dark tunnels to the light." 
---