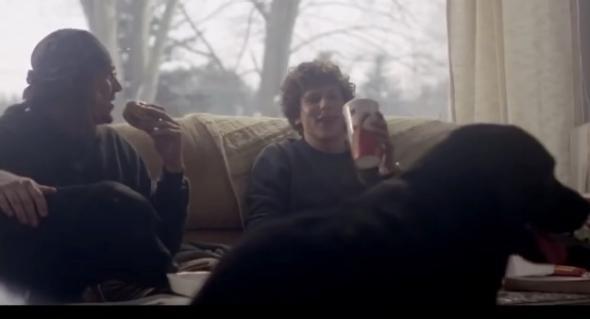 Hardly anyone or anything in David Foster Wallace's life was more important to him than his two black mixed-breeds, Drone and Jeeves. Comparing living with dogs to living with women, he once said: "It's just much easier having dogs. You don't get laid, but you also don't get the feeling you're hurting their feelings all the time." So it's appropriate that DFW's dogs are a highlight of The End of the Tour, the new film based on his book-length conversation with journalist David Lipsky. In the movie, Drone and Jeeves are energetically portrayed by two Grand Rapids-based black labs named, in real life, Quincy and Takoda. Slate talked to Melissa Simpson, the dog trainer for End of the Tour, about how the dogs were cast, how they got into character, and whether they liked working with Jason Segel.
The two dogs in End of the Tour are true scene-stealers. How did they get cast in this movie?
Well, I live in Grand Rapids, Michigan, where they filmed the movie, and I'm a dog trainer here. I was contacted by a talent agency looking to hire somebody to work on the movie set. On my website I had a picture of myself with my dogs.
In the past, when local advertisers and marketing firms have contacted me, usually they want goldens and yellow labs. You don't get a lot of people asking for dark-colored dogs. Everybody wants Air Bud.
But they were interested because I had two black dogs. They asked for my resume and my dogs' credentials.
Dogs have credentials?
They wanted to know whether they'd had any training and whether they'd ever been in commercials or anything like that. They had not. But being the pet dogs of a dog trainer they are very well-trained.
I can imagine casting the dogs was a big decision, since Drone and Jeeves were so important to the real David Foster Wallace. Did your dogs have to audition at all?
They wanted to know things about the dogs' personalities. Some dogs can be kind of standoffish. They wanted to know: are they friendly around strangers, are they loving, are they trainable? The director, James Ponsoldt, wanted dogs that were very friendly and very goofy.
When James met Takoda for the first time, Takoda offered him his paw to shake hands and say hello and then flipped over on his back for a belly rub. So James was sold right then and there. They also had us come down and meet Jason, and the dogs were really showing off all their best moves.
There were a few other dogs at the production office. James was supposed to meet all the dogs and pick the ones he wanted. Our dogs hogged his attention. I was like, I hope they aren't being rude.
How'd they get along with Jason Segel?
Really well. He came into the room to meet us for the first time at the production office and he was in full costume, and they just went right up to him and started giving him kisses.
He especially took to my older dog, Takoda. The first day of filming we had Jason put treats in his pockets so that the dogs would be interested in him. So Takoda followed him around for seven days like, "What else you got?"
How familiar were you with David Foster Wallace before you started working on the movie?
I had heard of him. When I was in college, I had friends who had read some of his work, but I had personally never read any of it. Now I am working my way slowly through Infinite Jest. As Jason has said, it is a long read.
When you found out your dogs were cast, did you start researching DFW's dogs?
Yes. I did some Googling, and I looked at David Lipsky's book. But everything I read about David Foster Wallace suggested that his dogs were so naughty. And I said: I hope my dogs can be naughty for the movie! They are really well-trained, so they don't do things like jump up on people without prompting.
When I read the script, and I read the things DFW said about his dogs, seeing what the relationship was, I could get it. Because I am a total dog lover.
[whispers] Hi baby.
Is that—
Quincy. He just came inside and is looking at me expectantly: "I would like a cookie, please."
So how did you go about training your very well-behaved dogs to be like David Foster Wallace's naughty dogs?
We asked the director if there was anything specific he wanted from the dogs. And the main thing he wanted was for them to be able to play the part in the scene where they bump open a bedroom door and wake up Jesse Eisenberg's character.
That's a great scene.
We spent a couple days teaching Quincy to open a door with a silent hand cue from me. And then once he had that, the minute he saw someone laying down he was like, cool, a person who needs kisses.
In one of the takes, Quincy was being so goofy, wiggling and waggling and climbing on Jesse and licking his face, that you could hear James laughing in the other room.
The Lipsky book has so many great details about the dogs: about how DFW talks to them with nicknames likes "Jeevesmeister," about how Lipsky tried to ingratiate himself with the dogs in order to get closer to DFW—
I know. Jesse told us that he hadn't had a lot of experience around dogs. But he and Quincy seemed to really click, and you could see that relationship develop. Quincy would hear Jesse talking in a different room, and you would see him looking around like, where is he?
What did you think of your dogs' performance in the movie?
I have not seen the movie yet, only the trailer. I thought they were great in the trailer.
Takoda was 11.5 when they filmed the movie, and he has since passed away, unfortunately. So I got a little teary, seeing Takoda walking through the snow with Jason. My husband and I put it up on our big screen TV, and just watched it over and over and over.  But we're so excited. One of the theaters here is actually going to do a promotional event for us, where people can come and meet Quincy for real.
---