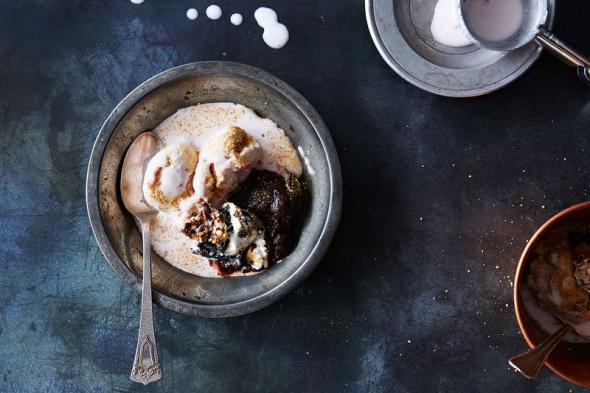 This post originally appeared on Food52.
No disrespect to the crazy combo ice cream flavors of the world (you know who you are, Mocha Choco Turtle Praline Cherry Funfetti Fiesta), but I like my scoops simple. I want the creamiest vanilla, strongest coffee, richest chocolate, or most delightful green tea your freezer section has to offer. Going with tried-and-true over outrageous means I'm happy down to the last melty drop at the tip of the cone. 
If I do get crazy with my frozen dessert—everyone slips sometimes — it's inevitably in sundae form. That's because the toppings get to happen on my terms, in controllable quantities, and once I've eaten the cherry and waded through the peanuts layer, I'm back to a bowl of basic. Such manageable risk-taking means I'm not stuck with an entire serving of Peanut Butter Bacon Brownie Passion Fruit Sweet Cream. 
What follows is a recipe for my ideal summertime sundae, because it combines two warm weather favorites. S'mores, even if made indoors over a stove, taste like August nights in my cousins' backyard, crowded in our still-wet swim suits around their fire pit. And strawberry ice cream is an undeniable force of seasonal perfection. Spring for the good stuff and you'll be happy to the bottom of the bowl. 
Strawberry S'mores Sundae
Makes 4 sundaes
6 ounces semisweet chocolate
½ cup heavy cream
8 marshmallows
1 pint the best strawberry ice cream you can get your hands on
⅔ cup graham cracker crumbs (take out some rage on a sealed plastic bag of crackers until they reach the size you want on your ice cream; I like them somewhere between the Nerds candy and dust) 
See the full recipe at Food52.
More from Food52:
The Best Way to Eat Ice Cream With Cake
5 Common Homemade Ice Cream Issues (and How to Fix Them)
How to Make Hoodsie Ice Cream Cups at Home
8 More S'mores
S'mores Ice Cream
10 Tools for Making Ice Cream
---