When Sinéad O'Connor unloaded on Rolling Stone for putting Kim Kardashian on the cover last month, she was widely applauded. Here was an old-fashioned, says-what's-on-her-mind rock star asserting her right to be outrageous. Good for her.
But as I read O'Connor's Facebook diatribe, I couldn't help feel a flutter of sympathy for the magazine. I, too, knew what it was like to suffer the Wrath of Sinéad. (Or, at any rate, the Midlevel Annoyance of Sinéad.) The experience was obviously terrifying but also horizon-expanding and, 12 months on, I'm beginning to suspect it has profoundly changed me as a journalist and as a listener to music.
Let me explain. I was jogging near my house one August afternoon a year ago when my phone buzzed. It was Sinéad O'Connor, and, as you can imagine, I was shocked. She was calling to express dissatisfaction with several pieces I'd written pertaining to her latest album, I'm Not Bossy, I'm The Boss. I found this surprising, as I'd praised the record as one of her best in years—a "return to form," if you will. (Never let it be said a music writer will not grab hold of a cliché where one is in reach.) But where I saw only journalistic hugs and kisses, Sinéad discerned a veiled slap down. To her, I'd bad-mouthed the preceding phase of her career, dismissing records that I, in all likelihood, knew nothing about, to make a cheap point about her new LP.
Throughout our brief exchange, Sinéad was polite yet unyielding. She was a jobbing musician with a family to support. In lazily dissing a chunk of her repertoire, I had potentially put people off her live shows. Streaked in sweat on a deserted roadside, I could not muster a very cogent response. In fact, I caved—hastily agreeing with everything she'd said and expressing the hope she had not taken undue offense.
My reasoning was twofold. First, I took her point (sort of). Who in good conscience would wish to deny someone—even an international rock star—the means by which to feed her kids? Second, I was terrified that her next step would be to shred me on Twitter or Facebook. Could my career survive a tactical onslaught of Sinéad's storied scorn? I wasn't eager to find out.
Actually, she had something rather different in mind. My knowledge of her catalog was foggy at best, in her opinion. So she presented me with a challenge. I would listen to every record she had ever put out, noting the songs I liked and the ones I didn't. At the end, she was confident the "ayes" would outnumber the "nays." As forfeit, I would take her to lunch.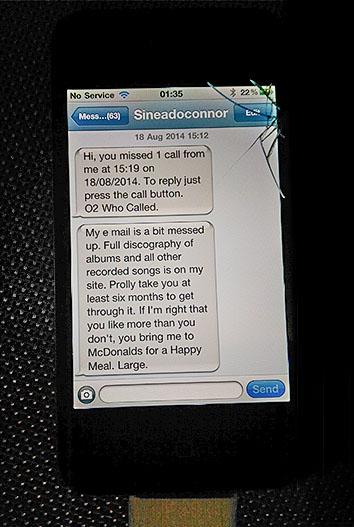 By now my initial shock had given way to low-level bafflement. Sinéad O'Connor has sold millions of albums, scandalized Saturday Night Live, collaborated with U2 and Peter Gabriel. Why would she care what an insignificant music journalist wrote? Then again, this wasn't my first insight into the fragility of the superstar ego—or the degree to which a mildly irreverent write-up can whip A-list musicians into frothing indignation.
Not 12 months previously, I'd been refused permission to review a concert by bearded banjo bashers Mumford and Sons on account of an admittedly testy interview I'd conducted with the group. They—or individuals close to them—were reportedly dissatisfied with my line of questioning. Before we sat down, I'd been told they would not entertain inquiries about their overnight fame. When I baldly brought the subject up, they'd reddened and mumbled something about "just wanting to talk about the music, man."
That same summer Josh Groban had testily tweeted about an interview I'd conducted with him. (Behind the scenes, the pushback from his representatives was considerably more heated.) And, at time of writing, Paolo Nutini and I are not on speaking terms, apparently because of a profile in which I recalled how crotchety he'd been during a phone conversation several years previously. So, no, L'affaire Sinéad wasn't my first run-in with a sullen celeb.
The difference is that O'Connor had not sought to prevent me attending her shows or sent a record company lackey to bombard me with aggressive text messages. She simply wished me to spend quality time with her music and make an informed judgment. I didn't dare refuse.
As I engaged with the challenge and bunkered down with her 10 studio albums, it dawned on me that I'd underestimated her artistic range. Naturally, I was well acquainted with "Nothing Compares 2 U," her chart-topping Prince cover. Thereafter, it got a little more vague. I'd reviewed her latest two records, finding them solid, occasionally inspired. But she was right—after that I was essentially making it up as I went. For instance, I had no idea she'd recorded a collection of show-tune covers—1992's Am I Not Your Girl? I was also stunned by the rawness and vulnerability she displayed on Faith and Courage from 2000—a record in places excruciating in its honesty.
Because Sinéad expected a report, I took the project seriously. I started with The Lion and the Cobra, her 1987 debut, listening as I jogged, drove, met up with friends to play board games (turns out Sinéad's protean rasp and Arkham Horror go together pretty well). The longer I spent with this and later LPs, the more I had cause to reassess my opinion of O'Connor and her music.
Behind the angry, sharp-tongued outsider who scandalized admirers of John Paul II and stumbled into an Internet-breaking feud with Miley Cyrus was an eclectic artist whose career had wended down a multitude of avenues. Some were weird and thrilling (much of The Lion and the Cobra suggested Siouxsie Sioux fronting the Cocteau Twins), a few even Sinéad might agree were ill-judged (her tilt at stagey high kicking on Am I Not Your Girl? falls mostly flat). As a music journalist, it was a lesson to me that artists are more than their personas—that to really, truly get inside their music, you have to dive deep. Just slapping an album on and kicking back doesn't cut it.
But alongside such insights, the experiment carried with it a sense of déjà vu. In my youth, this was how I'd listened to music, obsessing over a record until I was sure I had cracked its secrets. The contrast with my present day regime of semi-engaged Spotify-browsing was striking. I'd forgotten the joy of delving into the darkest seams of a performer's discography and discovering those not-quite-perfect album tracks, which were delightful precisely because they had not been polished within an inch of their existence. Spending quality time with O'Connor's lesser-known songs reminded me of the beauty of imperfection.
Did I ever tire of Sinéad's distinctively emotive style? Of course. If there was a point when I almost gave up, it was during Side 1 of her 2007 double LP Theology, a record I have come to admire but which, during my first few spins, struck me as plodding, whiny, and excessively hippy-ish. I "got" weird, shrieking-goth Sinéad. The lullabying born-again crooner of the mid-2000s was initially far less interesting. She seemed to be laying on her accent by the trowelful, and the acoustic arrangements of the suite's first disc felt cutesy and safe. This is when the "nays" in my ledger started totting up—though ironically that same span of her career also contains some of the songs that mean the most to me now.
Somewhere along the way I began to suspect that Sinéad had probably lost interest. I heard from her just once more. She was in Italy with spotty Internet access and was curious about a breaking news story in Ireland. Her journalist friends were away, so she tried me. I missed the call, as I'd taken to jogging without my phone. I later mentioned to her publicist that I was making progress with our little challenge, but I did not hear back. All the same, I had intended to get back to her as soon as I had finished. But several weeks ago the story broke that she was scrapping her touring schedule for the foreseeable future, pleading exhaustion. Newspapers in Ireland reported one of her children was unwell. Probably not a good time to reach out.
Still, whether she cared or not, I had accomplished my mission. I lived with every available piece of music she had ever committed to tape. True to her prediction, the good stuff exceeded the dross. The dip in quality I'd banged on about in my reviews was to an overwhelming degree a figment of my imagination. Out of 128 tracks from her 10 albums, I gave a thumbs up to 97 and disliked 31. (The only part of her catalog I didn't get to were the 13 dub versions released as a flipside to her 2005 reggae collection Throw Down Your Arms.) If you're reading, Sinéad, you were absolutely right. I was just shooting my mouth off. As a music journalist, it's a lesson I've taken on board. Let's have that burger and Coke sometime. I'm buying.