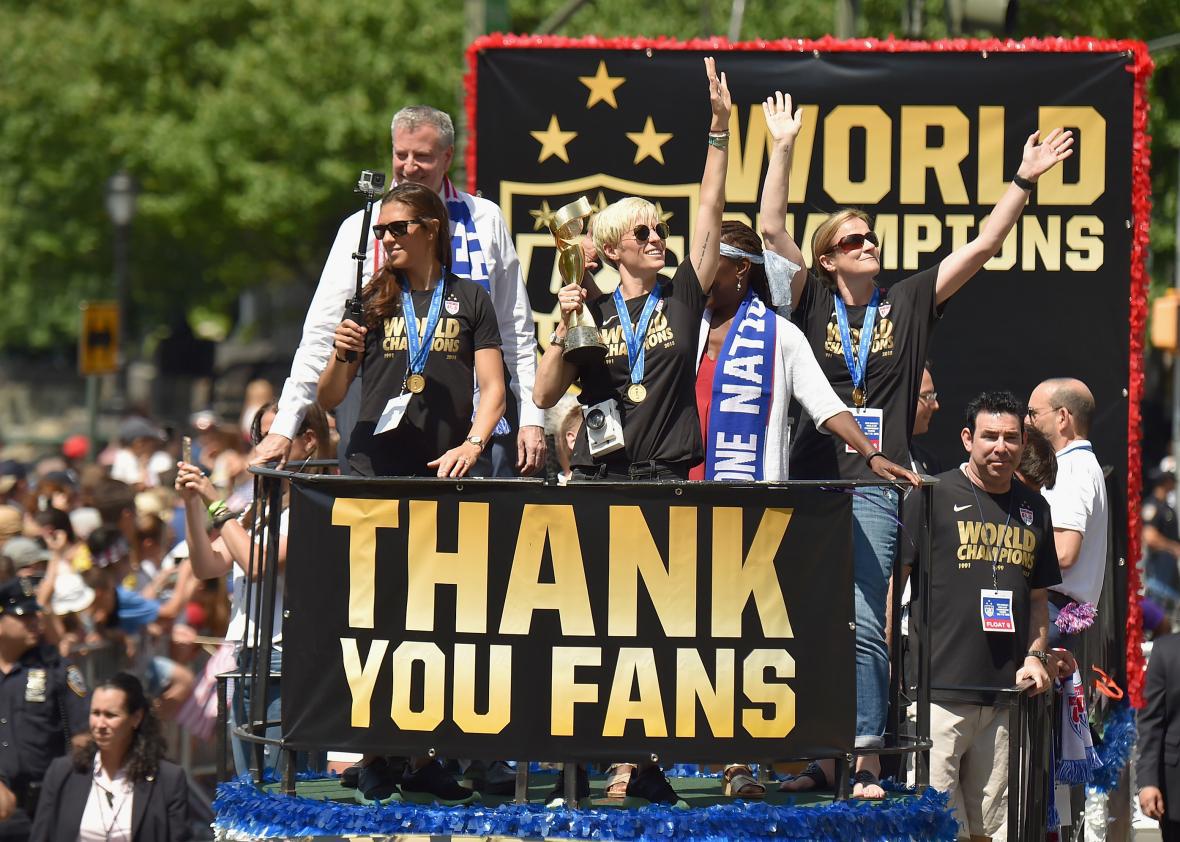 Chants of "USA!" and the sounds of bagpipe music were heard throughout New York's "Canyon of Heroes" on Friday, as the city celebrated Abby Wambach, Carli Lloyd, and the rest of the World Cup–winning U.S. women's national team with a ticker-tape parade.
Team members hoisted the World Cup trophy and wore medals proudly around their necks while Mayor Bill de Blasio could be seen wearing a U.S. flag–emblazoned soccer scarf and waving to fans from one of the main floats, as the team made its way through the city showered by some 1,500 pounds of confetti.
The images were all pretty cool and brought home the fact that this was one of the greatest American sporting accomplishments in history. According to Reuters, it's been 31 years since a national team was honored in the "Canyon of Heroes," the last time coming after the 1984 Olympic Games. It was the first time that an all-female team was exclusively honored by such a parade, which have become rarities in recent years. The parade was to be followed by a ceremony hosted by de Blasio at City Hall.
The mayor posted this Vine, appropriately rechristening the site of the parade:
Here are some more images from a great day for the sport of soccer and a great day for America.
The ticker-tape falling, although not always where it needed to be:
The U.S. team's fans:
They brought their smartphones:
Kelley O'Hara is psyched:
Fifth Harmony, Abby Wambach, Hope Solo, and a couple of medals:
The view from above:
Every good parade needs some bagpipes:
Megan Rapinoe, Bill, and the trophy:
There's going to be some cleaning up to do:
---