Twelve-year-old Morgan Brian sat at the computer at a friend's house, heart pounding as she went online to find out whether or not she had made Florida's Olympic Development team. Brian, nicknamed "Plankton" by her teammates, thanks to her tiny size and her feistiness, wanted nothing more than to make the team. She remembers pulling up the list, frantically looking up and down the rows of names. Her name wasn't there. All ten of her club teammates had made an A, B, or C team—everyone except for Brian.
"I definitely cried. I was so upset, so embarrassed—I remember just feeling like I must be the worst player on my team," Brian told me before the start of this World Cup. In the summer, her entire team left for Montevallo, Alabama for the regional Olympic Development Program camp. Brian stayed home, but her failure would become her motivation. "It ended up being the best thing that ever happened to me," she said. "It was the hardest I'd ever worked in my life."
On Sunday, Brian and the U.S. women's national team will face Japan for the Women's World Cup title in a rematch of the 2011 World Cup final and the 2012 Olympic final. Brian is not the only U.S. player motivated by early rejection; her story is emblematic of the rest of the team. Five other key American stars described being cut—or not making the cut—at youth levels, and credit their drive to become the best soccer players on the planet to that rejection. The mental toughness that is so often ascribed to the Americans—the mentality that has allowed the Americans to win—is rooted in failure.
After failing to make the ODP team, Brian played constantly—doing two-v-twos on the St. Simon's, Georgia beach where she grew up, playing pickup with the guys, trampling the crabs that crept out of the marsh as she worked on fundamentals in the driveway. Her best friend, Anna Barrow, remembers Brian's fanatical training.
After school, Brian insisted they go straight to the field and play until practice. Then they stayed long after practice ended. Brian made Anna work on technical skills—touches, volleys, chest traps. "I didn't enjoy doing it—but Morgan loved it. She never wanted to stop," Barrow told me.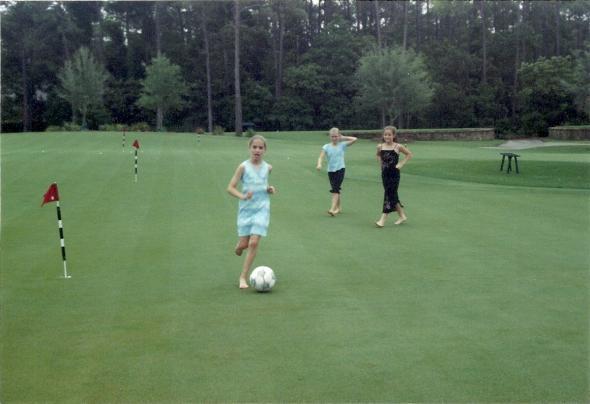 The next year, Brian made the state team—and then the regional team, and then the youth national team. At 22, she is now the youngest member of the full U.S. national team. Playing as a holding midfielder in the semi-final against Germany, she was the connective glue that held the team together.
Playing beside Brian in the midfield was Lauren Holiday. Holiday's mother, Rita Cheney, remembers her daughter's reaction when she was cut from the regional team: Holiday went into her bedroom, put a blanket over her head, and listened to Gloria Estefan's "Reach" on loop: Some dreams live on in time forever/Those dreams, you want with all/Your heart/And I'll do whatever it takes/Follow through with the promise I made/Put it all on the line/What I hoped for at last would be mine.*
"She listened to that song over and over—it was like she had to process what happened…and make sure it would never happen again," said Cheney. Though one evaluator had told Holiday she would never make it as a Division 1 soccer player, she became UCLA's leading scorer and the NCAA Division 1 Freshman of the Year. Now, Holiday is a starting center midfielder for the national team.
Kelley O'Hara, who scored the United States' second goal against Germany, also got cut from a regional team. "I was crushed. I found out when I talked to a friend who made it, and she had gotten a call, and I hadn't—which meant I hadn't made it," O'Hara remembered. "There was that sinking feeling. I cried my eyes out. You want something and you don't get it, it makes you want it even more."
The next year, when she was called in to play with a youth national team, O'Hara thought it was a prank. "Even my mom thought it was a prank—she was like, 'I'm going to need some written confirmation.'" Eventually she figured out it was real, that they wanted her. "At that level, it's perform or don't get called back in," O'Hara said. "I remember thinking, 'I'll be damned if I don't get called back in the next time.'"
Meghan Klingenberg, the outside back whose goal line clearance against Sweden kept the team in the game, has a yellowed letter of rejection from a youth national team taped to her mirror. "It will never come down," says Klingenberg. "People said, you're never going to be able to do it. My stature, my size. As a player, I'm more steady than flashy, I'm never going to stand out. But that email is my reminder that you can persevere against the world."
Christen Press watched her club teammates make the youth national team; she never got a call up. Press went on to become the top player in college soccer, the leading scorer in Stanford history, and the rookie of the year in the now-defunct Women's Professional Soccer league. It wasn't enough to get her a call up to the full team; this failure played a part in her eventual move to the Swedish league, where she developed new aspects of her game and earned a spot on the national team, ultimately scoring a goal in the World Cup opener against Australia.
Even the team's top star at this tournament, Carli Lloyd, believes getting cut from the U-21 team was the wake up call that allowed for her success. In 2015, Lloyd is the leader of the U.S. midfield. On Tuesday, Lloyd was player of the match; she scored the first goal and assisted on the second in the 2-0 victory over Germany. Lloyd has scored in three consecutive matches for the U.S.—every round of the knockout phase.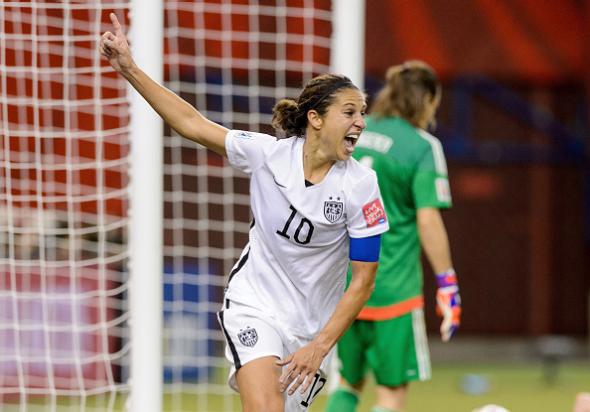 Up until the Germany game, many had criticized the U.S. World Cup performance: while they'd managed to come out on top of the Group of Death, they were missing offensive creativity and firepower. Some critics said the U.S. was just not that good, that this was not the USA team of old.
Against Germany, the U.S. players—who are clearly so well-versed individually in proving people wrong—set out to collectively show just how great they are. In the World Cup semi-final, the U.S. not only beat the number one ranked team in the world—they made a statement: they dominated possession, created many offensive chances, and played with a level of conviction previously unseen. And—questions of whether or not she should have remained in the game after a head-to-head collision in the first half aside—Morgan Brian may have been the key piece of the puzzle.
In the United States' second game of the tournament, against Sweden, Brian had started as an outside midfielder but never managed to get very involved. In the next game, against Nigeria, she didn't get on the field. But when Lauren Holiday was forced to sit out the quarterfinal after acquiring two yellow cards, Brian got a second chance to prove her value, this time playing center mid, the position where she's most at home.
Against China, she controlled the midfield, orchestrating passes on the offensive end and winning tackles defensively. She played well enough to convince Ellis to alter her formation—going from a 4-4-2 to a 4-5-1, in order to accommodate all three center midfielders; Lloyd, Holiday, and Brian.
As a holding mid against Germany, Brian connected passes all over the field and dominated defensively: she won 6 tackles and had 10 interceptions. The kid who was once the only one on her club team not chosen for the Florida ODP team is now a breakout star for the national team.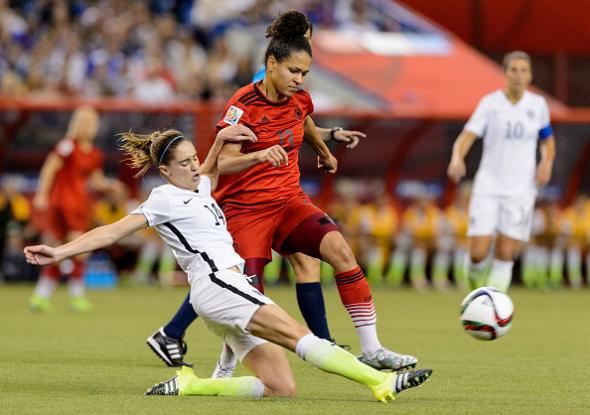 In recent years, the idea that we benefit from our failures has seen a surge of interest—from JK Rowling's Ted talk to Conan O'Brien's commencement speeches, to the growing number of bestsellers examining the psychology of failure. Overcoming failure is also a classic American storyline.
The U.S. team will look to keep in that tradition on Sunday, when they have the chance to redeem the disappointments of their last three World Cup campaigns. Based on the team's personal history, it would be wise not to count them out.
Correction, July 3, 2015, 11 p.m.: This article orginally misstated the name of Gloria Estefan's song "Reach" as "Reach Higher."