Paolo Pellizzari doesn't make images like other sports photographers.
Rather than strive to get as close as possible to the action and freeze athletes in the middle of a spectacular moment, he tries to capture a fuller scene that gives viewers a better sense of what it feels like to be at an event. He calls his photos "human landscapes."
"Maybe I lose a bit of precision in terms of what's going on at the event, but I gain in terms of historic data and emotion," he said.


To make these photos, he shoots panoramas using a Noblex camera, which is more commonly used to photograph static scenes. Its wide perspective captures close to what the human eye naturally sees when it views a landscape. Pellizzari's equipment is not the only factor that makes his images unique; it's also the position from which he makes them. When he can, he shoots away from where all other photographers are standing. The end result, Pellizzari says, is something that looks like what one might capture at a theatrical performance.
"The whole thing really has several dimensions, which makes it complicated because you have a lot of elements at the same time. When it works it has all the magic of looking at an opera," he said.
The first major sporting event he photographed was the Tour de France. He enjoyed the experience so much he decided to photograph cycling races around the globe, which eventually made up his 2004 book, Tours of the World. Since then, he's photographed a variety of sports from golf to motocross. These days, his subjects are varied. Recently, he photographed a historical re-enactment of the Battle of Waterloo. This month, he will once again photograph the Tour de France. Next year, he'll photograph the Olympics in Brazil.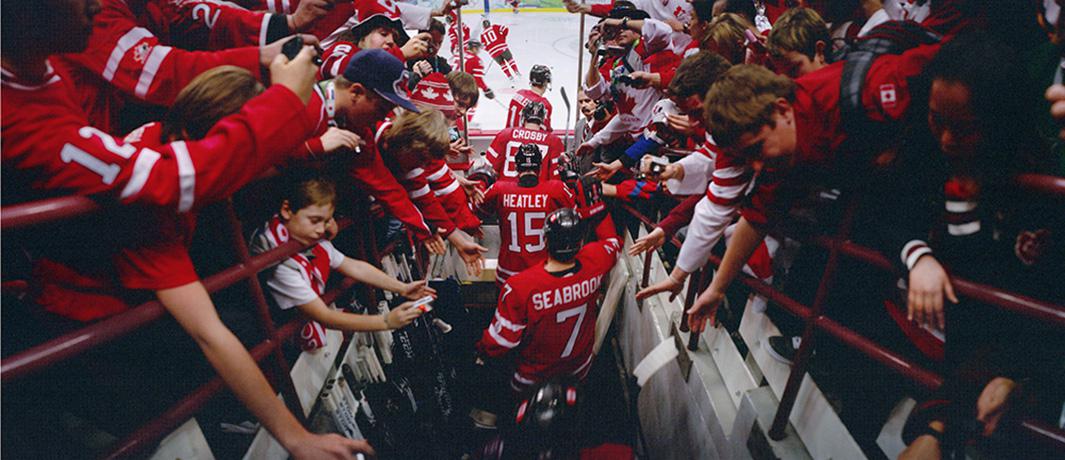 "To me, being at a cycling race and being at the Vatican where people are seeing the pope or being at a music festival is almost the same thing. I like the architecture of people. It's interesting to see how a crowd behaves because you always have particularities in the people and the way they position themselves. You always have funny stories and that's what makes the picture," he said.
Pellizzari's photographs is on display in the exhibition "Sport" at New York City's Anastasia Photo until Aug. 31.