Since Magic Mike XXL gyrated into theaters Wednesday, people have started asking a crucial question: Which Magic Mike movie shows more butts? We started debating this matter as soon as we exited the theater, so, to settle the debate, we went back and tallied it all up once and for all. Below, we've charted every bare buttock, G-string, lap dance, and instance of shirt-rippage in each Magic Mike film.
Male Nudity
In terms of exposed skin, Magic Mike does beat out XXL by a pretty healthy margin: There were three times as many bare butts, and more than twice as many G-strings. XXL, on the other hand, has more instances of dancers sexily removing their tops. Still, to its credit, the original provided the first and only naked penis silhouette in the franchise—thanks, Big Dick Richie.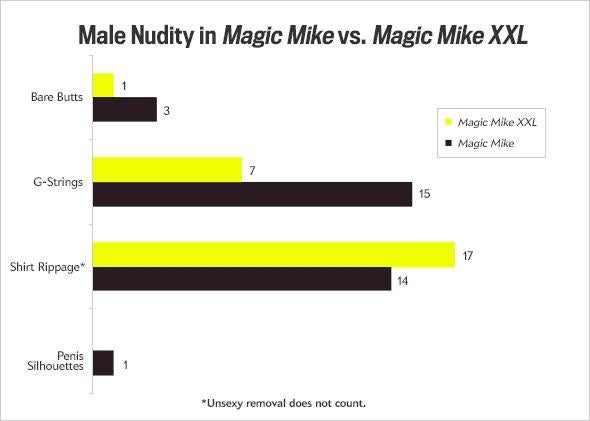 Sexy Dance Moves
The number of lap dances remained pretty consistent across the series, along with the number of dance routines. (There were 17 routines in each.)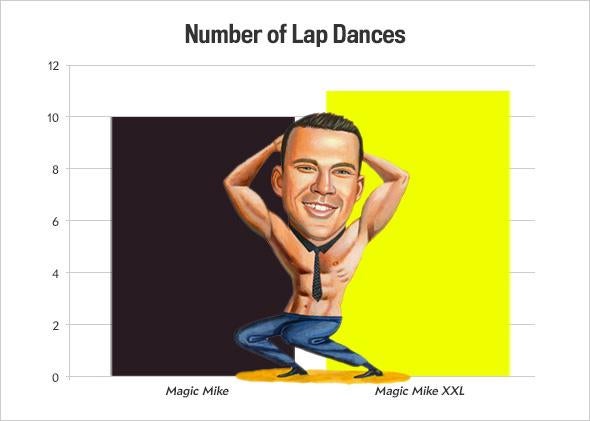 But while there might be less nudie fun in XXL, it blows away the original's numbers for simulated oral sex. Magic Mike had only four instances of a crotch being shoved into a face, whereas XXL had a healthy 24. Interestingly, the boys shove their groins into women's faces more often (21 times, including the use of the 69 position) than they put their faces between women's legs (a total of 14 times).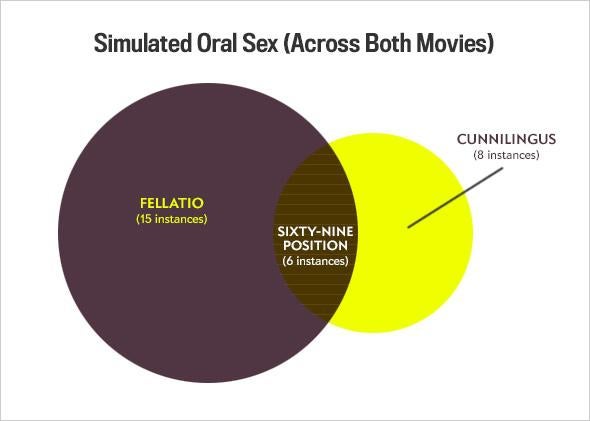 For all its differences from the original, perhaps XXL's greatest and most surprising innovation was its use of a new kind of dance move: simulated ejaculation. Paucity of bare boy butts aside, this is just one way in which the makers of XXL definitely had more fun.