Watching Academy Award–winner Jennifer Lawrence roll joint after joint for Michael Fassbender would be delightful enough, but as part of an all-star ensemble live read of The Big Lebowski, there could be only one reasonable response.
As part of the massive Just For Laughs comedy festival currently underway in Montreal, director Jason Reitman assembled a powerhouse pop-culture crossover team featuring the casts of Silicon Valley and X-Men: Apocalypse (currently shooting in Montreal) to bring the Coen brothers' stoner noir classic to life on stage. The lineup featured X-Men actors Jennifer Lawrence as Maude Lebowski, Olivia Munn as Bunny Lebowski, and Michael Fassbender as The Dude himself, while the Silicon Valley cast provided Martin Starr as Jesus Quintana, TJ Miller as Brandt, and show creator Mike Judge turning on his best southern-fried drawl as The Stranger (repeatedly described in the original stage directions as "a Sam Elliott type"). Rounding out the read were the mutually apoplectic Patton Oswalt and Dennis Quaid as Walter and the Big Lebowski, respectively, and the equally bubbly Mae Whitman as Donny.
The cast took to their roles with immeasurable delight, and Fassbender in particular seemed to relish the opportunity to work himself into a character that's just a little less intense than the roles he's typically known for. Rolling on stage in a ratty bathrobe and khaki shorts, Fassbender appeared to be playing the Lebowski Challenge, lighting a J every time his character in the movie did so (sadly, this correspondent was unable to confirm if the beverage involved was in fact a Caucasian). The actor dropped into his spaced-out inflection so naturally that if it weren't for an occasional hint of Irish brogue, it often sounded like Jeff Bridges himself was in the room.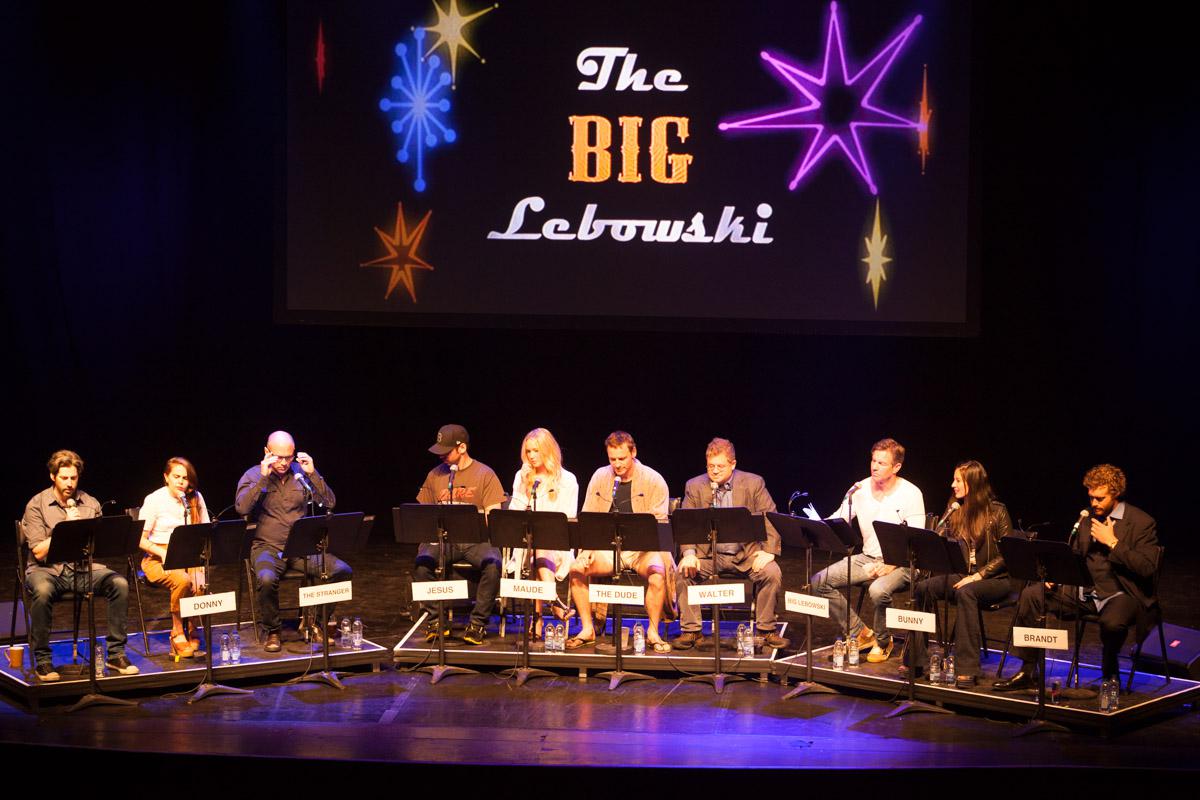 Lawrence provided an excellent mid-Atlantic-tinged read of Julianne Moore's Maude, complete with endearingly on-brand stumbles over words like "satyriasis" and "vaginal" (having to leave stage at one point, J-Law over-exaggeratedly snuck out like a Looney Tunes character).
The night abounded with small flourishes that brought new light to a script most in the room seemed to know almost by heart. The dialogue of the German Nihilists took on a vaudeville, Three Stooges-like quality when excitedly bounced between Miller, Starr and Whitman, and in between screaming bellows Patton Oswalt politely asked Reitman if he could use the oft-mocked, censored for broadcast version of one line: "This is what happens when you find a stranger in the Alps!"
Overall, the delight of new performers expertly stepping up into these beloved roles just reinforced what a tremendously unique and excellent script the Coens created with Lebowski. For the massive audience bristling with energy the entire night, almost every line of dialogue and even most of the stage direction seemed to elicit cheers from somewhere in the room. Despite the radiant star-power of the live read's cast, the giddy anticipation of the lines to come, rather than who necessarily was saying them, was the real star of the night, and a great reminder of just how iconic almost every sound and image in this film has become. No matter what form the character takes, it's good knowing he's out there, The Dude, taking 'er easy for all us sinners.
*Correction, July 25, 2015: This post originally misspelled Jesus Quintana's last name.