This interview with United States national team star and Women's World Cup Golden Ball winner Carli Lloyd, taken before the 2015 World Cup, originally appeared in the new issue of Howler, a magazine about soccer. The interview has been condensed and lightly edited for length and clarity. Order the summer 2015 issue here and follow @whatahowler on Twitter and Instagram for coverage of the Women's World Cup.
George Quraishi: When you were just starting out, you began training with a coach named James Galanis. He said in a recent interview that when he first met you, "she didn't know how to execute her skills properly, physically she wasn't fit at all, she lacked endurance, and mentally wasn't a fierce competitor." I imagine those were some pretty tough things to hear, especially for someone who had been playing with professional teams since high school.
Lloyd: To be quite honest, I didn't know all of that in the beginning. James is really, really good at getting inside of players' heads and mentally pushing them for all good causes. And so when I first met him, he just said, "Look, if you want to be a professional soccer player, if you want to make the national team, you have to do everything possible to work hard. You've got to put it number one." So for a number of years he didn't just flat-out say, "You were so unfit, your character needed to be better, you need to become mentally tough." Over the years he just kind of changed my mindset, and we've been chipping away at it each and every day.
Quraishi: When you first joined the senior national team in 2005, do you remember anything that you learned from the way the older players carried themselves or behaved that you now try to model for some of your less experienced teammates?
Lloyd: When I first joined the team, I was playing with the likes of Mia Hamm, Shannon MacMillan, Tiffeny Milbrett—all those big-time players. It was very intimidating. I had some of these players' posters on my wall growing up, and now I was able to play with them. The speed of play was a lot faster. And they demanded a lot from you. I remember playing a small-sided game, and Briana Scurry was in goal, and she would scream at you. If you weren't tracking your player back, she would be hounding you. I just try to lead by example with some of the younger players now, try to help them. But also, I'm honest. If people aren't putting in the effort, I will definitely let them know because I think that that can only help them.
Quraishi: How do you respond to having been benched?
Lloyd: My biggest benching was before the 2012 Olympics. It kind of came out of nowhere. I just kind of had one bad half, 45 minutes, and it pretty much cost me my starting spot. And there's two ways you can deal with it. You can be angry and pissed off at the coach and put your head down and pout. Or you can rise above it, respect the decision, but also know that you're going to go and work that much harder and prove everybody wrong. And that's the road that I chose.
Quraishi: Is that a natural response for you? Or is it the case that you say, "okay, I'm processing this—I need 24 hours."
Lloyd: Absolutely. I'd be lying if I said I wasn't human and tears weren't rolling down my face and I wasn't pissed and I wasn't angry. There are lots of times that those emotions come out in my career. But I think as you get older, you learn how to deal with those situations. And I had to be there for my teammates. I had to cheer my teammates on. I had to be respectful of the coaches. But I also knew that I had some work to do before leaving for the 2012 Olympics. I wasn't sure of the outcome. But James kept reassuring me, you know, "Don't worry, you're going to go over there, you're going to do fine, you're going to get your chance, and you have to be ready to seize your moment."
Quraishi: You wore the number 11 shirt at the 2008 Olympics. But by the 2011 World Cup, you were wearing number 10, and that's the number you still wear for the U.S. today. What does that number signify to you? How would you describe the type of player who wants to wear number 10?
Lloyd: It started in my youth career. I watched players, growing up, who wore the number 10. Peter Vermes, who grew up in Delran [Lloyd's hometown], wore the number 10. Michelle Akers wore the number 10. Pelé wore the number 10. Maradona wore the number 10. As a kid, you gravitate towards those types of players. I played center-mid, I was an attacking player, and I just got it with my club team and have had it ever since. And then obviously getting to the national team, number 10 was taken by Aly Wagner, and once she retired I was able to snag up that jersey. But, you know, it really doesn't mean too, too much to me. It's one of my favorite numbers, and it's an honor to be able to wear it for my country. But at the end of the day, it is just a number.
Quraishi: Yeah, but come on, it's got some status. It's got almost a sacred place in the game. I can imagine that there's some pride that goes with it.
Lloyd: Yeah. Yeah. You look at, you know, some of the greatest players that have played and are currently playing in the number 10 kit. I think that I'm just on such a mission with my career that you don't really get to stop and think about your jersey number too often.
Quraishi: When the top male players go to a World Cup and they play in a crowded stadium, it's not all that different from a regular club game in terms of crowd size. You also play in front of a lot of people at the Olympics and the World Cup, but the attendance at your day-to- day club games is quite a bit smaller. When you walk out into a big stadium packed with people at these big tournaments, does that still feel like a novelty?
Lloyd: Yeah. It's pretty surreal. I mean, playing in Wembley Stadium in front of 83-some-thousand fans to win a gold medal was unreal. I think, male or female, that was a record number. And I know that we've gone through some turning points with women's soccer. When I was first on the national team, we barely could get 5,000 fans. Now I feel like that's what we're averaging in the NWSL.
Quraishi: People think of you as being a very tough player. There are photos of you covered in mud. You got that shiner at the most recent Algarve cup. And Melissa Tancredi stomped on your head at the 2012 Olympics. What do you remember about that play?
Lloyd: Every time I step onto the field, whether people like it or not, I'm not trying to play dirty—I'm just playing tough. And I'm trying to earn my spot on the team. I'm trying to earn a starting spot. I'm trying to become a complete midfielder who attacks, who defends. So that's the mindset. Every time I step in between those lines, I'm in the zone. If you get between me and the ball, you might get smashed a couple times. Things happen, plays happen. I don't get too upset or bent out of shape from things that go on on the field. But I think that you always want to try to keep it classy. You don't want to do any stupid fouls, and sometimes—sometimes the game gets to you; people react differently. I've moved on from the Tancredi thing. I really, you know, didn't lose too much sleep over that.
Quraishi: This is sort of an uncomfortable thing to bring up, but in our society, we often sexualize female athletes, and that can factor into popularity, into financial rewards through endorsement deals. You've never taken part in that. Do you see it becoming more of the norm for female soccer players, or do you think we're moving beyond it?
Lloyd: I think our country prides itself, in any sport, on statistics— who's scoring goals, who's hitting home runs. But also, who's getting a million tattoos, who's dyeing their hair. For me, that stuff's not important. I want to be known as a great soccer player. I'm not into the glitz and the glamour and posting selfies of myself and getting all the attention. I want to be known and respected for putting my head down, going to work every day, not kissing anybody's butt, and just getting it done on the field.
Quraishi: You said that when someone plays against you, they might get "smashed" when you compete. We've had debates recently over whether we should use the word "bossy" with regard to girls, about whether young girls should be taught how to resolve conflicts the way that boys are taught. Do you see a role for yourself in terms of trying to make younger girls feel like, okay, we can—I can—smash somebody. It's okay for me to smash somebody.
Lloyd: Absolutely. I'm a competitor. No matter what I'm doing, whether I'm golfing, whether I'm playing indoor soccer with my fiancé—he's not going to get by me. I'm going to try to do whatever I can to win. And I think that society and youth sports has kind of gotten away from that a little bit. We just aren't doing the olden days' things—you know, just going out there and battling. I'm hearing in youth sports where you're not allowed to post scores of games online; everybody's gotta get a trophy. I mean, that's ridiculous. If you're a winner, you're a winner and you get a trophy. If you got second place, you don't get anything.
But, you know, I kind of play like a guy. I don't hold grudges. I don't get dramatic with things. If somebody slide tackles me in training and we leave the field, I'm still talking to them. I think that there's very few of us out there that can just take confrontation, and if you've got an issue with something, you can go to that person and say it. It's a little bit tricky with females. But I think that I act more like a male in dealing with those situations. There's no reason that young girls shouldn't feel like they can't smash people on the field. Nothing dirty. You want to keep it clean. You just want to play hard. Get your jersey dirty, shorts dirty, and just have fun out there.
Quraishi: You've scored a ton of goals, especially for a midfielder. Have you always been encouraged to shoot from distance?
Lloyd: Yeah. Growing up, that was kind of my thing. I've always, always done it. I think that I always tried to crush the ball. And when I met James, [I learned] it's not about crushing it. It's fine-tuning a golf swing. It's the mechanics. Don't try to break the net; you just want to get your technique right, and you want a nice fluid swing. I mean, I'm not afraid to [crush it]. And I got some goals that way as well.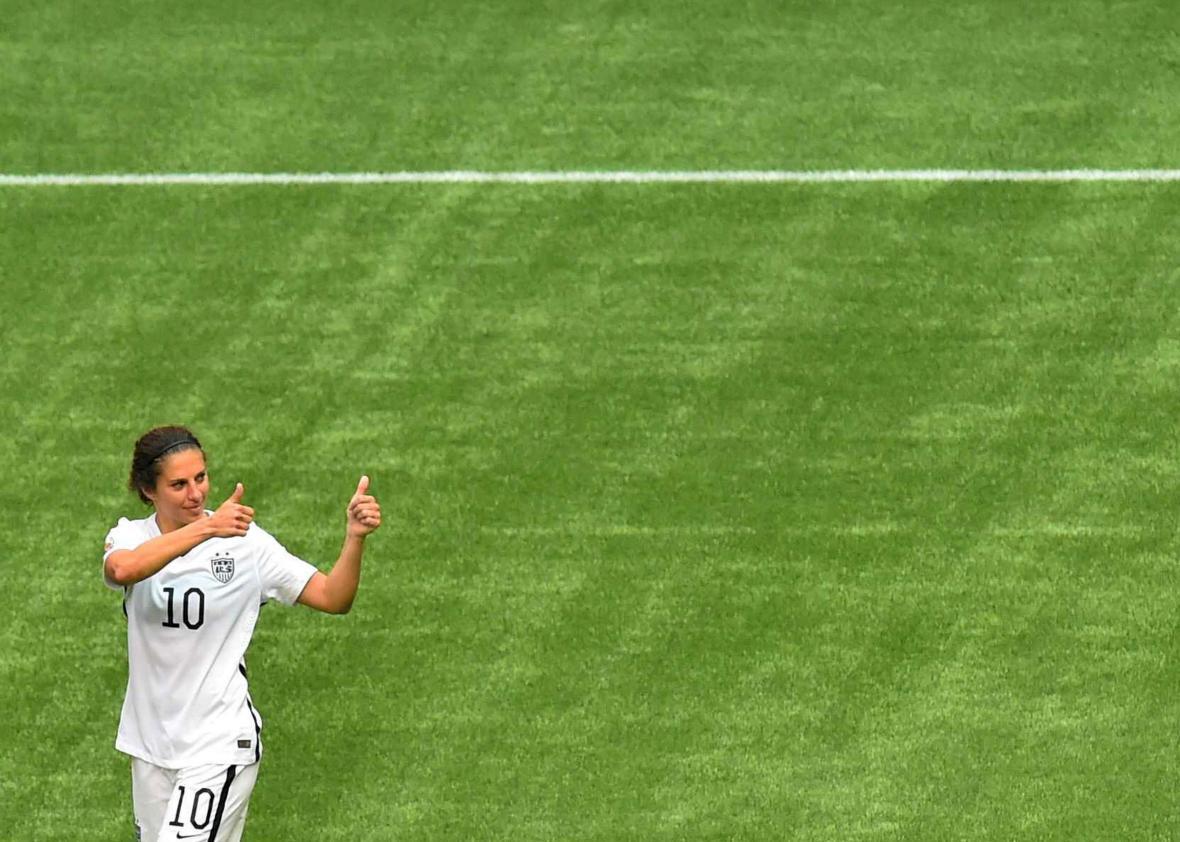 Quraishi: You scored the winning goals in the last two Olympic finals—huge Lloyd. Do you have a favorite?
LLOYD: Gosh. That's kind of hard. I remember a really long shot I had; I believe it was before the 2007 World Cup against New Zealand. I had two goals in that game, and one of the goals was a long-range shot, which stands out to me. And another more recent one would probably be the lefty, kind of a dipper, that just tucked in between the keeper and the post against China in 2013. Thirteen? No—2014. I kind of forget some of the other ones. But I'm sure if I rewatched them, I'd be able to pick out my top two.
Quraishi: That's funny—you went for goals that are aesthetically pleasing, but I think most people would be like, "wait, you're not gonna list those Olympic finals goals?"
Lloyd: Yeah. Those were the most memorable goals, I would say.
Quraishi: I think it would be fair to say that when you first joined the national team, you were playing with players who were used to going into games and being the favorites. Now there are so many good teams in women's soccer, and the field is a lot more level. Has that shifted the attitude of the team when you go into games? And is that necessarily a bad thing?
Lloyd: Long gone are the days when the U.S. goes out and we beat people three–, four–nothing. That just doesn't happen anymore. And that's what we want to see—we want to see teams getting better. We want to see countries getting better, putting more into women's soccer. And it makes it that much more exciting. Nothing in life is worthwhile unless it's kind of hard to get there, you know? So if we were crushing teams and we just went through the stages and won the World Cup, yes, it would feel good. But I think that, with how hard it is now, for us to go through and win a World Cup would be that much more satisfying.