Ashley Monroe looks smaller than usual.

Being little has been part of her performing persona ever since she started talking her way onto Nashville stages at 15, fresh from east Tennessee, her father dead just two years. But as the bright June sun glares through the windows at the front of the Nashville club 3rd & Lindsley, Monroe holds herself close, pale in a casual top and jeans, sipping a Diet Coke she asked her friend and fellow baseball wife Brianne Sale to grab from the bar. She folds herself into a hug from her drummer, Pete Abbott, as the rest of her band settles. She spent much of the previous afternoon in a Nashville hospital with some kind of stomach ailment; now she's doing her soundcheck for an important show, the introduction of her third album, The Blade, to an industry-heavy crowd here for the CMA Music Festival.* It's an important show even though Monroe and her manager and pretty much everyone there knows that her songs won't get played on the air, that country radio has mostly given up on women and fully given up on music that sounds like Ashley Monroe's. It's an important show because the album is great, and there are people out there who will love it, and this summer is the summer Ashley Monroe and her team are trying to figure out how to find them. They're trying to figure out how to make Ashley Monroe big.
"I think I got an ulcer," she tells her band in her soft drawl.
"Maybe you're pregnant," her bassist, Mike Bub, cracks. Does she give him a look.
Then the alchemy of the rehearsal. Wasn't the drummer just testing out the reverb on his kick drum? But now he's laying down a beat. The bassist notices and picks it up; a guitarist, still calling out instructions to the soundboard operator, offhandedly plucks a riff. And then what I thought was just musicians screwing around is a song, and Monroe, still grimacing and holding her stomach, steps to the microphone and sings:
Woke up this morning in a cold, cold sweat,
Heart broke and beatin' outta my chest.
Cried out your name against my will,
A memory I can't kill. 
The band freezes for an instant. Monroe delivers the chorus in a conspiratorial murmur, smiling a little despite herself: "I buried your love alive."
When the song is over she kicks her sandals off, straps on a guitar, and asks about a messy transition into the bridge.
"There's gonna be warts," Bub tells her.
"I don't want warts," Monroe says, with a hint of desperation. "Feels like my body's got warts inside." They rehearse three more songs, then Monroe puts down the guitar. "I have to go home to throw up," she says.
"Go take some pills," Bub says kindly, as Monroe walks offstage, head in hands.


* * *
Here's where a gauzy backstage doc, of the sort Monroe watched religiously on the country channel CMT growing up, might say, "She's been through so much already, a mystery stomach ailment won't stop her!" But in truth she has been through a lot; the story of Monroe's career is one of heartbreak followed by fairy-tale success followed by years of frustration. Her father died of cancer when she was 13 and her mother "had a little nervous breakdown," she told me. "She kinda left for a while." At 15, she convinced her mom to take her from Knoxville to Nashville, where she home-schooled and spent her afternoons haunting the clubs, hungry for a break. "I would go up to the band at the Nashville Palace or Second Fiddle and ask, 'Can I sing?' " She laughed. "I would never do that now! Now that I know how Nashville works. But I was willing to do it then, because I was in survival mode. I was going to make something happen."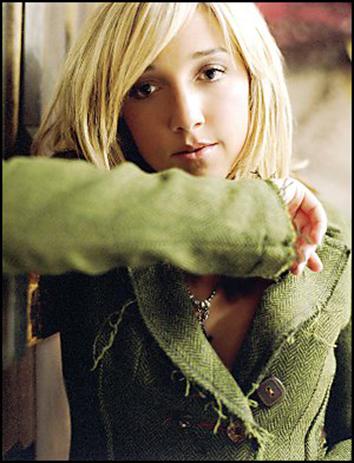 Something did happen, and quickly: A well-connected publisher gave her an audition and signed her. Soon the teenager was carrying her guitar to Vince Gill's house for "scheduled writes," part of the creative infrastructure of Nashville, brokered collaborative songwriting meetings in which two or more artists work to write songs together. She quickly became known around town for being exceptionally young, eager, and surprisingly classical in her taste. "She was an old soul at 15," the songwriter Jessi Alexander, who befriended Monroe early, told me. "She loved traditional country music: Loretta, Willie, Kris Kristofferson." John Grady, the executive who signed her to Sony Records at 17, remembered: "She told me she felt as a songwriter she channeled an old dead person on a mountainside. She'd been channeling him for years." Like many young female songwriters, she dealt with her fair share of patronizing or pushy men. "Oh god," she said. "I don't like to start fights but I also do not back down to a man. I could stand up for myself by being really good—by coming up with a line so good that they had to respect me."

Monroe recorded her first album, Satisfied, for Grady in late 2005, and the next spring, in preparation for its release, Sony sent her on a six-week promotional tour to radio stations across the country. "They pitched me as the Norah Jones of country music," she remembered—a fresh-faced talent with a throwback sound. It was on that tour that she first understood that country radio wasn't interested in the same kind of music that she was. One program director listened to an early version of her heart-wrenching song "Used," and, as he wiped tears from his face, said, "That just doesn't fit our format." Late in the tour, Sony's Nashville division merged with RCA's, and Grady and everyone Monroe had worked with were pushed out. The album was shelved. It would eventually be released to iTunes, with no fanfare, three years later. By that time Monroe was working on her career reboot.
* * *
"Granny, my stomach hurts. I don't know what to do," Monroe says. Just before showtime, clad in a jumper so white it nearly glows, she's curled up on a sofa in her dressing room. Her family has descended upon Nashville: Her mother, her stepfather, Poppy, Granny. "I went into the ER in full hair and makeup yesterday," she tells them, with a wan smile. "They musta thought I was after a doctor." The hospital told her maybe it was an ulcer, maybe it was her gallbladder; she'd need an endoscopy to know for sure. She turned that down flat. "I have no days off for my vocal cords to heal up after something like that."
"You want a Prevacid or whatever it is that Poppy takes?" her mom asks.
"I took something like that already."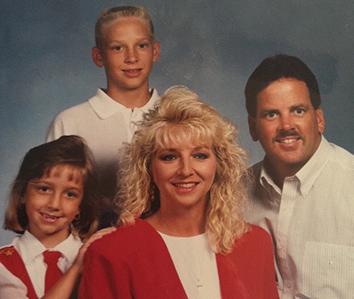 Her grandfather tells a story about bringing 4-year-old Ashley to a neighbor's house to sing "I Want to Be a Cowboy's Sweetheart." "She could yodel already!" he says. Jessi Alexander pokes her head into the dressing room to say hello. So does John Grady, who's now her manager. So do Jamie Floyd and Marc Beeson, who co-wrote the title track on the new album, a gorgeous breakup ballad built around a perfect central metaphor. Backstage, her band is pacing around nervously. Lead guitarist Johnny Duke shows off his new baritone guitar. "I just got it. Used to be Steve Earle's," he says. A tech jokes that it "must have some secret cocaine compartment somewhere."
The band troops onstage, Monroe right behind. Grady is the last one to pat her on the back on the way out. "Y'all ready for some country music?" Monroe asks the crowd.
* * *
After her album fell off the face of the earth in 2006, Monroe turned to the friends she'd made and focused on songwriting with them. "We'd write a pretty song," she said, "and I could say, 'Hey, I've done something today.' " The community she built around her eventually paid dividends. In 2006, she was waiting to board a plane with her friend Taylor Swift in the Nashville airport when Swift saw Jack White and rushed over to meet him. White recognized Monroe's name from Opry broadcasts and later invited her to sing with one of his bands, the Raconteurs. (He didn't recognize Swift.) Monroe wrote songs with Miranda Lambert; soon she and Lambert formed a group, the Pistol Annies, with third member Angaleena Presley, and they released two albums.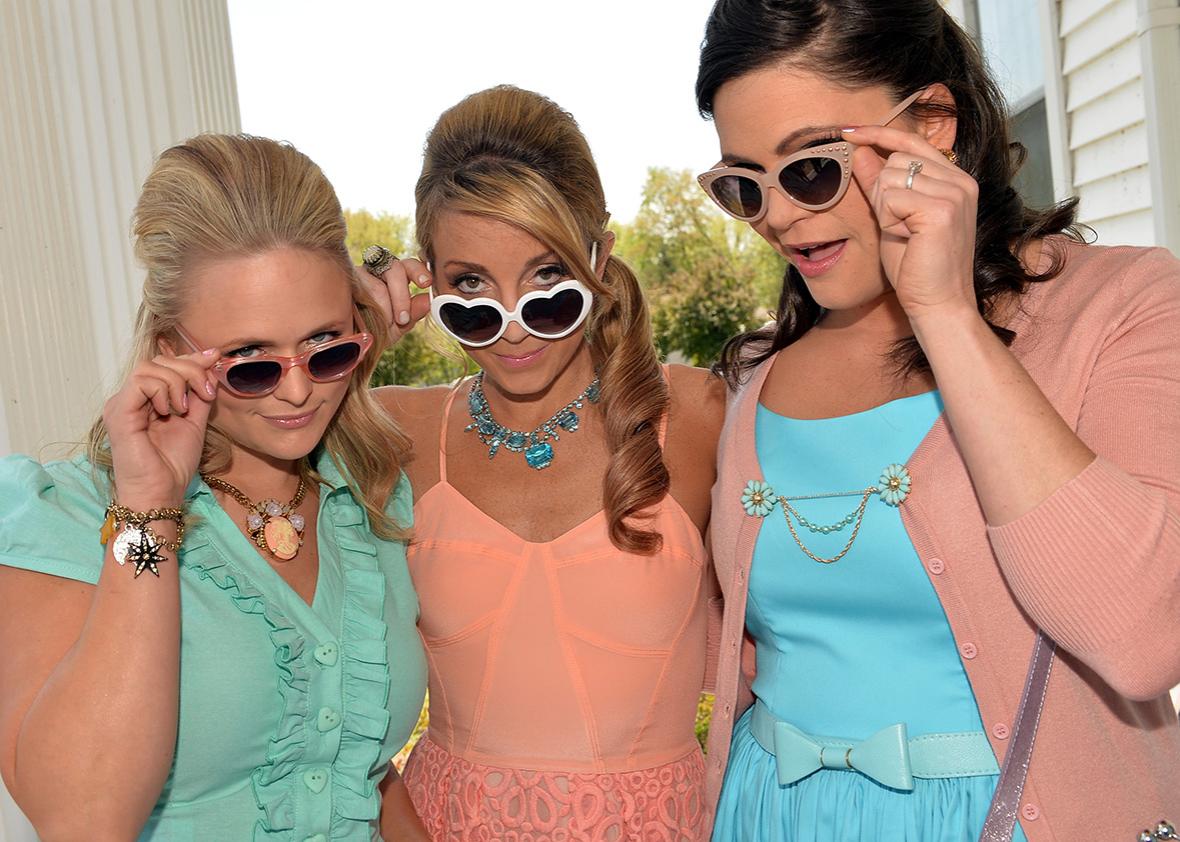 And her old songwriting partner Vince Gill produced Monroe's second record, 2013's Like a Rose, a mini-masterpiece of vintage country-pop that served as her reintroduction as a solo performer. The opening title track sets the tone for the record; it's a plangent story song about coming out the other side of troubles. Monroe likes to tell the tale of arriving at a scheduled write with Guy Clark: "He was sitting there with a cigarette in one hand and a joint in the other. And he asked me, 'What's your story?' " Monroe told him about her daddy, the move, her career, and added, "And here I am with you, so I guess I came out like a rose." Clark said, "There's your song."
I was only 13 when daddy died.
Mama started drinking and my brother just quit trying.
I'm still bouncing back. Heaven only knows
How I came out like a rose.
The song's details start to mix with those of a fictional narrator from North Dakota who's "waiting on a bus to some promised land." The effect is to make the song more universal, so that in the end it's not just Monroe's story but that of anyone who can't figure out how he made it through all the mess to get to where he is. "It took a while to get here. It's been a long hard road," she sings at the song's gentle conclusion, "and I came out like a rose."
The album mixes ballads like this one and a new, more forceful version of the tearjerker "Used" with cheeky up-tempo swingers that were classically funny, but with a modern twist. She begged her man to charge up their tired love life in "Weed Instead of Roses." She needled Lambert's soon-to-be-ex-husband Blake Shelton with jokes about The Voice on "You Ain't Dolly (and You Ain't Porter)." (Shelton officiated Monroe's 2013 wedding to White Sox pitcher John Danks, and Lambert was the maid of honor.)
The album did fine. It edged into the Top 10 on Billboard's country albums chart, though no songs made the Top 40 on its country airplay chart. "For whatever reason country radio's not working out for me," she said—but there are ready and apparent explanations. In a widely discussed interview in the industry publication Country Aircheck in May, radio consultant Keith Hill advised programmers, "If you want to make ratings in country radio, take females out," making a somewhat tortured analogy with a salad: "The lettuce is Luke Bryan and Blake Shelton, Keith Urban and artists like that. The tomatoes of our salad are the females." Monroe, like many women in Nashville, made her feelings about tomatogate known on social media. In this environment, it's no surprise that a woman, especially a woman who sings songs squarely in an old-fashioned mode, has trouble finding her way on the air. "It brought attention to something that's been going on a while," she told me.

The Blade is more lush and a little bluesier than Like a Rose, but it scratches a similar musical itch; it's a collection of well-written, often-sad songs about love and loss, performed with a twang. Monroe acknowledged that it falls squarely into a now well-worn category. "I have people come up all the time and say, 'I don't like country music, but I like your songs.' " She chuckled ruefully. "You know, I'm really glad they like the songs."
The songs are the reason that Ann Powers, an NPR Music critic and correspondent who lives in Nashville, thinks Monroe is uniquely positioned to flourish whether radio plays her or not. "There's the idea of country music," Powers said, "and then there's what's happening in Nashville right now. Mainstream country is dominant, of course, but what I experience is a very eclectic music town with people trying a lot of different sounds and working with each other. The one thing that holds it all together in Nashville is that it's really song-based—it's not beats-based. It's a great place for any kind of songwriter who's really putting the traditional idea of the song first."
That's why if Monroe breaks through as a country artist, or as a soul artist as her drummer Pete Abbott thinks she might, or as a pop artist as her old Nashville friend Swift did, Powers won't be surprised. "We see her wearing cowboy boots and singing in an accent, and we put her in a box—but her songs don't fit in that box."
* * *
The show is energetic, upbeat. Whether she's set aside her nausea or is just pushing through it, Monroe manages to hide it. A full house cheers the new songs and sings along with old ones, including "Heart Like Mine," which Monroe co-wrote with Miranda Lambert and Lambert made a No. 1 country hit in 2011. "I've been sick as a dog," she says after that one, "but the power of girls singing has me feeling fine!"
When you watch Monroe live, you notice how rare a straight-ahead rocker like "Heart Like Mine" is in her songbook. She sings ballads beautifully, but her handful of faster numbers are carefully selected—tonight she sings "Weed Instead of Roses," which she says Gill made her put on the last record, and a new song, "Winning Streak." "Winning Streak" combines self-deprecating lyrics ("If losing's a game/ I'm on a winning streak," goes the chorus) with a triumphant gospel feel. The resulting irony seems to make Monroe feel OK about cutting loose. "I feel sassy when I sing it," she says, "but I make fun of myself a little bit, too."
Monroe's mild uncertainty about playing upbeat material reflects her sense of herself as a songwriter and performer—but it also reflects a reality in Nashville that audiences often expect women to deliver emotion and stories, and men to deliver stomping boots and attitude. "Females always have a hard time finding ways to add tempo and rock out with a band," Alexander, who co-wrote "Winning Streak," said. "Men can lean on party songs, and women can't. It's hard for a woman to sing a ditty and get away with it."
"An up-tempo song has to be just right for me to even wanna write it or sing it," Monroe said. But Abbott, Monroe's drummer, thinks that energetic songs play to Monroe's strengths in many ways. He recalled a cover of Ray Charles' "I Got a Woman" that the band likes to play sometimes. "There are a lot of singers who don't really get it—they don't know how to approach a vocal like that. But Ashley—I don't know any other way to say it—she has the ability to sing the living shit out of that song and material like it. It's very expressive, and she can utilize all aspects of her vocal abilities." He said that when they play it at festivals, people stop in their tracks and turn around. "They see this sweet little blonde girl, and this monstrous voice comes out of her."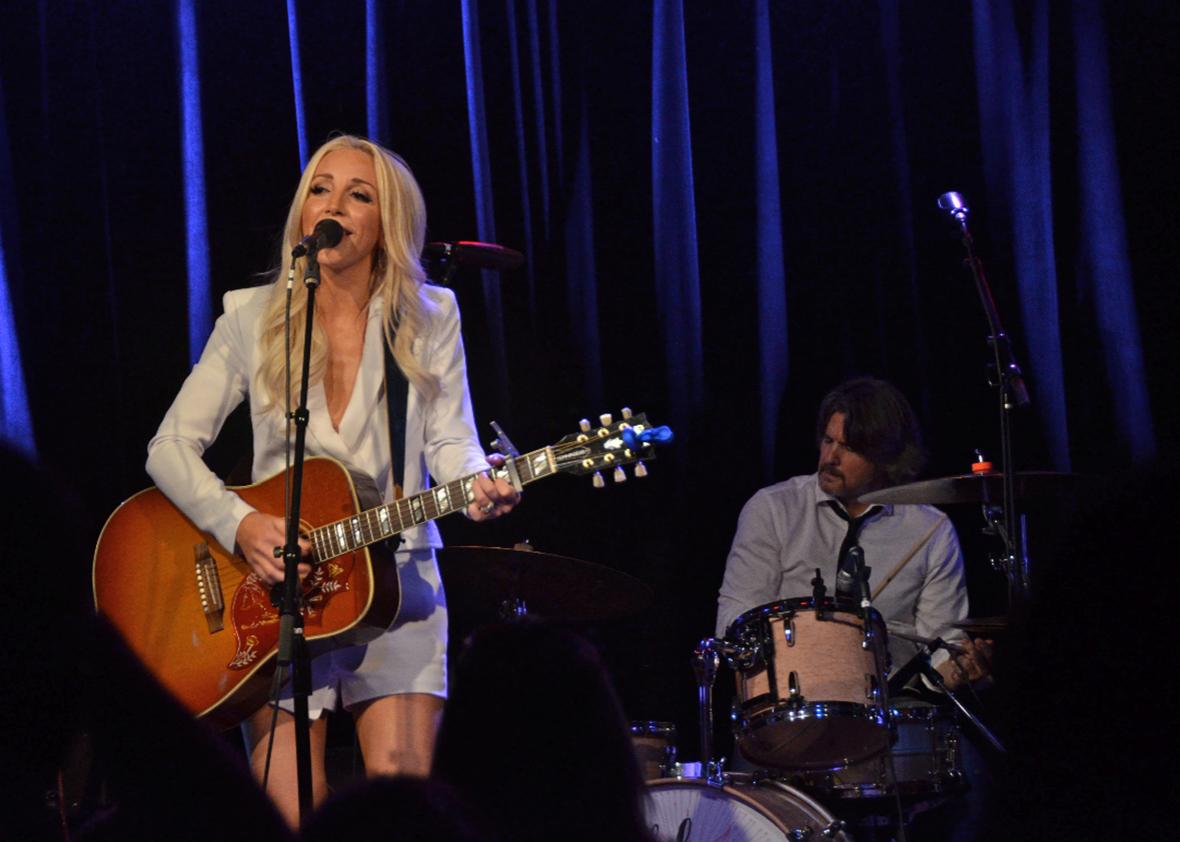 The ballads are still Monroe's bread and butter, though. She finishes the show in Nashville with a cover of Gram Parsons' "Hickory Wind," and hovering in the wings, Grady beams. "Not a lot of singers in this town who can sing this song," he says. He glances at me out of the corner of his eye, then adds, meaningfully, "Not a lot of singers in this town that know this song."

When the show's done, after Monroe negotiates (with only mild grimaces of pain) the gaggle of blondes who invade her dressing room, and after she calls Ubers for Poppy and Granny and her mama and stepdad and herself, and after she kisses her band goodbye, I stand in the green room with Grady and John Esposito, the president of Monroe's label, Warner Music Nashville. They are both exhausted and energized after a stressful but successful industry welcome for the album. They make a great Mutt and Jeff team: Grady tall and pale and measuring his words, Esposito short and deeply tan and antic. Once they were both record store clerks, and now they run a substantial chunk of the country music business. "I was in Nantucket this morning, so I don't know what the fuck I'm saying," Esposito cautions me, before he and Grady start to speculate about the album's prospects.
"Look," Grady says. "We did almost 100,000 of Like a Rose without 20 seconds of airplay anywhere."
"I won't go to sleep tonight worrying about radio," Esposito says.
"Here's who she is," Grady says, warming to the notion. "She's Randy Newman. You let her make records. Record after record. And then some funny thing is gonna hit."
"In the meantime," Esposito grins, "she's a magnet bringing quality people in. I'll make my money off other people."
"What are they gonna do?" Grady asks.
Esposito shrugs. "They can fire us."
* * *
This spring Ashley Monroe sang her first No. 1 hit. The song wasn't hers, though—it was "Lonely Tonight," a delicious hunk of Tennessee cheese from Blake Shelton that features Monroe on the chorus. "Need you, want you, I'm right here," she cries, pressed flat against a wall of guitar. "It gives you a high to hear your voice on the radio," she said. "It's so powerful! You think, who all's listening right now?"
"I don't know that I'll ever get played on the radio, but I've been super surprised in the past," Monroe said. "Maybe I'll hit No. 1. I also don't put all my eggs in that basket."
"That would be a really small basket," John Grady affirmed with a chuckle. "I think there's a movement going on with all these records that don't get played. That it's almost a badge of honor. I'm talking about Ashley and Kacey Musgraves and Jason Isbell and Brandy Clark, incredible records coming out of Nashville and they all suffer the same fate—but they're not really suffering."
"She's a liminal figure," Powers said, describing how she straddles the borders between mainstream country, Americana, and bluegrass. "And there's a whole constellation of intersecting communities in Nashville who are working in different ways and getting their music out in different channels." Satellite radio, the Web, mainstream media coverage. (The Blade got a very positive 7.5 rating from Pitchfork, a publication that doesn't even bother to review most major country releases. "I let out a huge sigh of relief—they didn't crucify me!" Monroe told me.) Not to mention relentless touring. As Powers noted, Monroe is "super personable, she's stylish as hell, she's great on a stage."
And then there's NPR. On Monday night at a crowded space in WNYC's SoHo offices, Powers introduced Monroe for an NPR "First Listen Live" concert and webcast. "The whole NPR system is very, very important," Grady said. Not only are NPR listeners affluent, highly educated, urban, and liberal—not attributes associated, unfairly in many ways, with the stereotypical country listener—they are also curious and exploratory, with attention and money to burn. They fetishize authenticity and are attracted to storytelling and songwriting. That is to say, they're the Platonic ideal of an audience of people who "don't like" country but in fact do like many country songs.
On Tuesday morning, Monroe called me as her tour bus trundled west on the long road back to Nashville. She told me she was bouncing back from her stomach ailment—and she was exultant about the previous night's show. "I finally found my radio audience," she said. "It's NPR!"
*Correction, July 27, 2015: This article originally misidentified the CMA Music Festival as Country Music Award week.