The jazz world came out last week to mourn the loss of Ornette Coleman, the  saxophonist, band leader, and composer, who died on Thursday at the age of 85. Coleman was lauded as a rule-breaker and visionary who, despite initially hostile reactions from many of his peers, moved jazz past bebop conventions and into the "free" explorations of the 1960s and beyond.
Without Coleman, John Coltrane's final years might have sounded very different, as would Miles Davis' electric period, and the entire free-improvisation world down to today. That should be enough of a legacy for any musician, except that "free jazz" (a term other players and critics borrowed from Coleman's 1961 album title) has always been a very niche, minority taste. What helped make Coleman more broadly significant is that his revolution radiated beyond the boundaries of jazz to young seekers through the decades in every musical form.
Musicians are widely aware of this, as reflected in the list of performers at a tribute concert in Brooklyn in 2014 that would turn out to be his last performance, who included Patti Smith, Laurie Anderson, Thurston Moore of Sonic Youth, Nels Cline of Wilco, members of Morocco's Master Musicians of Jajouka, and even Flea of the Red Hot Chili Peppers. But non­–jazz listeners tend to be less cognizant of it.
It's said that James Brown's great innovation, one drawn deeply from African-American musical tradition, was that every instrument in a band could be a drum. Likewise, Coleman saw that every instrument in a band could be a human voice, the drum's longtime companion—singing, but also chattering, yelling, moaning, crying. And while Coleman was never the kind of Black Power firebrand many of his successors were, his insight did come with a political subtext: Because they are human, all those voices should be equal and free.
(For more on the techniques Coleman used to achieve that effect, read Fred Kaplan's Slate column, "The Man Who Freed Jazz.")
When a musical insight is that simple and essential, all kinds of artists will seize on it—and it will be passed along through chains of influence, second- or third-hand, sometimes intact and sometimes as more of a thrilling rumor of possibility. Here is a family tree of some of the musicians and movements for which Ornette Coleman helped plant the seeds.
The Velvet Underground
The avant-garde aspects of the least-successful/most-influential rock band of the late 1960s are usually credited to John Cale, with his background in the experimental drone ensembles of La Monte Young (who was part of the John Cage–inspired Fluxus conceptual-art group). Coincidentally, Young had played in bands with Coleman in Los Angeles in the 1950s. But the direct connection between Coleman and the Velvets was through Lou Reed, who often said that in the early 1960s he would run around the Village going to every gig by Coleman or his trumpet player, Don Cherry.
"I had had this idea when I first discovered electric guitar: Wouldn't it be incredible if you could play like Ornette Coleman on the guitar?" Reed told Creem magazine in 1980. "That was some of the initial attack—something like 'European Son' grew out of that thing."
That song appeared on 1967's The Velvet Underground & Nico, an album at whose shrine practically every punk and underground band since the mid-1970s has genuflected. Even if Coleman had affected no other rock band, this would be enough to make him part of the canon. Listen particularly to the guitar transition from around 1:15 to 1:20 to hear Reed sketching out the shape of art rock to come.
In future decades, Reed would play with Don Cherry multiple times and finally in 2003, Coleman himself would guest on Reed's album The Raven, a meeting Reed called "one of my greatest moments."
Psychedelia to prog rock
Always the kind of personality who cut through false distinctions, Coleman could boast a lineage both in punk rock and, with his collective-improvisation aesthetic, in the very music that punk rock often claimed to set out to destroy, hippie psychedelia and stadium rock.
Bassist Jack Bruce of Cream, who had a jazz background, told the Independent in 1992 that by the late 1960s the group that did "Sunshine of Your Love" and "White Room" was secretly "an Ornette Coleman band, with Eric [Clapton] not knowing he was Ornette Coleman, Ginger [Baker] and me not telling him. But there he was, doing these unaccompanied solos for 20 minutes, incredible stuff."
A less covert alliance was between Coleman and the ur-jam band, the Grateful Dead. While Jerry Garcia and his cohorts certainly did not have the instrumental rigor that Coleman's groups did, they shared his democratic ethos, and both sides recognized kindred spirits. Jerry Garcia guested on Coleman's 1988 fusion album Virgin Beauty, and Coleman returned the favor by appearing live in concert with the Dead in 1993.
The links were not all retrospective, either. While hippie audiences often lacked deep knowledge of the tradition, many realized free jazz partook of the same liberational zeitgeist and gave it at least token attention—check out, for example, this poster for a 1968 Coleman gig at psychedelic mecca the Fillmore West: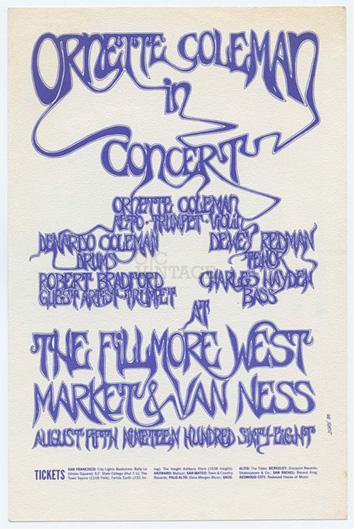 The British branch of psych-prog had a Coleman current running through it in turn, via the likes of keyboardist Richard Wright of Pink Floyd as well as more explicitly experimental groups such as Henry Cow and Soft Machine. Robert Wyatt, Soft Machine's former drummer and vocalist, wrote a tribute to Coleman for the Wire this week, saying, "I'll leave it to others to celebrate his significance to subsequent explorers of the freedom principle. What has always warmed my heart, in the end … is the timeless vocal beauty of the actual sequences of notes and phrases he could come up with, and the feeling of pure living joy of playing they can communicate."
Frank Zappa and Captain Beefheart
Overlapping with the psychedelic movement, but not really of it, were Los Angeles county high school friends Frank Zappa and Don Vliet, later known as Don Van Vliet and Captain Beefheart. Zappa heads tend to talk about his expertise in 20th-century European composers and musique concrète because it sounds more impressively highbrow, but his early (and, to me, best) Mothers of Invention albums such as Uncle Meat drew their wildness and density equally from free jazz.
Beefheart, on the other hand, was a Coleman devotee. On albums like the landmark Trout Mask Replica, his music often sounded like nothing but Delta blues run through Coleman's "harmolodic" blender. He shared with Coleman an ingrained synesthetic sensibility, under which sound and color are one.
Like the Velvets, Beefheart would go on to have an influence much wider than his initial audience, from Devo and the Talking Heads to the Pixies and Nirvana to PJ Harvey and the White Stripes, and perhaps most audibly in the Tom Waits of Swordfishtrombones and thereafter. An elusive and canny character, Van Vliet himself would sometimes deny having any musical influences at all, but when he was more candid, as in a 1972 Crawdaddy interview, he would say of Coleman:
There's one drop of water which makes up the ocean. And I'm just one of those drops of water, I would like to colour that drop of water out and just let it break into the sunset. I know that Ornette Coleman feels the same way about that; I'm not trying to put my name beside Ornette Coleman, because you can't put your name beside Ornette Coleman. I think he is one person who has done that. I just wish that people could drink water with him. I think he's one of the greatest artists today.
MC5 and the Stooges
As if to complete the checklist of punk forerunners, we can also find Coleman in the background of some of the noisy ferment of Detroit in the early 1970s, where recent race-based riots left some smart white kids who played hard rock eager to complicate their messages.
Iggy Pop and the Stooges' free-jazz influence came primarily via John Coltrane, but the MC5 kicked out its jams under the tutelage of manager and political "White Panther" provocateur John Sinclair, who wrote about the likes of Coleman and Sun Ra for the jazz journal Down Beat and his own self-published guerrilla zines. Their takes on liberation music were a lot less lyrical than Ornette's had ever been to that date, but they don't sound so out of place alongside the sharper-edged amplified music he'd be making later in the decade.
Plastic Ono Band
If you're ever looking to win a game of "Six Degrees of Ornette Coleman," this is a crucial connector to have in your back pocket. Yoko Ono and Coleman's paths often seemed to weave around one another in New York in the 1960s and 1970s. They shared associates in the Fluxus scene, and the performance art happenings that Ono held in her loft in the 1960s were succeeded in turn by the "loft jazz" events Coleman hosted at his own building in the 1970s.
The two would come together on record in 1970, when Ono was suffering the worst stage of her pillorying, a decade after Coleman had undergone a similar experience: He was accused of ruining jazz, she of breaking up the Beatles.
Most of Ono's Plastic Ono Band album (a much further-out correspondent to John Lennon's record of the same name) was recorded in a single day with a band of Beatles associates, except for the lead track on Side 2, "AOS," which was made two years earlier in a separate session with Coleman (on trumpet rather than saxophone) and his own group (Charlie Haden and David Izenzon on two separate basses and Ed Blackwell on drums). (Fair warning: The song is kind of NSFW.)
They would reunite in 2009 at the Coleman-curated "Meltdown" festival in London, this time with players including Sean Lennon, Mark Ronson, and Antony Hegarty.
Post-punk, punk-jazz, and punk-funk
Given the lineage above, it was inevitable that by the late 1970s Coleman's fingerprints would be smudged all over the myriad sound experiments and expressionist spontaneity carried in by the punk tsunami. In the CBGBs scene in New York, besides Patti Smith (who'd hoped to get Coleman to play in her band on the Radio Ethiopia album), guitarists Tom Verlaine and Richard Lloyd of Television played their guitars off one another in ways prompted by free-jazz saxophones, as did Robert Quine of the Voidoids.
Self-conscious free-jazz borrowings first started surfacing with "no wave" bands such as the Contortions (sometimes featuring Coleman guitarist Bern Nix) and the "fake jazz" of the Lounge Lizards, though I would argue that the collective atonal compositions of bands such as Mars and DNA were closer in spirit to the Coleman legacy.
These kinds of outbursts attracted the attention of more direct followers and associates of Coleman's, including the guitarists James "Blood" Ulmer and Sonny Sharrock, bassist Bill Laswell, and drummer Ronald Shannon Jackson, whose noisy electric groups such as Last Exit, Material, and Massacre began sharing stages with post-punk bands. Other groups returned funk to the punk mix, including Defunkt, led by trombonist Joseph Bowie, younger brother of Chicago free-jazz icon Lester Bowie. Meanwhile Coleman, like Miles Davis, was playing with his own electric and funkified group, Prime Time. It may have been the most confusing time and place in music history to say what was and wasn't jazz.
All of these elements would feed into the Downtown music scene associated with the Knitting Factory throughout the 1980s and 1990s, where jazz-skronk and rock-skronk would mix freely in the bands of John Zorn (whose band Naked City followed up its great 1988 cover of Coleman's most famous composition, "Lonely Woman" with an entire 1989 Coleman tribute record, Spy vs. Spy) and many others.
Meanwhile, in Britain's own post-punk moment, there were the proud Coleman followers of the Pop Group, who made free jazz an explicit part of their cool radical brew. One suspects there must have been similar influences afoot among Wire, the Fall, Cabaret Voltaire, and other bands, although many of them might have been secondhand via artists such as Beefheart.
And then there was Neneh Cherry, who, as the stepdaughter of Don Cherry, couldn't have come more literally from Coleman's milieu. She began hanging out with punk godmothers the Slits when she was 15, because Papa Don was touring with them. Neneh sang with the punk-jazz band Rip Rig and Panic, but had her biggest hit with 1988's pop-rap "Buffalo Stance." In recent years she has returned to her free-jazz roots by collaborating with Northern European jazz-noise trio the Thing (named for a piece by her father), for example on this 2012 version of proto-punk band Suicide's "Dream Baby Dream":
Both the New York and the U.K. reverberations of Coleman echoed back to younger punk bands in the U.S. and around the world. Look, just as a signal example, to the 1980s roster of the SST independent label, which helped set the template for much of the indie music to follow.
The Minutemen, for example, were enormously influenced by the Pop Group, which tipped them off to free jazz in general—Minutemen bassist Mike Watt told me by email, "Us Minutemen were really into [Coleman's album] Dancing in Your Head. It came out [at the same time as] the punk movement … some kind of gestalt type of mindblow for us." For many young listeners in turn, the Minutemen's unbridled all-directions-at-once version of punk was the kind of thing that could never be unheard. 
Also on SST, the group Universal Congress Of—the instrumental side project of Saccharine Trust's Joe Baiza—was so worshipful of Coleman that it blatantly patterned the cover of its 1988 album after Coleman's This Is Our Music and titled it with a barely disguised variation of "harmolodics."
Then of course there was SST band Sonic Youth, the band with the rock world's biggest ears, which seemed to incorporate every strain of the New York and international avant-garde into its washes of interactive distortion over the years—and returned the favor with its own tireless curatorial efforts. Naturally Thurston Moore made his gig in London last weekend a "wake" for Coleman, as documented by one attendee:
And that is just one cluster of cases. You could equally talk about the Discord stable, from Bad Brains (which began as a jazz-fusion band) to Nation of Ulysses, or the Birthday Party (Nick Cave's band) in Australia, or European anarchist punk bands such as Crass, the Ex (which has gone on to become a part of the European free-improvising scene), and Scotland's Dog Faced Hermans, which covered Coleman's "Peace Warriors" on its unfortunately little-remembered 1993 album Hum of Life.
Black rock, hip-hop
Conspicuously, my examples above have leaned to white groups that have picked up on Coleman's lessons. Outside of jazz, which is always explicit about its lineage, it's more difficult to find equally outspoken disciples of Coleman's in contemporary black music. But there are exceptions.
One of the quickest voices to speak out in the past few days about Coleman's importance was Vernon Reid, best known to rock fans as the leader of the 1990s band Living Colour. Reid played with former Coleman drummer Ronald Shannon Jackson in his youth, and told Rolling Stone on Friday that without that experience, "I would never have thought it possible to start a rock-and-roll band. … The notion of doing what calls you, what you want to do—that was transmitted through Ornette."
As for hip-hop, most of the direct sampling that went on in "golden age" jazzy hip-hop looked to the smoother sounds of the Blue Note era rather than the radical fringes, as evoked in the cheesy title of Gang Starr rapper and producer Guru's Jazzmatazz series. Many critics have heard a more free-jazz spirit in action in the Bomb Squad's noise-packed production for Public Enemy—and while I haven't been able to find any instance of the production team acknowledging this directly, it makes sense that all the punk-jazz-funk collisions of New York in the period would have had an impact on that sound. If so, that carries on through hip-hop production to this day, most clearly in the more extreme sounds of the likes of El-P (now of Run the Jewels) and Death Grips.
The soul of Coleman's music might be better traced in the ever-questing sounds of many women at the hinges of hip-hop and R&B, such as Erykah Badu (who paid tribute to the Coleman in a BBC radio documentary in 2012) or Meshell Ndegeocello. Then, of course, there are the post-modern jazz sounds heard on Kendrick Lamar's To Pimp a Butterfly this year, coming from a host of Los Angeles musicians including Flying Lotus and Kamasi Washington—who has managed to parlay his presence there into a sort of crossover breakthrough with his new, heavily Coltrane-inflected double album The Epic.
Beyond direct influence, though, I'd venture to say that Ornette Coleman's traces are present almost anywhere Western popular music is played in the 21st century. His insights into the alternative ways musical lines could interact, alongside Brown's rhythmic revelations and other advances, helped lead to the kinds of bracing juxtapositions and sonic spaces you'll hear in many mainstream modern pop productions, like those of Kanye West or Timbaland—consciously or not. 
Unprompted, I wouldn't have named the Roots, for example, as particular acolytes of Coleman's. But when the group isn't busy as Jimmy Fallon's backup band or making viral videos playing toy-instrument versions of pop hits (shades of the "little instruments" practices of the Coleman descendants in the Art Ensemble of Chicago, as well as Coleman's own famous white-plastic saxophone?), its awareness of the sweep of black-music history is on the same scale as Sonic Youth's pan-experimentalism. And the Roots' sense of organic exchange between musicians is certainly consonant with Coleman's. So it shouldn't have been a surprise to find out that Coleman hooked up with them at the 2009 Meltdown festival, nor that the ever-eloquent, musically omnivorous Questlove took to Instagram on the news of Coleman's death to reminisce and pay respects.
I will leave the last words to him: