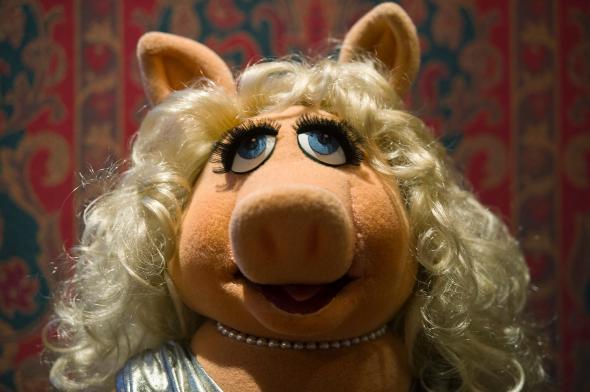 On Thursday Miss Piggy—yes, that Miss Piggy, the animated force of nature who's charmed audiences for four decades—was presented with this year's Sackler Center First Award by Elizabeth A. Sackler and Gloria Steinem. (Yes, that Gloria Steinem.) She joins the ranks of such luminaries as Connie Chung, Toni Morrison, and Julie Taymor, "women who have broken gender barriers and made remarkable contributions in their fields." The event took place at the Brooklyn Museum in New York, and included a charming back-and-forth between Steinem and Miss Piggy's date, Kermit the Frog (who is "very proud" of her, he said), a video retrospective of her career, and a brief onstage chat between Steinem and the honoree herself.
The highlight, however, was certainly Miss Piggy's acceptance speech, in which she declared that while she once did not identify as such, "Starting today, moi IS a feminist!" She also addressed the criticism she's received for being honored with the Sackler Center First Award, namely that she's not a "real person":
So, why Miss Piggy? I spoke with Sackler before the ceremony, and she explained:
"Miss Piggy embodies the human characteristics that we so look up to, and I think all of the earlier Sackler Center First Awardees … have within them the very qualities that we see straight out from Miss Piggy: Determination, grit, humor, tenacity, direction—a decision of what you want to do, and how you're going to get there."
The honoree had quite the busy schedule during her trip to New York, but she was gracious enough to take some time out to answer a few questions for moi, via e-mail. Below are her thoughts on her career, her long-standing (and often turbulent) relationship with Kermit the Frog, and the Muppets' return to primetime. 
You're being honored for being a trailblazer. What would you say is your proudest accomplishment?
Moi's proudest accomplishment: Simply being moi. It is no easy task being a strong, determined, intelligent, accomplished, and yet remarkably humble woman in this day and age. And yet, moi does it every single day, and looks fabulous doing it. Sometimes I even surprise myself with how accomplished I am!
You and the rest of the Muppets are returning to prime time in the fall. What kind of adventures should we expect from you?
First, let me say that I've wanted to do a "reality-style" show ever since I find out you could shoot the entire thing without rehearsing! Show up. Shoot. Go Home. Rinse. Repeat. What could be easier!?
As for the show itself (The Muppets; Tuesdays at 8pm this fall on ABC): Vous are going to see a whole new side of the Muppets. At last you're going to find out what it really takes to be a pig in Hollywood.
You and Kermit have one of the most storied relationships in pop cultural history. If you could go back and give your younger self advice about your relationship with him, what would it be? 
It's true Kermit and moi have had a "storied relationship." In fact, we've turned our "stories" into several movies and countless TV appearances. But, until our new show this fall on ABC, you've never seen the whole story. (See how I turned your question into another plug for our show—The Muppets? Clever, no?) Anyway, what did you ask? Oh yes, what advice would I give my younger self? I would say: "Moi, there will be good times and bad times with this frog, so try to always enjoy the good times. And write down the bad times, cause that'll come in handy later when you're writing a tell-all memoir."
You once took a horse-drawn carriage ride around Central Park with Kermit. What do you think of New York City Mayor Bill de Blasio's plan to eliminate these rides?
You are kidding, Mayor de Blasio wants to ban frogs and pigs riding around Central Park in horse-drawn carriages? That seems extremely species-ist. I'm going to need to have a talk with Hizzoner.
What are your thoughts on modern celebrity?
We are fantastique! Oh, you mean today's celebrities other than moiself? Well, with Twitter, Facebook, Instagram, wackadoodle and all that other social media, it's too simple for anyone to be a celebrity.  Now, all you have to do is embarrass yourself publicly and—bingo! You're trending. When I was starting out, a celebrity had to make a name for themselves by doing something extraordinary—like hiring a publicist.
You've always been one of the most confident, competent Muppets. What advice do you have for people who struggle to be so decisive and sure of themselves? Particularly kids, who are some of your biggest admirers.
That is so kind of vous—and true, too. I have had to struggle all my life to achieve my dreams. I have had to overcome countless obstacles because I was "different." But I never, ever gave up. And that is my advice to all my admirers, especially young people: Believe in yourself and never give up. Show up every day and don't leave until they believe in you and give you your own show.
---