"When shit's not going your way, getting a little crazy with some random friends can help you sort out your shit." This sage advice, dispensed in Magic Mike XXL by construction worker–turned-stripper-turned–furniture-maker Mike Lane, sounds curiously profound coming from the mouth of 35-year-old construction worker–turned–perfume salesman-turned-stripper-turned-model-turned–movie star Channing Tatum. Magic Mike XXL, the sequel to Steven Soderbergh's 2012 summer hit Magic Mike, is the ultimate cinematic expression to date of that it's-all-good-bro Channing Tatum ethos. Tatum's career—which keeps getting more surprising, and more promising, with each new movie—has been built on gradually coming to embody that "random friend," a down-to-earth, caring goofball with whom both audiences and his fellow actors can feel free to "get crazy" and play.
And when I say "embody," I ain't kidding. Magic Mike XXL (directed by Gregory Jacobs and scripted by Magic Mike screenwriter Reid Carolin) is chockablock with writhing, desiring, often convulsively laughing bodies. Not just the gym-carved torsos and thong-clad pelvises of Mike and his stripper buds Tarzan (Kevin Nash), Tito (Adam Rodriguez), Ken (Matt Bomer), and Big Dick Richie (Joe Manganiello), but bodies of all sorts: black, white, Hispanic, male, female, cross-dressing, big, small, gym-toned, not. In this all but conflict-free buddy road picture, the main suspense hangs on the question of whether Tito's tricked-out fro-yo truck will be repaired fast enough for the onetime Kings of Tampa to make it to the stripper convention in Myrtle Beach, where they've planned one final, glorious blowout—their farewell to stripping. The deeper story of XXL, though, has to do not only with the endearing bond of friendship among these five insecure hunks, but with the joy of performance, the importance of creative expression, and the sheer fun of having a body. 
These are the values that Tatum's Mike, having unwisely popped a tablet of Molly early in their road trip, feverishly tries to inculcate in his fellow exotic dancers, insisting that the familiar accouterments from their tired old routines (the fireman! The cop! The chains-and-leather guy!) must literally be thrown out the fro-yo truck window. With only days to go before the convention, Mike insists that they choreograph a new set of dances from scratch, each expressing the dancer's individual personality through costuming, props and … gyration RPMs, I guess.
Audience research after the last Magic Mike suggested that people wanted less story and more dancing, and XXL obliges on both fronts. Plotwise, it's pretty much just five really buff dudes shambling their way from Florida to South Carolina. But where XXL shines is as a dancing movie—which is to say, both a movie about dance and a movie that itself dances. Shot and edited by Soderbergh under two different pseudonyms, this easygoing sequel moves with some of the same sexy, self-mocking confidence as its beefy yet limber star. That Tatum also executive-produced and helped develop both movies' storylines, based on his own experience on the Southern stripper circuit, suggests why these movies stand as the best, most distilled examples yet of uncut Tatum-ositude. Mike gets to dance a lot, and when Channing Tatum dances, it's hard to pay attention to anything else.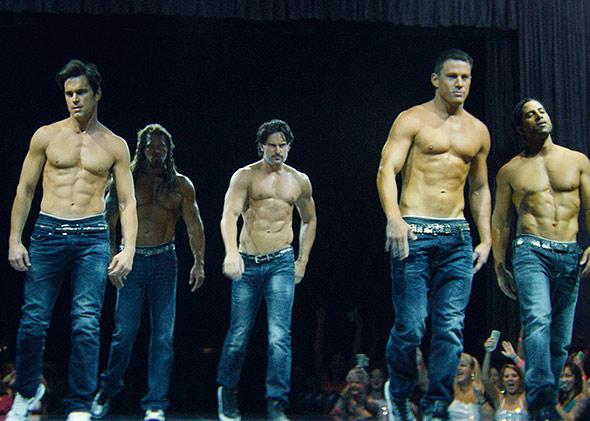 Born in Alabama and raised for the most part in Mississippi, Tatum—the son of a roofer and an airline worker—went to college on a football scholarship, then dropped out after a year to take the string of jobs mentioned above. He never had formal dance training and claims to have learned to dance as an adolescent attending friends' quinceañeras, raising the question: Just what kind of amazing parties did those girls' parents throw? The more you watch Tatum move onscreen—not just in choreographed striptease numbers or high-stakes dance-offs involving nightclub-floor trampolines, but as a self-taught boxer, an depressed ex-Olympic wrestler, a PTSD-afflicted soldier, or a dim-witted undercover cop—the clearer it becomes that he's not just a good but a great mover, one of those people who seem to have more unmediated access to the kinetic possibilities of their own bodies than the rest of us earthbound clods. A big guy—6-foot-1, 180-plus pounds—who can move (or rather, can't not move) with the speed and grace of a featherweight boxer and the strength and flexibility of a gymnast, he's also a natural physical comedian with the ability to, in essence, tell jokes through dance.
In this sketch from the comedy YouTube channel Cinemash, Tatum needs only a few gestures to get across an eerily precise parody of Patrick Swayze's tender touch in Dirty Dancing. Even when he crosses the room to answer the door, Tatum does it, somehow, Swayze-style, holding himself in a way that reminds you of the late actor's ramrod-straight posture and unique way of swiveling his head. Tatum's partner in the sketch, the deadpan comedian Charlyne Yi, is not a dancer at all and makes no particular effort to impersonate Jennifer Grey's Baby—making Tatum's overcommitment to the Swayze role somehow even funnier. Part of Tatum's Tatum-ness consists in the fact he's not just an eye-popping solo dancer but a generous partner, one who always seems deeply invested in giving his fellow performers not just a good time but a moment to shine. Witness the 45-second-long secret handshake he invented with his 14-year-old White House Down co-star, or his twerking with audience members at a recent Magic Mike XXL focus-group screening. It's a quality adorably present in this shaky fan-shot video of Tatum awkwardly trying to get an onstage dance-along going at a press event for 22 Jump Street. Whoever filmed the event is far too focused on the star's admittedly hypnotic undulations to bother showing us the nonfamous lady he's urging to break it down onstage beside him. But the way he eagerly keeps looking over at her makes plain his bone-deep certainty that whatever move she busts, it's going to be awesome.
Tatum's most visible roles have highlighted the relationship between the character he plays and the virtuosically athletic body he inhabits. Sometimes, as in Foxcatcher, that relationship is troubled: Tatum plays former Olympic medalist Mark Schultz as an alienated and lonely young man who understands virtually everything about the workings of his (and, it sometimes seems, his older brother's) body, but practically nothing about his (or anyone else's) inner life.
More often, though, Tatum's characters share the actor's playfully ebullient relationship with his own physical self. In Step Up, the 2006 dance-school romance on the set of which Tatum met his now wife, Jenna Dewan, he's a working-class kid who finds himself conscripted into partnering with a graduating senior (Dewan) on her big final choreography project. The movie is terrible, an extended after-school special whose attempts at gritty social realism make the Baltimore projects look like Beverly Hills 90210's Peach Pit. But whenever Tatum's Tyler Gage starts to dance—especially in the early scenes, which stress his character's untutored prowess as he turns backflips off car hoods in the school parking lot—Step Up vaults into another dimension. The montage in which Channing's and Dewan's characters fall in love over the course of a few weeks' rehearsals—he can't stop messing with her carefully choreographed routine by throwing in improvised hip-hop moves or comic faux-ballet, she can't stop getting annoyed and then collapsing on the floor with him in giggles—is irresistible, not just because you can tell the two performers really are falling for each other, but because Tatum's dancing body communicates so much. As the moves fly by, you can tick off specific and complex motivations to go with each one. Here, he's coyly flirting by mocking her routine; here, he's showing off by copying her move and then topping it, all the while mocking himself for caring if she's impressed; and here, he's grudgingly allowing that her ballet technique, such as the ability to spot a series of moving turns, might on occasion be tough enough to kick the ass of even the best self-taught street dancer. All communicated without a single line of dialogue.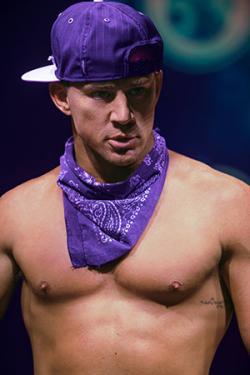 What about in scenes when he does have lines of dialogue—can Channing Tatum actually act? It's a charged question, given that for modern filmgoers the art of acting tends to be solely associated with the delivery of spoken language. It's easy to forget that in the earliest days of cinema, a mobile, expressive body was a screen actor's single greatest asset. A performer like Tatum can serve as a reminder that charisma, valor, tenderness, humor, and even a kind of wisdom can be communicated not just linguistically but gesturally. Though Tatum's exercised questionable judgment in some of the dramatic roles he's taken on—a G.I. Joe movie? Two G.I. Joe movies?—I'll stand up for his performance in the sappy Nicholas Sparks adaptation Dear John, especially this legit heart-rending scene in which his character, an injured war vet, reads aloud a letter he's written to his dying father. Now that he's making more comedies (the Jump Street films) and backstage musicals (the Magic Mikes), Tatum seems to be in the process of figuring out he's best suited to roles that don't call for vocal pyrotechnics or verbal eloquence. In XXL, Mike mentions that his personal God is female—a suitable deity for a heterosexual male stripper with a strong service ethic. If God is a woman, she's blessed Channing Matthew Tatum with a big, strong, sexy, funny, multitalented body, and he's at his best when he expresses himself using that instrument and gives his fellow performers a chance to do the same.
And then there's Chan—Chan being what Tatum's friends and family call him, as well as the name he uses to introduce himself both to journalists and to the random strangers he chats up in bars, airport Chili's restaurants, and small-town sheriff's offices—a group that evidently makes up a rapidly growing segment of the U.S. population. Chan is, to all appearances, exactly the warm, fun-loving party animal he presents himself as. (Even if his hearty admission last year that he might be a "high-functioning alcoholic" does have me worried for his hard-living ways.) When Chan emails the creative team on 22 Jump Street a triumphant "We did it!" message consisting principally of the syllables "AAAAAAHAHAHAHAHAHA" repeated for 14,533 characters—say what you will about the Sony hacking scandal, it gave us one of the great leaked celebrity emails of all time—or takes a female GQ reporter on a spontaneous overnight campout, first stocking up on tequila and Snuggies and calling home to clear the boy/girl sleepover with his puzzled but unperturbed wife, it provokes a wonderful realization. To maintain that sweet a persona that consistently while being a jerk in real life would require more dramatic acumen than Tatum has shown in many of his onscreen roles to date. As he begins to take an expanded creative role in more personal, comedic, physically challenging projects like Magic Mike XXL, here's hoping Chan continues to find new ways to give voice to what's unique about him as an actor, dancer, and human—in the wise words of Magic Mike, to keep on sorting his shit out.