In Love & Mercy, the new biopic about the Beach Boys' Brian Wilson, there's a scene in which legendary studio musician and Wrecking Crew bass player Carol Kaye notices something unusual about the sheet music that Wilson has set in front of her: "Two different bass lines in two different keys?" she asks. "How does that work?" "It works in my head," Wilson replies. In many ways, this also sums up the approach of the film, which could be said to work in two different keys at once: It cuts back and forth between two very specific periods of Wilson's life, Wilson's songwriting heyday of the mid-1960s and his time under the control of Dr. Eugene Landy in the mid-1980s.
But what's fact and what's artistic license in these two portrayals? I consulted several sources to find out, including Peter Ames Carlin's acclaimed biography of Wilson, Catch A Wave: The Rise, Fall, and Redemption of the Beach Boys' Brian Wilson, as well as "Beach Boys: A California Saga," an in-depth two-part article about the band published in Rolling Stone in 1971. While Love & Mercy makes some perhaps necessary adjustments to simplify the musician's story, the film is generally quite meticulous in its presentation of the events of Wilson's life—not least because because co-screenwriter Oren Moverman consulted Wilson, now 72, and his wife, Melinda, while writing the screenplay.
Brian Wilson in the mid-1960s (Paul Dano)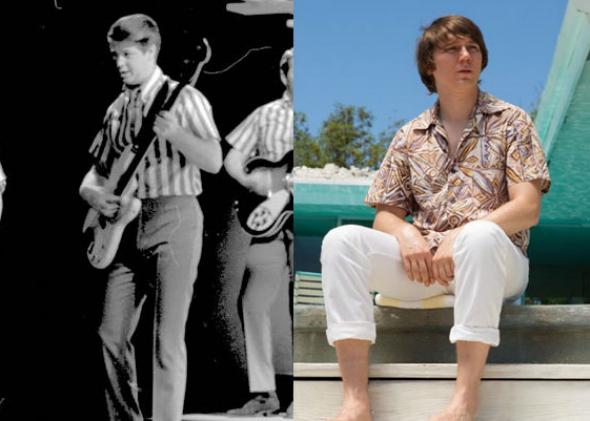 Paul Dano plays the young, baby-faced songwriter as a vulnerable, earnest musical prodigy and a perfectionist in the studio, just as he was in real life. The 1971 Rolling Stone profile describes Wilson's recording process during this period: "At a session he would go around to each player, take the instrument from him, show him what he wanted, and hand it back. Once that was accomplished he could go into the booth and take over the board. Sometimes he would mix the track even as it was being recorded."
Just as in the movie, Wilson has also been deaf in his right ear at least since childhood, but accounts differ on whether this was caused by a blow to the head from his abusive father Murry Wilson, as the movie suggests. Murry denied that he caused it, and Brian thinks it's possible that he was deaf from birth. Wilson's father also really did acquire authority over his son's share of Sea of Tunes, the publishing company that owned the copyrights to most of the Beach Boys' songs, before selling them to A&M records for $700,000. (Exactly how Murry managed this would later be the subject of lawsuits.)

Exactly when Wilson began taking LSD is the subject of some debate, but in a 2006 interview Wilson said that he started hearing voices shortly thereafter.
Mike Love (Jake Abel) and the Beach Boys
Most of the other Beach Boys—Brian's brothers Carl Wilson and Dennis Wilson, and childhood friend Al Jardine, are minor characters in the movie—with one exception: Brian's cousin Mike Love, who is portrayed a foil to the songwriter.
Love & Mercy depicts Love as focused on the band's profits and frustrated with Brian's perfectionism, his mental illness, and his drug use. (Though the film doesn't always specify the drugs Wilson used over the years—especially during his darker periods—they included cocaine, cannabis, and amphetamines, in addition to LSD.) This portrayal is more or less accurate, if understandably one-sided: The notoriously adversarial relationship between Brian and his cousin led to disputes over songwriting credits and ownership of the band's name, and their disagreements have continued all the way up through the Beach Boys' recent 50th anniversary tour.
Brian Wilson in the 1970s and 1980s (John Cusack)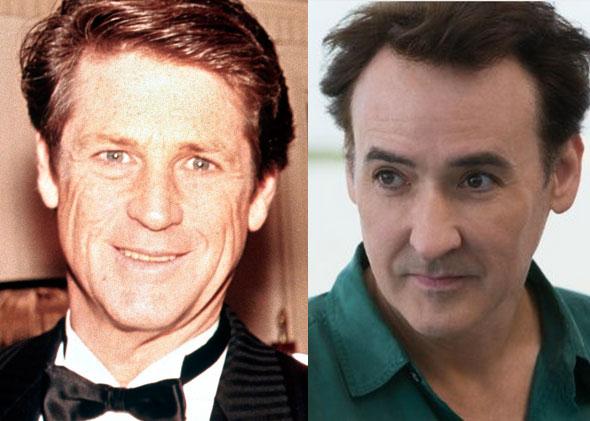 The darkest chapter of Brian's life, the period during which he was rumored to be essentially catatonic in bed for two years during the mid-1970s, occurs mostly off-screen. Stories of this period are so central to the Brian Wilson mythos that they became the inspiration for the Barenaked Ladies song "Brian Wilson" (a song which the musician himself has since performed).
Love & Mercy openly addresses this rumor by having Melinda Ledbetter (Elizabeth Banks) ask the musician outright if it's true, to which Cusack's character responds, "Actually, it was more like three [years]. At least, that's what I tell people." The response seems genuine: Though the real-life Brian spent a great deal of that time in bed, he was also taking drugs, drinking, overeating, and going to clubs, including the bar at the Chateau Marmont.
Melinda Ledbetter (Elizabeth Banks)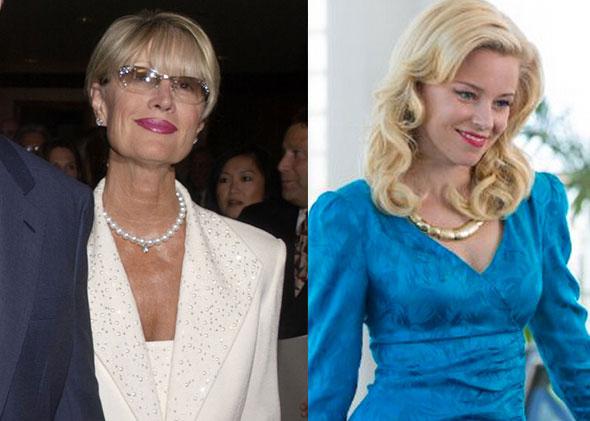 The film is most precise in its recreation of the details of Brian's courtship of his future wife, perhaps due to the real-life Melinda Wilson's involvement in the film's production. Melinda Ledbetter did meet her husband while working at Martin Cadillac, and he did buy the first car she showed him, a brown Seville. Although moments like Brian telling his future wife about the death of his brother Dennis while at a Cadillac dealership might seem contrived to cram in some exposition, Brian really did tell her then about how two years prior Dennis drowned, according to Catch a Wave. Similarly, before their first date, Wilson really did stand in the courtyard outside Ledbetter's apartment, shouting her name.

One difference: Eugene Landy did not actually accompany them on that date. Instead, his assistants did, and he called to check in several times.
Eugene Landy (Paul Giamatti)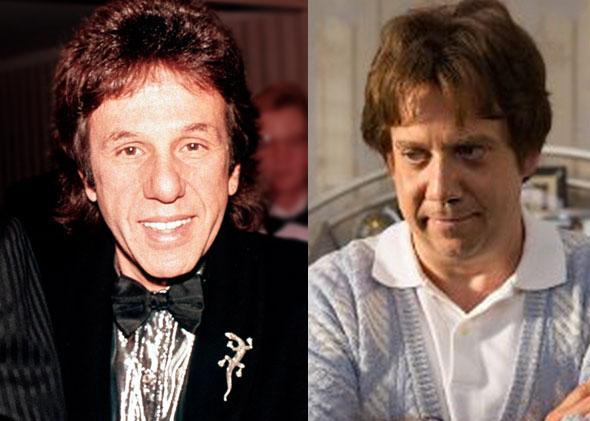 Ultimately, in a film full of minor villains like Murry and Love, it is Landy who becomes Love & Mercy's main antagonist. A hairpiece-clad Giamatti plays the role with such a terrifying blend of smarm and rage that the real Brian Wilson, when interviewed about the film, called the performance so true to life that it frightened him. Landy's actions may seem too extreme to be plausible, but the doctor did in fact exert around-the-clock control over Brian's life, monitoring his diet and love life, influencing his music, and keeping him drugged on heavy medication for what he falsely claimed was a mix of paranoid schizophrenia and manic depression. (The diagnosis was later overturned, and Melinda now says he has "schizoaffective disorder, which is a manic depressive with auditory hallucinations.")
Where the film does take artistic liberties is in its depiction of how Brian came to be rescued from Landy's care. In the film, it is Ledbetter, aided by Brian's housekeeper, Gloria Ramos, who persuades Carl Wilson to intervene by presenting evidence of Landy's undue influence—specifically a 1989 will leaving most of Brian's assets to Landy. The will is real: Landy was named Wilson's primary beneficiary, though he claimed no knowledge of this at the time. But Carlin instead credits therapist and longtime Beach Boys fan Peter Reum with bringing Brian's condition to the attention of Carl Wilson and biographer David Leaf. Reum, according to Carlin, noticed at a 1990 fan convention the physical changes Brian had undergone. However, Gloria Ramos is thanked in the credits of several of Brian's albums, along with Leaf.
Read more: