Tracy K. Smith's new memoir, Ordinary Light, is aptly named. Many of the recollections rendered in it are deceptively simple. In early chapters, Smith recalls being kicked by a calf when she was 4. "I felt betrayed, stunned by this first taste of cruelty." At age 9, she describes trying (and failing) to convert her world-weary, 11-year-old cousin to Christianity. "Her view of the world stood on sturdy blocks … and it cast shadows of doubt upon the hard-and-fast absolutes I'd been taught to accept." Later, when she talks about one of her teen crushes, she describes him as "tall and brown, with a sharp, clean profile that reminded me somewhat of my dad." And when she mentions a teen Bible study she wanted to attend called Hot and Fast, a name her mother called "lurid," she mused, "Hot and Fast was fast—it was over before 8 a.m. But what was the hot part about? There was a breakfast served, but it consisted of doughnuts straight from the box. There wasn't even a drop of hot coffee to be had." It would all seem fairly mundane if not for the mournful, deeply affecting prologue preceding it.
The prologue begins years in the future, when Smith is in her early 20s keeping vigil at her mother's bedside, listening for the moment when her increasingly labored breathing will end. When she dies, Smith snips tiny tendrils of hair from the nape of her mother's neck: "Suddenly, those few strands, things I'd have once thought nothing of brushing off her shoulders or discarding from among the tines of a hairbrush, were consecrated, a host. For a moment, I contemplated eating them, but then they'd be gone and I'd have been left with nothing."
We're approaching Smith's early years with the foreknowledge that one of the most beloved and influential figures will be gone before she's fully settled into womanhood. It's like reading against a countdown clock, where every prosaic memory has heightened significance because we know exactly which of Smith's memories of her mother will be the last.
Most of the time, Ordinary Light seems to be a coming-of-age story about a middle-class black girl with a relatively idyllic life. Smith is the youngest of five siblings and, with an eight-year lapse between her and the next-oldest, it seems that she had the benefit—and the challenge—of her parents' undivided attention. If this were all that her memoir were, Smith would've succeeded in publishing something revolutionary: a book about a happy, financially solvent, high-achieving black family—and more specifically, the story of the healthy, nurturing bond between a black mother and daughter. Too few books that fit this description exist. Black family memoir more often explores overcoming poverty, bad parenting, substance abuse, and trauma related to systemic racism.
Stories about black mothers and daughters are even scarcer, and those that exist, like Maya Angelou's Mom & Me & Mom or Rebecca Walker's Black, White & Jewish, deal with extraordinary circumstances—a mother who wasn't her daughter's primary caregiver or a dyad dealing with one or the other's celebrity. Rarely do black female writers get to explore their "ordinary" relationships with their mothers with the quietude and care that Smith does in Ordinary Light.
Though I don't get the sense that Smith was concerned about the ways in which her memoir might serve to "normalize" the black parenting experience, it succeeds at doing so—for those who would need the existence of healthy black families confirmed—just by focusing on her parents' presence and encouragement.
But the memoir is most powerful when it returns to the subject of her mother's illness and Smith's slow-dawning realization that she will not recover. The diagnosis occurred while Smith was an undergraduate at Harvard. When she finished her degree, her mother was too weak to attend the commencement ceremony, despite having insisted on making the trip from their California home to Cambridge, Massachusetts. In the months before her return home would force her to confront her mother's mortality head-on, Smith tried avoiding the seriousness of the situation: "[E]verything I didn't ask—like what her doctors were saying or whether the tumors were shrinking or what God offered in answer to her prayers—was there listening in on our conversation, saying nothing but audible somehow in its silence."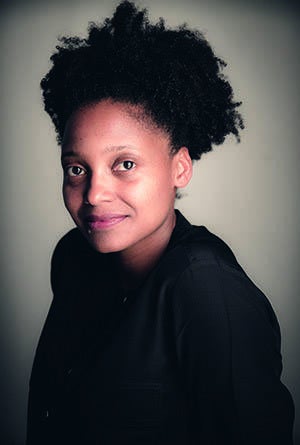 In the book's earlier sections, faith is an integral part of Smith's storytelling, her parents both devout Christians who impressed upon their children the importance of obeying the Bible and being unquestioning believers. The amount of time she spends establishing that dynamic pays off as she braces herself for the worst and prepares to accept the limitations of her belief: "When friends called to ask how she was feeling, sometimes she'd say, 'I'm just waiting on my miracle!' And how faithless, how wicked I felt at those times for having surrendered to that terrible knowledge, the knowledge that had forced me to admit that she was dying, that the odds of her surviving stage 4 colon cancer—which was how I had just recently begun to describe her condition … were at best only about 15 percent."
There's something transcendent about the way Smith describes learning to live without her mother as she grows into adulthood. It seems that, in writing about her, she's combing through the minutia of her childhood, adolescence, and early womanhood, searching for things she wishes she'd shared, instances when she might have been more honest, moments when she could have revealed more of her doubts or challenged her mother's authority. And only in viewing those earlier, prosaic scenes through this retrospective lens does the ordinary become sublime.
Though her world has been upended, that sense of ordinariness persists even after her mother dies. But these later descriptions of small, uneventful discoveries are profoundly moving. Consider Smith's memory of going through her mother's belongings: "There were things that had worked their way out of hiding after she died. A notebook dug up from a drawer, in which she had written, Maybe I can publish my cookbook! A paperback, covered in a sheet of Sunday comics … that turned out to be a modest sex manual entitled Nice Girls Do; it struck me as so innocent that I'd felt a wave of almost maternal compassion for her." These are such prim and buttoned-up finds that they threaten to unravel the reader.
Ordinary Light is lovely, languid, and painful, at turns—much like the memory of a beloved and long-deceased relative. Grief breaks open in the smallest of moments, but it can result in gorgeous revelation and in an acceptance that can almost mimic peace.
—
Ordinary Light: A Memoir by Tracy K. Smith. Alfred A. Knopf.
See all the pieces in this month's Slate Book Review.
Sign up for the Slate Book. Review monthly newsletter