Brad Bird's new Disney movie Tomorrowland shares its name and logo with one of the many themed "lands" at the company's theme parks, but it borrows from much more than just that one section. Those who've been to Disney World dozens of times, as I have, will also notice elements of Space Mountain, Cinderella's castle, Epcot's Spaceship Earth, and more. Below, we break down what we noticed.
"There's a Great Big Beautiful Tomorrow"
This optimistic song is one of the first sounds we hear as we follow a child-aged Frank Walker into the 1964 New York World's Fair. If it sounds familiar, you probably heard it playing in the Carousel of Progress, which premiered at the fair, and is now an attraction in Disney World's Tomorrowland.
Athena looks a lot like Wendy.
This could be a coincidence, but it's hard not to compare the animatronic girl's blue dress, curly updo, and blue bow with those of Peter Pan's favorite girl in Disney's animated classic (and in its Disney ride). This could be a nod to the 1953 movie's own theme about the value of youthful optimism.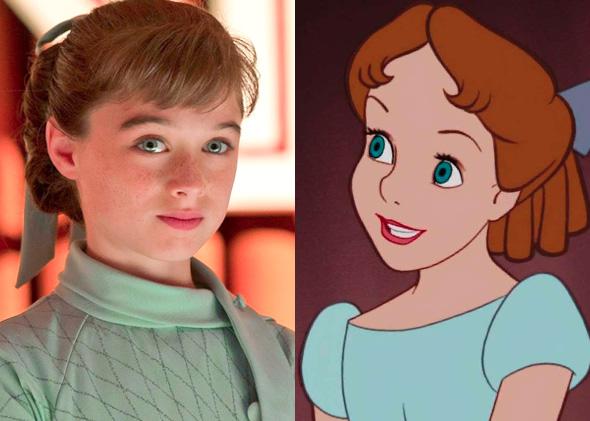 Space Mountain
The World's Fair scenes were shot at the H.R. MacMillan Space Centre in Vancouver, whose white color and conical shape are very similar to Space Mountain's. The Space Mountain ride itself can also be seen later on in the Tomorrowland cityscape.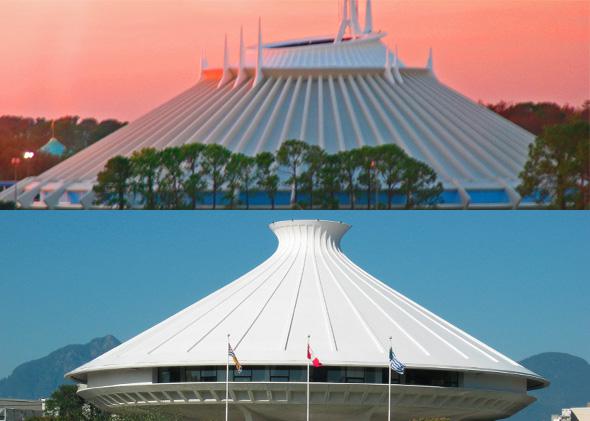 Finally, when Casey shoots through a darkened tunnel with colorful lights on her first trip to Tomorrowland, it looks awfully reminiscent of the tunnel that visitors to Space Mountain travel through at the beginning of their space mission.
"Small World" Ride
This one's pretty obvious, since little Frank Walker follows Athena straight onto the iconic attraction at the World's Fair, and rides through a portion of it, but we'd be remiss to leave it out. 
Cinderella's Castle
The Disney castle production logo was given a futuristic makeover for its appearance before Tomorrowland, but the skyline of Tomorrowland itself also has the same general outline as this castle—which is inspired by Cinderella's Castle at the park. And when Casey sees it for the first time against a stark backdrop, the effect is strikingly similar to the unveiled logo at the start of every Disney movie.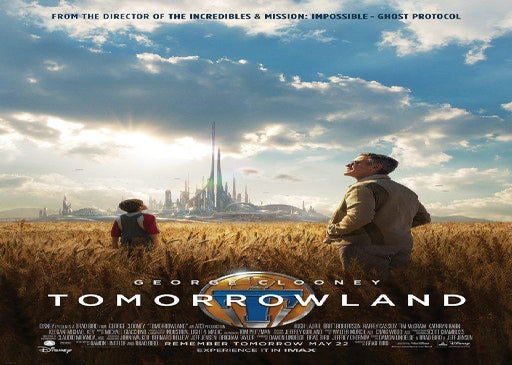 Monorails and Transportation
Tomorrowland's monorails got an awesome futuristic upgrade—flying—but otherwise they're reminiscent of Disney World's own iconic monorails. Additionally, the tracks also seen in Tomorrowland take a similar shape to the people-mover tracks in Walt Disney's initial plans for EPCOT.
Spaceship Earth (a.k.a. the Epcot ball)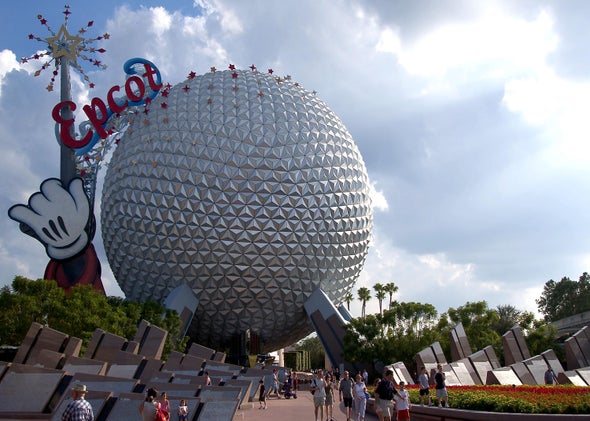 The Epcot ball, officially named Spaceship Earth, seems to have made its way into Tomorrowland's cityscape—you can glimpse what looks like a metallic version of it in some shots of the city skyline. Additionally, the monitor, with its geodesic-dome–like shape, seems like it might have taken its cue from the ball.