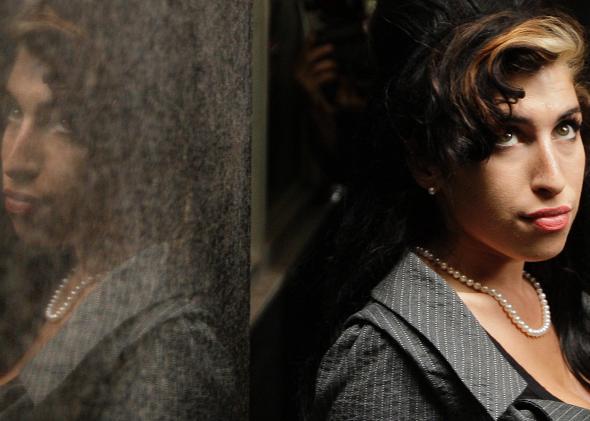 In the first full-length trailer for Amy, distorted vocals from "Back to Black" echo until Amy Winehouse herself interrupts, "Oh, it's a bit upsetting at the end, isn't it?" Considering her untimely death at age 27 from alcohol poisoning, her words are morbidly suggestive. Along with her coy grin, they set the tone for a documentary that will examine her simultaneous rise to fame and deteriorating personal life. "The more people see of me, the more they'll realize that all I'm good for is making music," Winehouse is shown saying in an interview.
Since its recent debut at Cannes Film Festival, Amy has received a shower of praise. Many critics observed that director Asif Kapadia's approach serves as an extended close reading of the relationship between Winehouse's lyrics and her personal life. Guy Lodge at Variety notes, "Most of her performances in the film are accompanied by onscreen lyrics—a potentially hackneyed device that nonetheless highlights the arresting turns of phrase and lethally acute observations sometimes disguised by her cool, offhand delivery."
Winehouse's fans always got the sense that her raw, emotional lyrics were deeply personal, but this intimate look at her life itself offers explicit context to replace what was once a best guess, cobbled together from Winehouse's own words and the tabloid coverage that unrelentingly haunted her. At Vanity Fair, Jordan Hoffman considers "Rehab":
It's amazing how you can have heard a song a thousand times and never realize just how real it could be. Amy's drinking and drug use was starting to really take off just before she recorded her masterpiece, Back to Black. Some friends had her convinced to put her career on pause and try to get clean, but when her father (who may or may not have seen dollar signs in his eyes) shrugged it off, she said no, no, no. She recorded the album, became an international superstar, was completely unsuited for the paparazzi lifestyle, and ended up dead five years later.
Kapadia's film doesn't explicitly editorialize, but it seems to implicate two men in Winehouse's deterioration: her father and her jailbird ex-husband. Winehouse's family has decried the documentary in a statement, particularly its portrayal of her father who, as one would imagine, was not thrilled with how he came off. Her partner at the time of her death, Reg Traviss, has also taken issue with the documentary, writing an op-ed that called it a "fictionalised biopic centred around a distorted depiction of Amy's life." Audiences will get to see for themselves when the film is released on July 3.
---