This post originally appeared on Food52.

Deep within The Breakfast Book, in the glorious "Doughnuts and Fritters" chapter, there is this unimprovable recipe heading: "Dewey Buns are plump squares of light dough filled with vanilla cream. A Dewey Bun business could make someone rich."
So a couple of things:
1) I regret to say that this is not a column about Dewey Buns. I have never even made the recipe for Dewey Buns, in part because of this recipe heading. What if I made Dewey Buns and realized I had no choice but to found a wildly profitable Dewey Bun business? Every time I read the Dewey Bun recipe I think, but am I ready to upend my life?
2) "A Dewey Bun business could make someone rich" is exactly how I feel about this Thai grilled chicken recipe.
Even if there is no Dewey Bun food truck, there should really be a truck serving nothing but the Thai grilled chicken from Hot Sour Salty Sweet by Naomi Duguid and Jeffrey Alford. The truck part is optional, really. A Weber set up off the sidewalk would be enough to make someone rich. This, a beer, a curb to sit on: Only an ingrate could want more.
You take your chicken, coat it with a classic cilantro-root-garlic-black pepper paste, let it sit for a bit, grill it. Dip it in a radiant, easy-peasy, sweet-spicy sauce. Sigh a lot.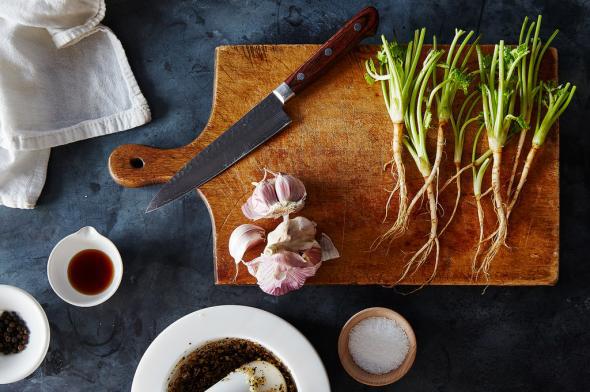 This is the sort of recipe that's highly adaptable for small humans, as long as you're willing to be shamelessly untraditional. Just cut down on the pepper in the paste or the chili flakes and garlic in the dipping sauce. I'd highly recommend making a full-strength version too, though; it hardly takes any more time. And once your new business is up and running, let me know where I can find you.   
Thai Grilled Chicken With Hot and Sweet Dipping Sauce
Serves 6
For the peppercorn-cilantro root paste:
2 teaspoons black peppercorns
2 tablespoons garlic, chopped
3 tablespoons cilantro roots, chopped
Pinch of salt
1 teaspoon fish sauce
For the grilled chicken with sweet and hot dipping sauce:
½ cup rice or cider vinegar
½ cup sugar
1 to 2 cloves of garlic, chopped
¼ teaspoon salt
1 and ½ teaspoons dried red pepper flakes
2 tablespoons fish sauce
3 pounds chicken parts, cut into 10 to 12 pieces total
See the full recipe at Food52.
More from Food52:
Three-Ingredient Lamb Skewers From Abruzzo, Italy
The Saving Grace That Is the Tartine
18 Dishes Every Adult Should Know How to Make
9 Mexican and Caribbean Recipes to Spice Up Dinner
Baking Secrets: Spectacular Ultra-Thin Chocolate Chip Cookies
Sweet Potato Waffles, Sweet or Savory