"Why are you still alive?"
I get this question every time I speak in public. Sometimes it is phrased more politely—for example, "Do you fear for your safety?" But the substance is always the same: People want to know how as vociferous a critic of the Putin regime as I am can still be walking around.
I answer this question several times a week, and still it makes me acutely uncomfortable. I am too aware of the difference between me and the journalists who are killed and attacked in such numbers that Russia lands in the top 10 of the Committee to Protect Journalists' Impunity Index year after year. I write for major Western publications, and my books are published all over the world. Until I left Russia a year and a half ago, I was getting death threats regularly, sometimes several hundred a week. (Since I moved to New York, they have slowed to a trickle.) But if I had been killed while I was still living in Russia, or if it happens when I return to Russia on one of my reporting trips, the news would not be as obscure as the news of the April 2013 death of newspaper editor Mikhail Beketov, who died of the aftereffects of a brutal beating, or the July 2013 death of Akhmednabi Akhmednabiyev, who was shot outside his house in Dagestan. The mathematics of violence would be more like that of Anna Politkovskaya, murdered in 2006; Vladimir Putin said she had done more damage to the Russian regime in death than she had by writing when she was alive.
It doesn't sound like much of a security guarantee, and it is not. But this promise of publicity is as thick a layer of protection as any journalist is likely to get, and the people who give it to me are my colleagues. Editors and publishers who have put out my writing and organizations that have recognized my work with awards have shared the message that they are watching what happens to me. In the end, paying attention and paying respect is all that writers and those who publish us and read us can do.
After moving to the U.S., I joined the board of PEN American Center, an organization of writers gathered to support and try to protect those of us whose ability to write and live freely is threatened. The organization has a small number of tools at its disposal: We write letters, we organize conferences and festivals, and we give awards. In other words, we pay attention and we express respect. Over the years, this limited repertoire has proven incongruously effective in securing or hastening the release of writers from prison: Thirty-six out of 39 people who have received PEN's Freedom to Write Award while in prison were released, at least in part because of the attention PEN was able to attract for their cases. There is no way to measure how effective these tools are for protecting writers from physical threats, but there is also nothing else that we, as writers, can do to protect other writers.
Next week PEN American Center is giving its annual Freedom of Expression Courage Award to the magazine Charlie Hebdo. The choice seems obvious to me. The January shooting attack on the Charlie Hebdo offices in Paris, in which eight of the 12 killed were magazine staffers, is the worst attack on journalists in recent memory. And yet Charlie Hebdo continues to publish, as it continued to work after its office was firebombed in November 2011. And in their insistence on surviving, the people of Charlie Hebdo have had surprisingly little support from their colleagues in this country.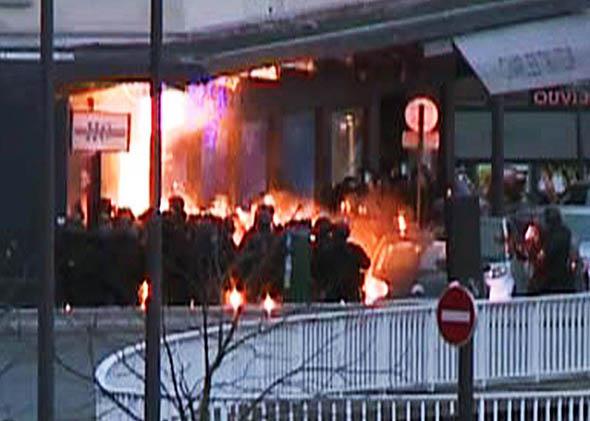 In the days after the attack, the New York Times, the Washington Post, the Associated Press, CNN, and other major U.S. news organizations made the decision not to republish Charlie Hebdo cartoons, despite their evident news value. They cited concern over exposing their staff to danger and cited ubiquitous and vague "community standards" as well as plain discomfort with the cartoons, which struck many editors as racist and otherwise offensive. The concern over exposing staff to danger soon fell by the wayside; the argument that gained traction was the one that said publications shouldn't reprint or condone racist or offensive content. This is also the argument used by a number of writers involved in the controversy that erupted when six of the awards dinner-table hosts—Deborah Eisenberg and Francine Prose among them—decided to cancel their participation in protest.
I find this argument surprising. Satire is often, perhaps more often than not, offensive. A question I am asked nearly as often as the one about why I'm still alive is one that comes up every time I talk about the protest art group Pussy Riot, and it sounds something like this: "But what about the fact that their 'punk prayer' offended many Russian Orthodox believers?" What about it? Their art is confrontational, I say, and therefore bound to offend many people—that is, in fact, an argument for protecting them, not for jailing them.
But when I answer that question, I also try to point out that the nature and context of the offense perpetrated by Pussy Riot is unintelligible to most people outside Russia. This is a difficult point to get across to Americans, many of whom deeply believe that their standards of cultural decency are universal. This belief is on full display in the controversy surrounding PEN's decision to give the award to Charlie Hebdo: The critics are quite certain of their ability and their right to interpret the content of the offending cartoons. Earlier this year I read a couple of well-articulated attempts to explain to an American audience the context of the cartoons and their news and cultural references; the authors argued that what appeared as racism to Americans was in fact a sophisticated critique of it. I found these pieces convincing, but the bottom line is, I don't know if the cartoons are racist, and I don't know whom they offend, how, or why. I lack the cultural understanding to make these judgments—and so does anyone else who is not a regular consumer of French media.
And you know what? It doesn't matter. The staff of Charlie Hebdo has suffered the greatest crime against free speech committed in recent memory. The magazine continues to face a grave threat. We, the writers who make up PEN, can't do much to protect our colleagues against murderous rage, but we can show that we are paying attention, by giving them an award for the courage that they so demonstrate every day. If we shied away from that small and fundamentally safe gesture, conspicuously averting our eyes from a crime because its journalist targets make us uncomfortable, we would not be doing our job.