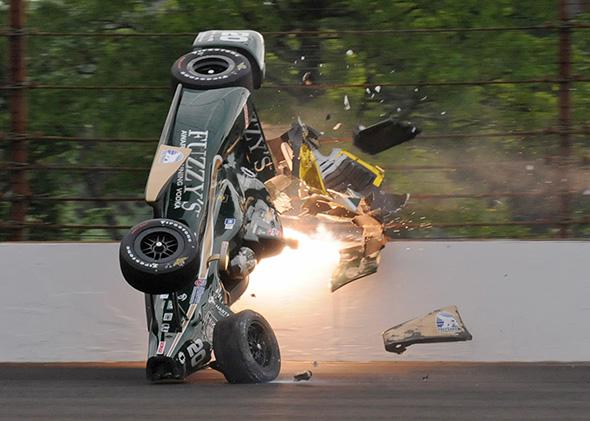 On Monday during a practice session for Sunday's Indianapolis 500, IndyCar driver James Hinchcliffe suffered a horrific crash that landed him in surgery for an injured leg. Hinchcliffe's Honda hit a wall, spun out, and then overturned on its head, before bouncing back onto its wheels. What made Hinchcliffe's crash unusual was that it was the fourth such crash during practice and qualifying sessions at the Indianapolis Motor Speedway in less than a week. In that period, the thing Indy cars hardly ever do—turn into helicopters on impact with the wall and flip like dollar pancakes—happened four times.
Surely this was not what the mythmakers had in mind when they dubbed the Indianapolis 500 the "Greatest Spectacle in Racing."
Before Hinchcliffe's crash, three-time Indianapolis 500 winner Hélio Castroneves, rising American Josef Newgarden, and two-time Indy 500 pole winner Ed Carpenter all went on their heads. Indy cars do occasionally get airborne, but rarely do they go upside down. For it to happen four times in one week—even at speeds exceeding 230 miles per hour—is at the very least unusual and at the most virtually unprecedented.
The culprit, apparently, was the new aerodynamic bodywork kits—essentially a redesign of the outer frame elements of the car—introduced this year by IndyCar, intended as both a hedge against costs and a response to criticism that the series runs one-size-fits-all equipment. The two engine manufacturers, Honda and Chevrolet, were allowed to incorporate the various aerodynamic elements (wings, sidepods, and the like) as they saw fit to their Dallara chassis, with the goal of making the cars at least look different. And at $75,000 per kit, the cost was a pittance compared with what a complete chassis redesign would run.
The problem, unbelievably, is that no one thought to test the speedway aero kit on an actual speedway before, you know, actually coming to a speedway.
It was an astounding lapse in established practice—research and development are the twin pillars of auto racing at this level—and it resulted in the equally astounding spectacle of IndyCar and the speedway making changes on the fly during qualifying on Sunday to try to respond to the accidents. They mandated that cars reduce turbocharge boosters and run the more limited race-day aero setups, which took the speeds down from just north of 232 mph to just north of 226 mph, where pole-sitter Scott Dixon ultimately settled.
"There is a difference," said Newgarden, who qualified ninth on Sunday. "You're on such the limit of grip here at Indianapolis, so, you know, 5 mph into a corner is a huge difference."
Newgarden, whose car was the second Chevrolet to go airborne last week, noted that shaving 5 mph makes it a lot easier to control the car, but that Sunday's modified session was still tricky.
"It was still tough to go out and put four laps together. But it wasn't as hard as it could have been," Newgarden said.
The worst part of all this is it makes IndyCar look like a herd of clueless boobs at the worst possible time. The Indianapolis 500 is not only its signature event; it is, for most of America, its only event. Long eclipsed by the corporate behemoth that is NASCAR, IndyCar arrives blinking into an unaccustomed spotlight every May, only to disappear without a ripple the moment the Indy 500 winner dumps a sweating bottle of milk on his head.
The last thing the sport needs is for that moment to be soured by reminders of Brickyard fiascos past. This is not yet NASCAR's Tiregate, when Goodyear brought the wrong tire to Indianapolis and the 2008 Brickyard 400 turned into a series of 10–15-lap dashes between mandatory caution periods for tire changes. Nor is it yet the Formula One Michelin mess of 2005, when just six cars lined up for the U.S. Grand Prix at the speedway after Michelin, at the eleventh hour, abruptly ordered its teams to pull out, citing safety concerns.
But after the speedway shut down IndyCar practice on Monday afternoon following Hinchcliffe's accident, it was taking on that sort of feel.
So what's the solution?
There are no good ones. What IndyCar, Honda, and Chevy should have done months ago—test the new product—they didn't do, and now they're stuck. Either they send the cars out with the current aero kits, or they run the 500 with as close to last year's aerodynamic package as can be managed, cost and inconvenience be damned.
The old setups, after all, produced a terrific race last year, with 34 lead changes among 11 drivers, and only five cautions for 21 laps. And not an airborne car to be found. 
Going back to the old kits would not be a perfect solution, but it would be much better than the stilted ugliness that the Tiregate disaster produced. And that makes it by far the best choice among many bad ones, if for no other reason than it's potentially the least deadly while also preserving some degree of spectacle.
Racing may be an inherently perilous endeavor, but no one steps into an IndyCar looking to fill a cemetery plot. If death is a regrettable reality of motorsports, it's bad business to openly court it—especially at places like Indianapolis, where the possibility that an airborne car sails into the catch fence and turns into a shrapnel-spewing bomb is a terrifying one.
No one wants to see that. No one wants a repeat of 1964, when radical new rear-engine designs everyone knew were unsafe got sent to the green flag anyway, resulting in the most horrendous accident in 500 history—a massive, fiery crash that took out seven cars and claimed the lives of Eddie Sachs and Dave MacDonald.
Credit IndyCar and the speedway for recognizing that on Sunday and making at least some of the necessary changes. What they need to do now is recognize that the first set of changes might not have been enough and go back to last year's setup, to the extent that it's possible. What they need to do, in essence, is the one thing that's always been anathema to the racing culture.
Back up and start over.
---