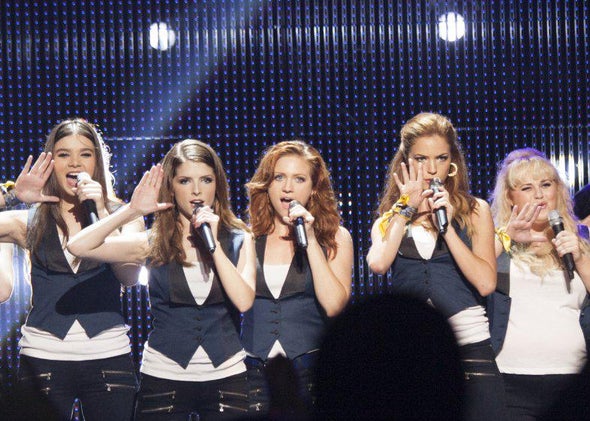 Seven of them are milling on the steps of the Georgetown movie theater when I arrive. There's Daniel, a wiry baritone, whose favorite Pitch Perfect character is Cynthia. ("Ester Dean's so talented. She wrote that song 'Price Tag' for Jessie J.") Lindsay, an alto in a flowy dress, likes Fat Amy. ("That's a cop-out," objects Ben, bass-voiced. "Amy's the crowd favorite.") Andrew and Max, both tenors, prefer Anna Kendrick's acerbic, punk-rock Beca. Ben confesses to "pure total adoration" for the whole cast. Evelyn, who graduated last year and sang alto, also likes Fat Amy, played by Rebel Wilson, though she asks, "Can we just call her Amy?"
"No!" everyone shouts in chorus.
The sunniest, friendliest, most attractive and crisply arranged spirits on Earth belong to an a cappella group called the Georgetown University Phantoms. A group of them—shiny hair, button-down shirts—are here with me to see Pitch Perfect 2, the new Elizabeth Banks–directed flick about dueling collegiate songsters. They are adorable. We loiter in the leftover glow from the lobby, talking about what the first movie got wrong (too many backflips) and right (social dynamics). "The movie reflects how everyone in the group takes on a specific persona," Daniel says. "I'm the sexy one. Yeah." They laugh. "Also the aspect of family," adds Evelyn. "We fight and cry but at the end of the day we're here making really cool music together."
The Phantoms have their own prehistory with the Pitch Perfect movies. They performed at the D.C. premiere of the first film, and stuck around afterward to hand out "eclectic paraphernalia": free lip gloss and scarves. They're pretty sure they'd get along with the main characters—"we're all performers, with big personalities"—despite the Bellas' hyperbolic competitiveness. (A certain amount of sizing up does happen when a cappella clans mingle in real life, Lindsay admitted. Elaborated Max enthusiastically: "What I want to know about a new group is two things. Are they going to be good, and are they going to be cool?") We touch on their rehearsal schedule—three two-hour sessions a week, typically, though performance weeks they can spend upward of 20 hours together practicing—and how they all went kayaking a few weeks ago for fun. "They're my friends, not just my 'friends from a cappella,' " Lindsay is saying, when suddenly a small commotion erupts—an eighth Phantom, a soprano named Jess, is walking toward us.* "Hi, beautiful!" someone squeals. "You look amazing!" Hugs, hugs. The aca-amoeba envelops the new arrival for a moment and then reconstitutes itself in a loose, where-were-we semicircle.
The riff-offs are "totally unrealistic," I learn. "Arrangements take a really long time to make and then getting parts down also takes a long time. You can't just have spontaneous arrangements, where everyone knows their parts in a battle format." But the scene, from the first Pitch, in which one girl starts singing along to her iPhone on the bus, and the rest of the group jumps in with harmonies? One hundred percent aca-accurate. On cue, a fire truck wails past and Daniel does an appreciative little dance. "You guys, I wanted to harmonize with that truck!" he says. "Above or below?" I ask, and a fellow Phantom answers for him. "Above, definitely."
We head inside to grab seats. They're all eating each other's snacks (they offer me some too). Once the movie starts, a few lines get huge laughs, like when a character describes an a cappella party as being "full of sexually confused men," and when Beca tells Keegan-Michael Key's hotshot music producer that "we're both big-time successes in our fields." At one point, a character announces that the Bellas can only rediscover their fugitive, mystical "sound" by going on a retreat. Sage nods ripple up and down the row of Phantoms. My neighbor turns to me and says seriously, "That's a thing."
Afterward, we debrief in the lobby. The Phantoms agree that Pitch 2's arrangements were "musically really cool, really smart," though they acknowledge that the studio-mixed songs sounded fuller than what you'd hear in real life. As coaches for the Bellas, they'd try to steer the group away from "mash-ups for the sake of mash-ups"—songs jammed together despite thematic dissonance. ("Why was 'Timber' in a medley about girl power?") Feedback for the German competition, Das Sound Machine, was all plaudits for "their aggressive, minor, 1984 vibe." As for the Bellas' fancy clapping and snapping, Evelyn notes that the actual a cappella World Championships mandate that groups can only produce sounds using their mouths. Plus, all that dancing "would be really loud in real life. You'd just be able to hear the singers stomping, not the music."
We wander outside into the muggy night. "My secret dream is to persuade you guys to sing for me," I say. "That dream," Daniel replies, "is highly attainable."
Seconds later, the Phantoms launch into a fizzing, euphonious rendition of Cee Lo Green's "Forget You" and I do forget something—that Pitch Perfect 2, with its impeccable timing and neat story arc, isn't documentary filmmaking. The movie glamorizes collegiate a cappella and then sends itself up for wanting to glamorize something as nerdy as a cappella. (Possibly what it glamorizes, really, is college, as a fertile soil for friendship, learning, and empowerment—with the singing thrown in for comedy and spectacle.) But if realism it aca-ain't, the film could have been even more fervent and less wry about the magic that's created when a group of young people make music together using only their vocal chords. With the Phantoms, their harmonious "sound" isn't just a metaphor for how much they like each other. It's a real thing.
*Correction, May 19, 2015: This post originally misidentified the eighth Phantom. Her name is Jess, not Rachel.

---