Women known as haenyeo have been gathering seafood in Korea for hundreds of years—submerging deep underwater without diving equipment or breathing apparatuses to do the muljil, or harvesting. Today, most haenyeo live on the island of Jeju, which is on the southern end of the Korean peninsula. Hyung S. Kim photographed these women in his series, "HaeNyeo: Women of the Sea," which was recently on display at Manhattan's Korean Cultural Service Gallery.
"For me, these women embody all the mothers and grandmothers of Korea. These women hold within them both a fragility and incredible strength," Kim said via email.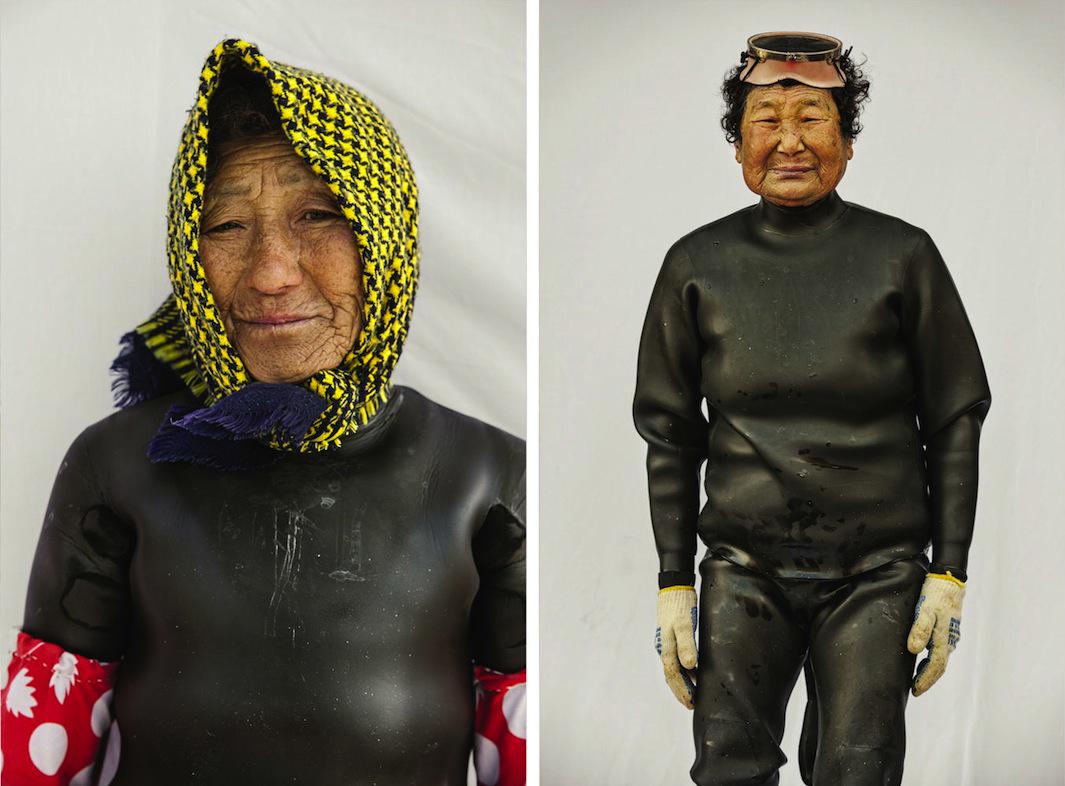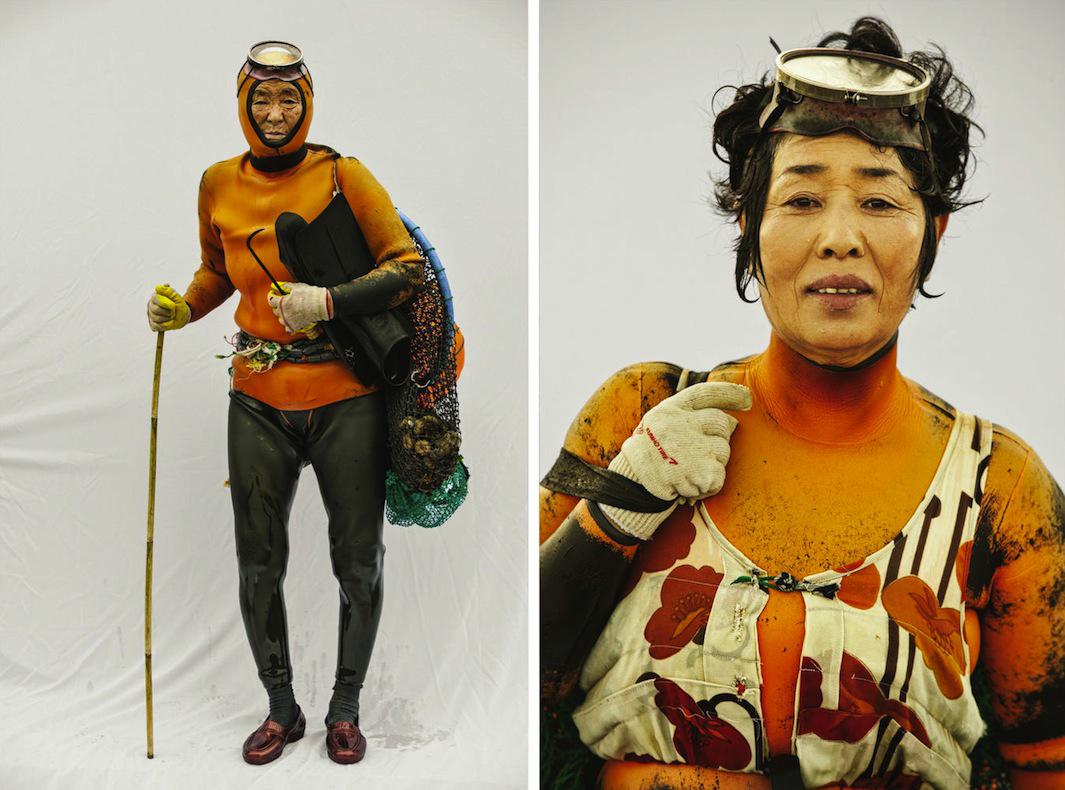 Kim first encountered haeneyo women on a trip to Jeju four years ago. Though he'd seen documentary-style photos of haeneyo before, he felt there was room to show them in a new way that provided more insight into their personalities. "I was interested in capturing the haenyeo as women, not simply viewing them as a part of the natural environment or their occupation."
Kim started visiting the island regularly, spending many hours alone as he waited for the women to surface from their dives. When they finally emerged, he said, they were often reluctant to be photographed, especially in front of the backdrop he'd brought along with him. "They would often avoid me, ignore me, or even yell at me. It was absolutely necessary for me to forge a relationship of trust with them, and when I was finally able to get close to a few of them, they in turn introduced me to other haenyeo who were willing to be photographed," he said.
Eventually, Kim was able to spend more time on Jeju Island. Sometimes, he rented an apartment when he visited, but later on, as he got closer to the women, he stayed with them and their families. "After a while they not only became used to my presence and accepted me into their community, they treated me like their own son. It was a very moving experience," he said.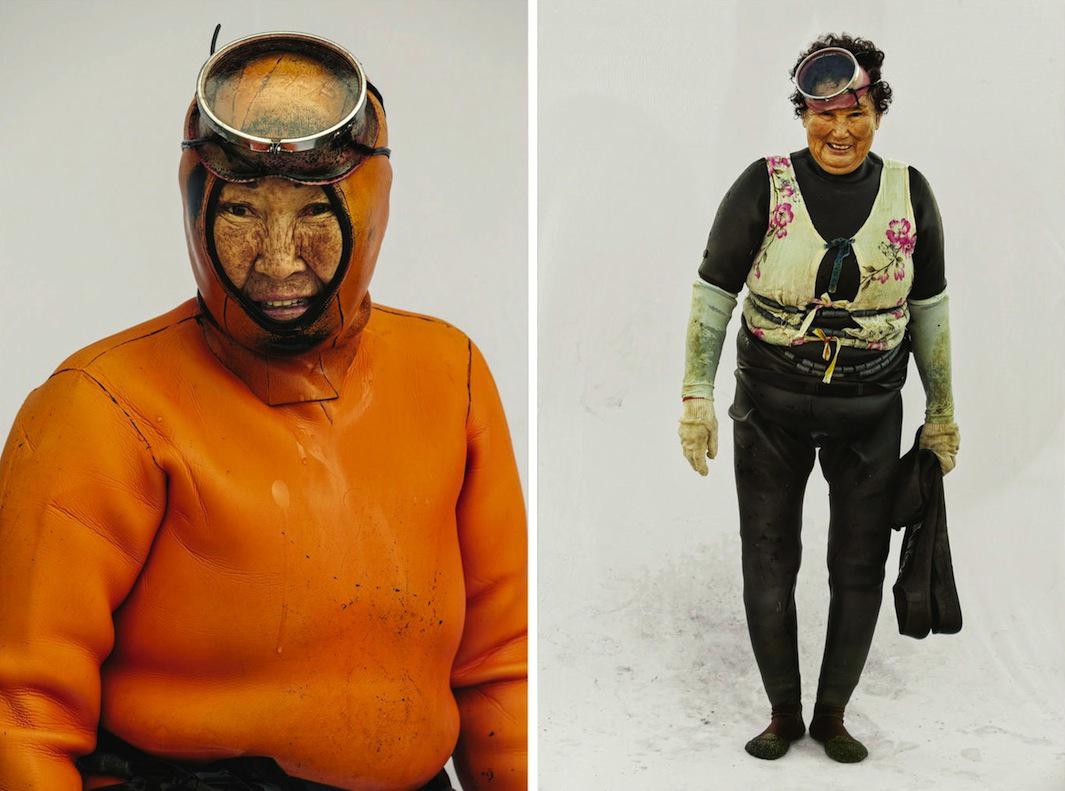 Haenyeo women work as a group and divide the work between them, said Ilshik Loh, director of Korean Cultural Service New York. They even divide their profits equally, without any consideration of age or ability. "Haenyeo culture embodies the unique matriarchal culture of Jeju society amid the powerful patriarchal societal structure that dominated the rest of East Asia. As haenyeo took up diving as a way to support their families, they became the heads of the household."
In the past 30 years, the number of haenyeo has fallen drastically. The majority of the women Kim met were over the age of 60, and he was told that there are only seven haenyeo in their 30s, only two of which he was able to meet. "I am concerned the haenyeo culture will die out in the next 20 to 30 years. For this reason, I want to share the haenyeo culture with as many people as possible."