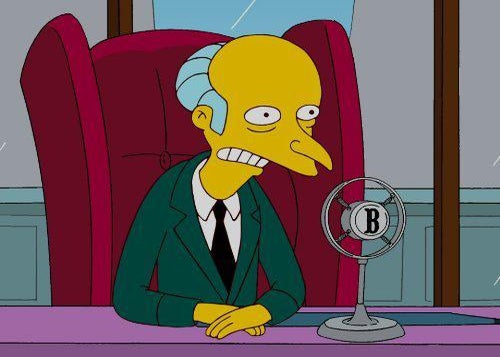 The upcoming 27th and 28th seasons of The Simpsons will have to make do without the original voice of Mr. Burns, Ned Flanders, and Principal Skinner, among other beloved characters. Voice actor Harry Shearer, who has been with the show since its start in 1989, reportedly turned down a $14 million offer for two years' work following a disagreement over the terms of his contract.
TMZ first reported on Sunday that despite the show's official renewal, Shearer had not re-signed. Shearer tweeted about the decision early Thursday, saying his decision came down to "the freedom to do other work." (Shearer is a radio host and the co-creator of the U.K. television series Nixon's the One.)
This isn't the first time the long-running show has dealt with contract disputes. According to the Hollywood Reporter, "The actors agreed to a pay cut in 2011 after fierce negotiations, and they stopped going to script readings in 2004 before eventually landing pay bumps." This is, however, the first time a contract dispute has cut out one of the show's original cast members.
What will become of Shearer's many characters, which also include news anchor Kent Brockman, family doctor Julius Hibbert, and stoner school-bus driver Otto? In the past, when The Simpsons has lost major voice actors, it has retired their characters: Troy McClure died along with Phil Hartman in 1998, and Edna Krabappel along with Marcia Wallace in 2013. However, it looks like The Simpsons will handle Shearer's departure differently. Al Jean, the Simpsons showrunner, told the New York Times' Dave Itzkoff, "We do not plan to kill off characters like Burns and Flanders but will recast with the finest voiceover talent available."
---