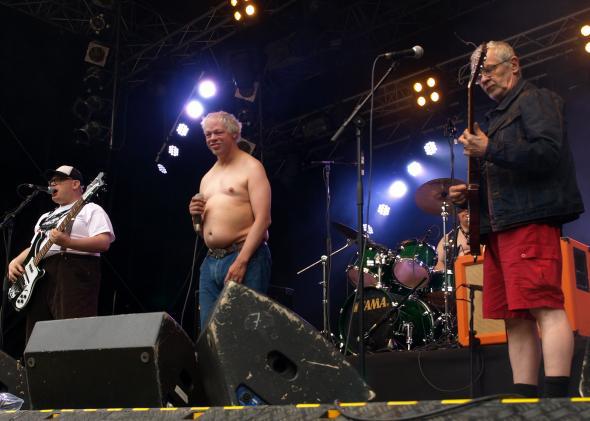 VIENNA—Nine years ago, the Finnish band Lordi won the Eurovision Song Contest dressed as monsters of the underworld, stunning European audiences with gruesome makeup and other satanic accouterments, performing an elaborate fantasy titled "Hard Rock Hallelujah" which set a high score record for the famously extravagant contest. At Tuesday's Eurovision semi-final here at the Wiener Stadthalle, another remarkable Finnish entry managed to deliver the kind of performance the contest had never before experienced. But instead of wild makeup, pyrotechnics, and demon wings, this year the country sent the unvarnished Pertti Kurikan Nimipäivät.
Pertti Kurikan Nimipäivät, Finnish for "Pertti Kurikka's Nameday," is a punk rock band made up of four men with various developmental disabilities. Kurikka, the frontman and guitarist, has cerebral palsy. Kari Aalto, the singer, is autistic. Sami Helle, the bassist, and Toni Välitalo, the drummer, both have Down's syndrome.  
Kurikka was discovered at a charity workshop which taught music to the developmentally disabled, and with the charity's help he eventually formed a band of four to play punk music. The band draws its lyrics from the diary that Kurikka diligently keeps, largely focused on the frustrations brought on by the status of himself and his bandmates. "I don't want to live in a group house, I don't want to live in an institution," Aalto sings in one song. "I want to live in Kallio [an upscale neighborhood in Helsinki] in the privacy of a bomb shelter." 
Pertti Kurikan Nimipäivät first gained international attention through the 2012 documentary The Punk Syndrome, directed by Jukka Kärkkäinen and J-P Passi. The film follows the band members' musical careers, including rock-doc staples like band infighting and the excitement of touring internationally. But there are also personal moments more unique to the band, like Välitalo's parents trying to convince him that he should move into a group home, or Aalto's fit of rage at needing to attend a medically mandated pedicure.
The band's gritty aesthetic shares little in common with the sequined pop contest. But in February, Pertti Kurikan Nimipäivät entered the Finnish network Yle's competition to represent the country at this year's Eurovision in order to raise awareness for developmental disabilities. And with a dominant 36.2 percent of the televote, the band won the nine-song final in a runaway with its entry "Aina Mun Pitää," which complains about the endless cycle of life's mundane tasks, like showering and washing dishes.
Pertti Kurikan Nimipäivät attracted considerable attention and curiosity in Vienna, but also the ever-loyal corps of Eurovision fans. Finnish fans, supportively decked out in their best punkishly studded denim, lined up outside the Wiener Stadthalle before Tuesday's semifinal. "This is the place where we have to break rules and traditions," Markku Uhlbäck, a fan who sported a blue-and-white mohawk in his flag's colors, said of Eurovision. "We are very proud if we win or lose."
In a show that was opened by Moldovan backup dancers dressed as leather-clad police officers, and featured a concentration of preachy ballads unusually high even for Eurovision, Finland performed fifth, through thick fog and flashing strobe lights. 
Eurovision acts are given ample time to rehearse their performances, right down to each facial expression toward the appropriate camera, and indeed Pertti Kurikan Nimipäivät looked much like it had in rehearsals all week: Aalto stood in the front, facing slightly to the side, rocking back and forth as he sang. But he also injected more growls and grunts into the song than he ever had before, a subtle but startling veering off-script in a show built on careful, rote recitation. After just a minute and 30 seconds "Aina Mun Pitää" finished with one long, last growl from Aalto, making it one of the shortest performances in the history of the contest. (Most songs come close to the three-minute maximum length.) Pertti Kurikan Nimipäivät were done, and their fate fell to the viewers and juries of musical experts to decide.
Finland was not one of the 10 countries (out of 16) to qualify for Saturday's final. (The full scores of the semifinal will not be released until after the contest ends on Saturday, so there is no way to know if Pertti Kurikan Nimipäivät narrowly missed out or finished dead last.) But their spirit was carried into the sprawling press conference for qualifying acts by an admiring neighbor. Stig Rästa, an Estonian singer-songwriter, took to the podium with flags of both Estonia and Finland in hand, and carefully displayed both over the edge to make sure they could be seen side-by-side. His own performance, a duet with Elina Born, was carefully choreographed, immaculately delivered, and as smooth and commercial as Pertti Kurikan Nimipäivät's was weird and raw. But he connected with the four men from Finland and their minute-and-a-half shout of rage. "I think, music-wise, it was a bold choice," said Rästa. "Everybody, deep down in their hearts, actually loves punk music, I think. There's a rebellion in each and every one of us."
---