Some days, Mona Lee, 20, starts work at McDonald's in Kansas City, Missouri, at 6 a.m., ends her shift at 1 p.m., and then immediately starts another shift at Sonic, which ends at 8 p.m. But since both jobs pay just $7.25 an hour, she still often doesn't earn enough money to pay for basic expenses.
"I don't understand how I can work at two jobs and not have enough money to put food in the house," she said. "We need to be able to live."
Lee is one of the thousands of workers around the world who've joined Fight for $15, a movement calling for higher pay for fast-food workers and their right to unionize. She is also one of 16 workers affiliated with the local labor organization Stand Up KC who've photographed their daily lives to help promote the cause. An exhibit of those photographs, "I, Too, Am America," is on display at Kansas City's Talk Shop Gallery through May 31.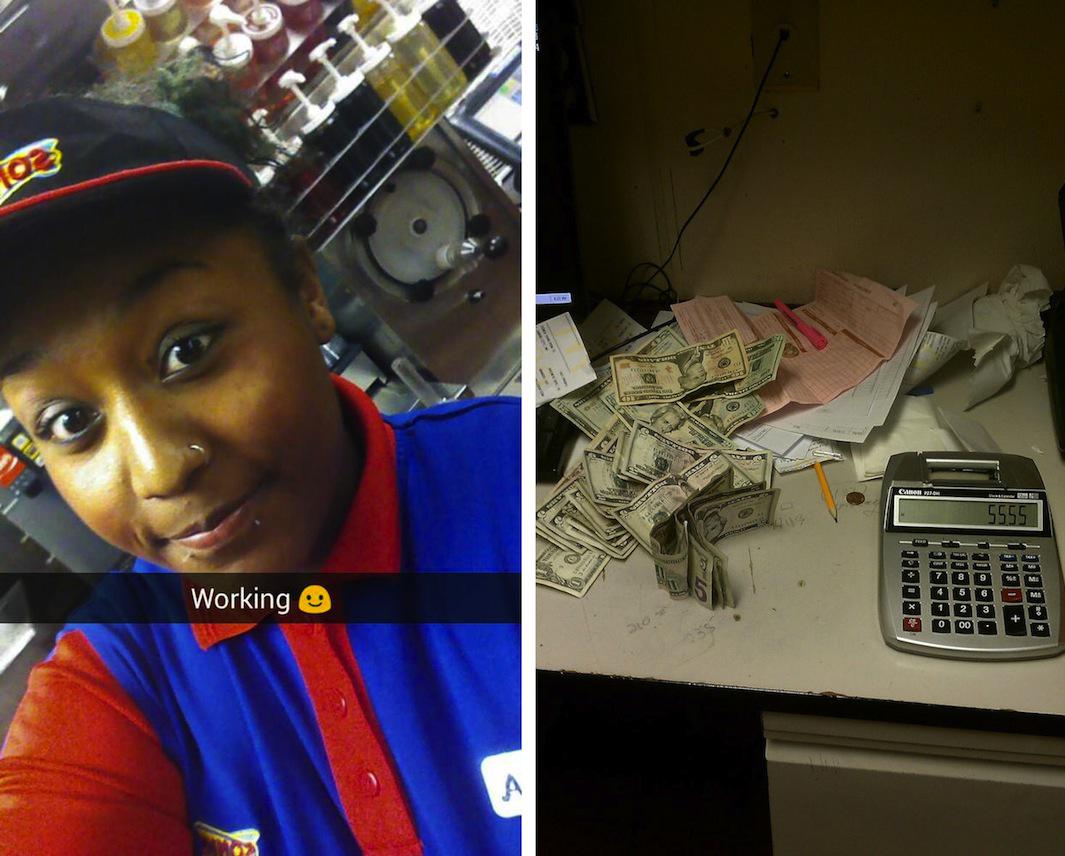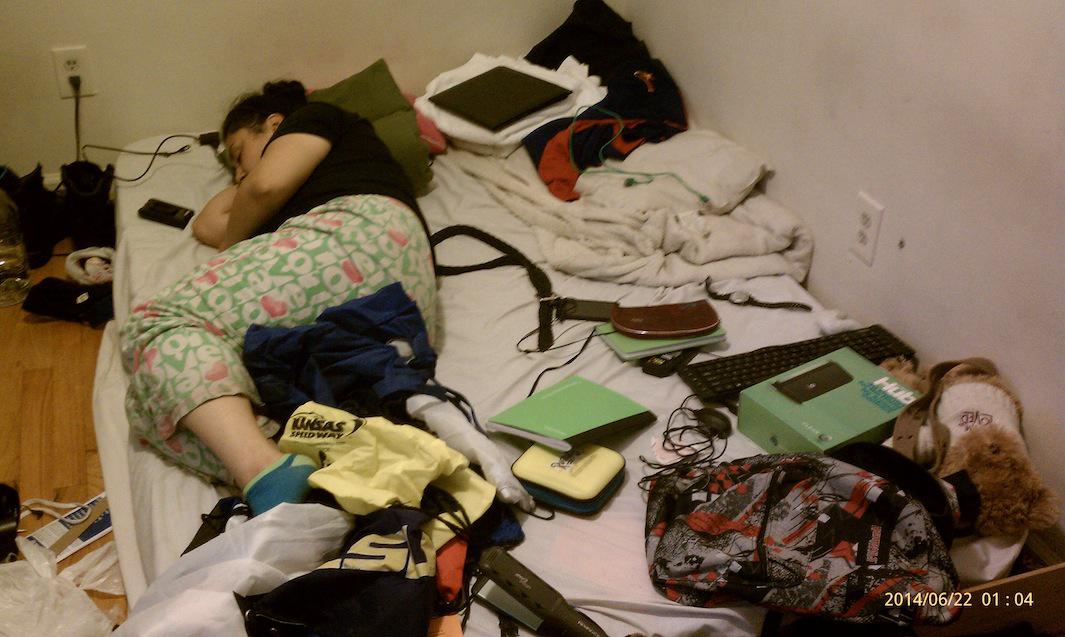 The workers involved in the exhibition began photographing last March with the guidance of photojournalist Steve Hebert, who's photographed the local Fight for $15 movement since its inception. Using cellphone cameras, the workers, who volunteered to participate in the project, collectively shot nearly 4,000 images at work, at home, and at various strikes and demonstrations. They illustrate the long hours and financial hardships that come with the job, as well as some lighter scenes with family and powerful moments of group solidarity.
"I've spent 20 years trying to work my way into places to make pictures of what I think is interesting in peoples' lives. The technology today allows people to do that themselves," he said. "These workers were just shooting as they went. What you get is a variety of different peoples' lives and experiences and the things they see, whether it's walking to work, on strike, or with their kids."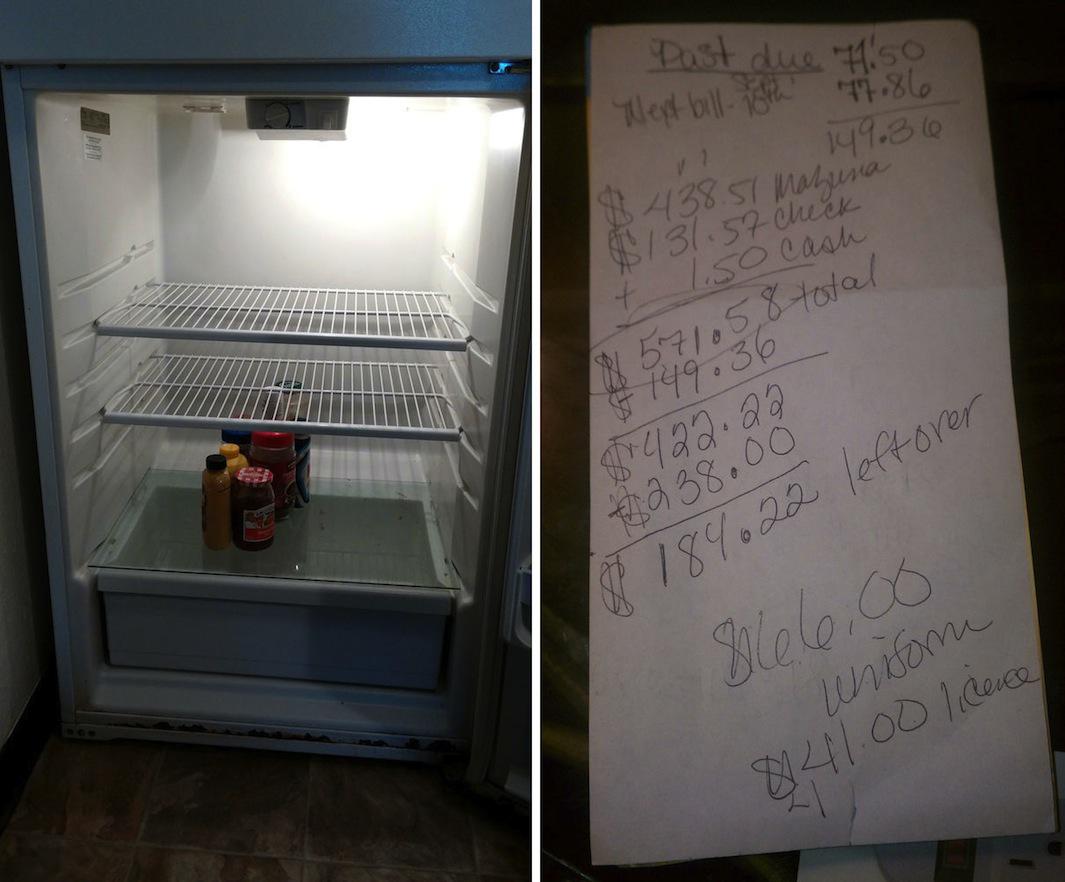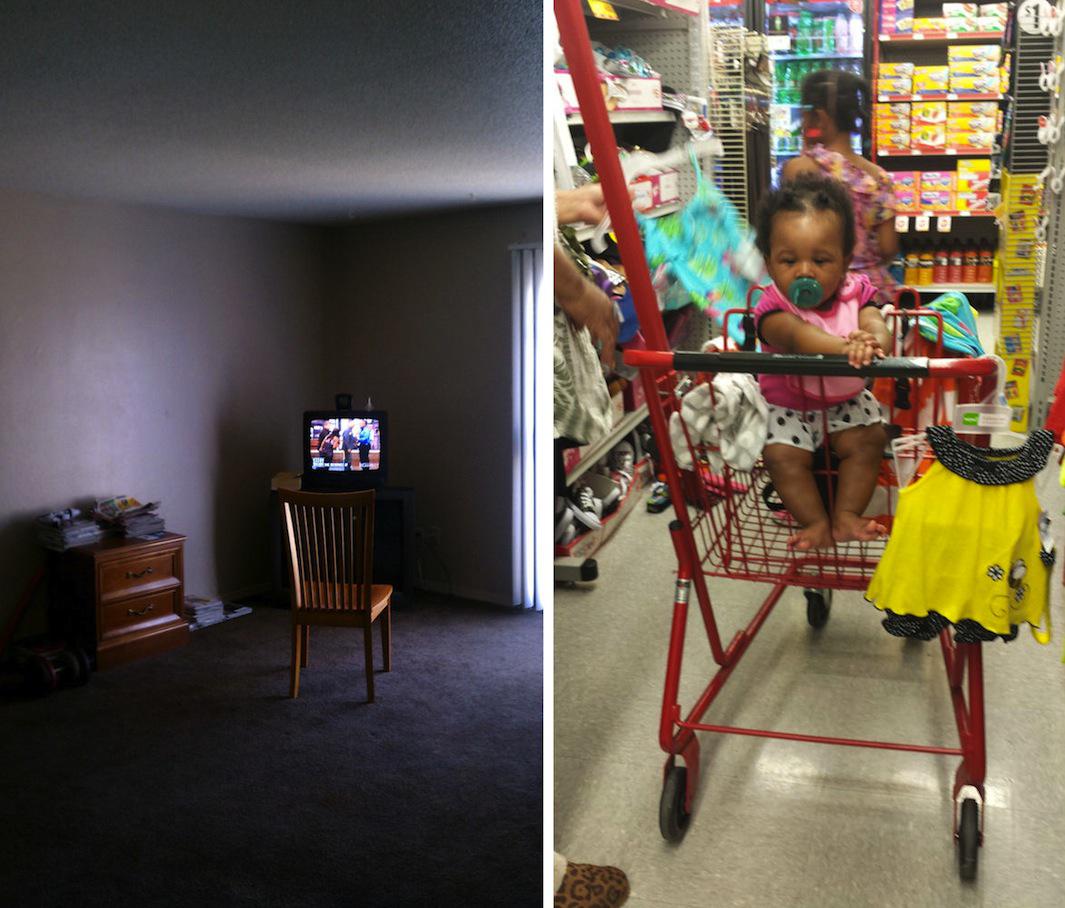 Zoey Abbey, 32, who makes $8 an hour at Popeyes and is also featured in the exhibit, said a $15 minimum wage would allow her to not have to choose between paying her lighting bill or her phone bill, and might even let her put a down payment on a house. Before she worked in fast food, Abbey was a teacher, and she wants her photographs to help correct the stereotype that "all fast-food workers are teenagers who live with their parents and don't have responsibilities."
"It's about educating the public. It's about letting them know how we live. We're not that different from you. We want to live and we want to thrive," she said.
In the year since the workers began photographing, the Fight for $15 movement has picked up speed. Last month, 60,000 low-wage workers protested across the country, the largest such demonstration in U.S. history. And, this month, in a New York Times op-ed, New York Gov. Andrew Cuomo announced a plan to raise the pay of tens of thousand of fast-food workers in his state. In March, Kansas City Councilman Jermaine Reed introduced an ordinance that would gradually increase the minimum wage to $15 an hour by 2020, but Mayor Sly James and others have said the plan would violate state law.
That doesn't discourage Lee. Victories in Seattle and San Francisco make her optimistic about the potential for change in her own city. Until that day comes, she said, she'll keep fighting. "We're gonna do this. I believe we can do this."