Original photograph: Marian Anderson, Contralto, New York, 1955 by Richard Avedon
As someone who works in communications for photographic galleries and publishers, Eleanor Macnair spends a lot of her time trying to encourage people to pay attention to photography. Email blasts and other written forms of communication are one thing, but for almost two years now, Macnair has found another, less orthodox way of getting people to notice images: She re-creates them using Play-Doh.
This wasn't a strategic PR moment that popped up like the proverbial lightbulb over Macnair's head. In 2013 Macnair attended a pub quiz created by the publishers Gordon McDonald and Claire Strand of MacDonaldStrand; one of the challenges was to re-create an image using Play-Doh. Macnair and her team won that round and soon thereafter a friend came over to Macnair's house where they made a few more Play-Doh creations, snapped a photo of them, and put them up on Tumblr. Within weeks the blog had gone viral and suddenly Macnair found herself working within a medium that immediately grabbed people's attention.
"It's an interesting way of putting the works that I like or I think are interesting to a wider audience," she said. "I don't have to comment on them, just link them to the original."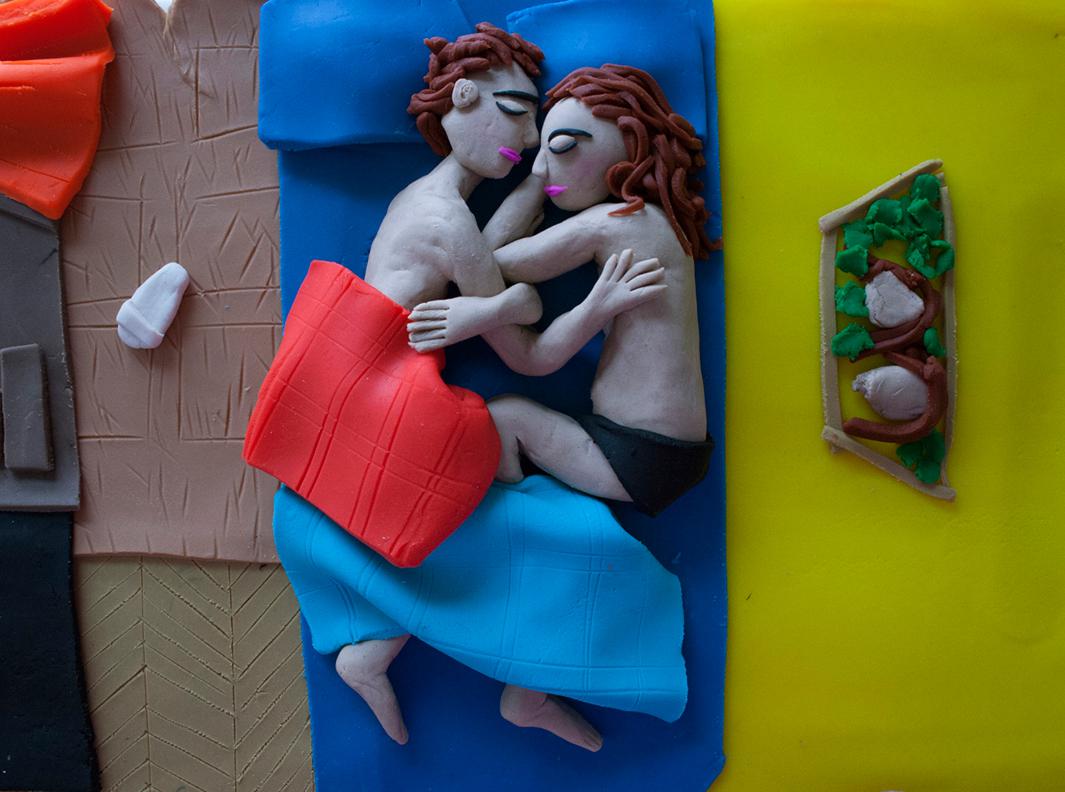 Original photograph: Waiting by Jana Romanova.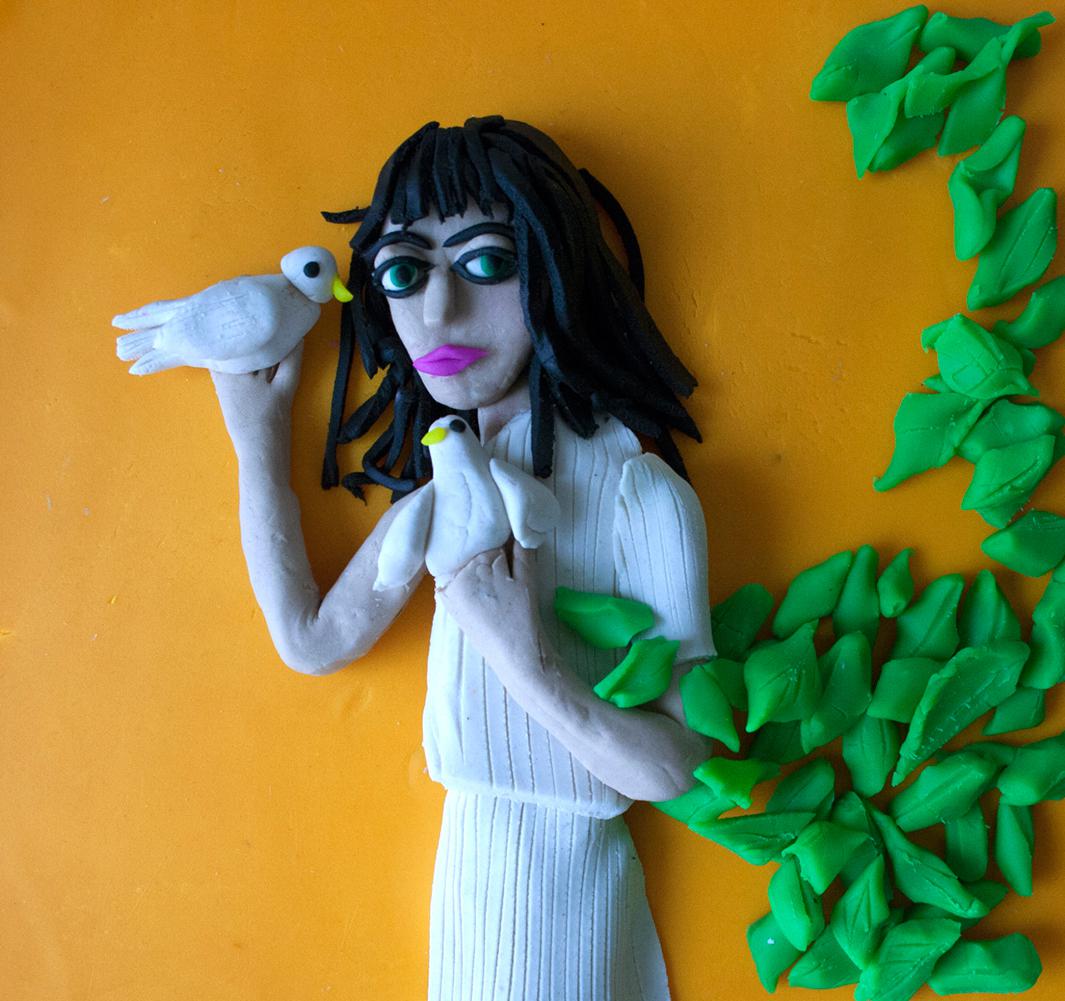 Original photograph: Patti Smith, 1979 by Robert Mapplethorpe.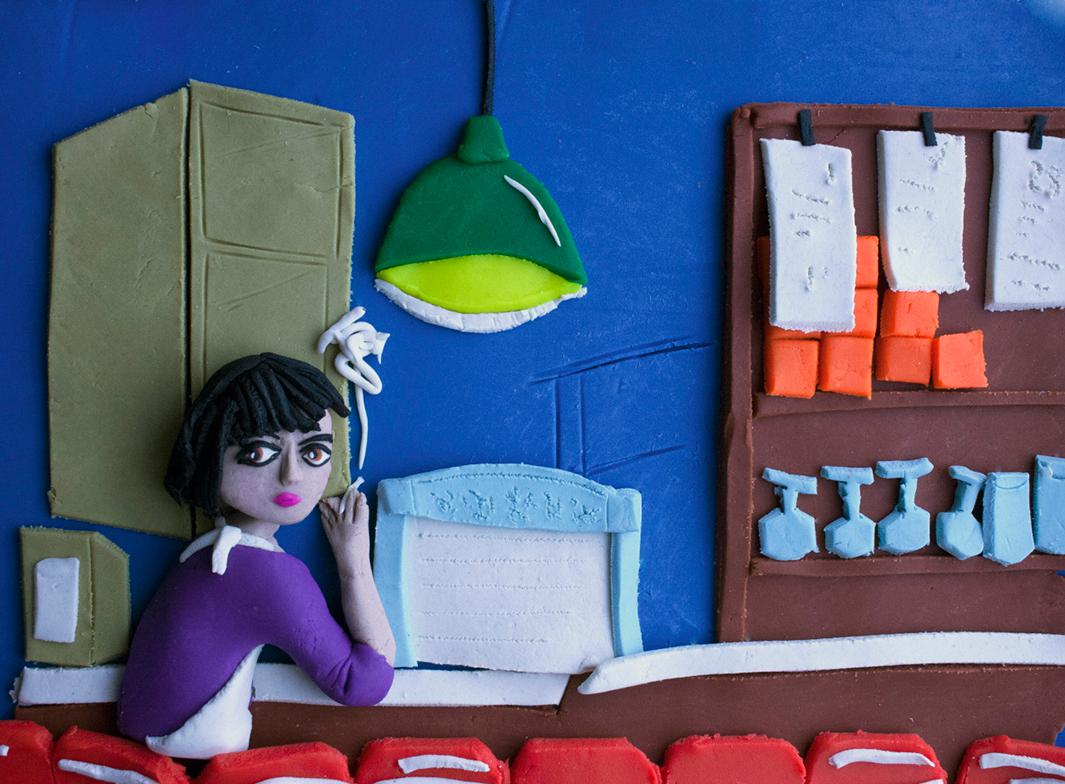 Original photograph: Hokkaido, 1978 by Daido Moriyama.
Comparing the original photos to those re-created with a material Hasbro lists as suggested for kids ages 2 and up is uncanny. By now, Macnair has the process down pat. She typically sits down at her kitchen table by 10 p.m. and tries to finish the cutting board sized sculptures by midnight. She lets them sit overnight and, in the morning, takes a photograph of them, posts them on the blog, and takes them apart, recycling the Play-Doh.
"I've never thought of it as an intentional art project," Macnair said. "If I spend too much time on it or take them too seriously it would become something else, and maybe it would lose something."
One of the most time consuming parts of the project is creating the backgrounds. For the flesh, Macnair uses a mix of colors but for the other details, she sticks to what comes in the rainbow pack of Play-Doh she buys for around 10 pounds; if she needs a lot of black, that poses a problem since little of it is included in the pack. She doesn't use the "tools" included with the Play-Doh, working instead with an X-Acto knife, cocktail sticks, and glass tumblers as rolling pins.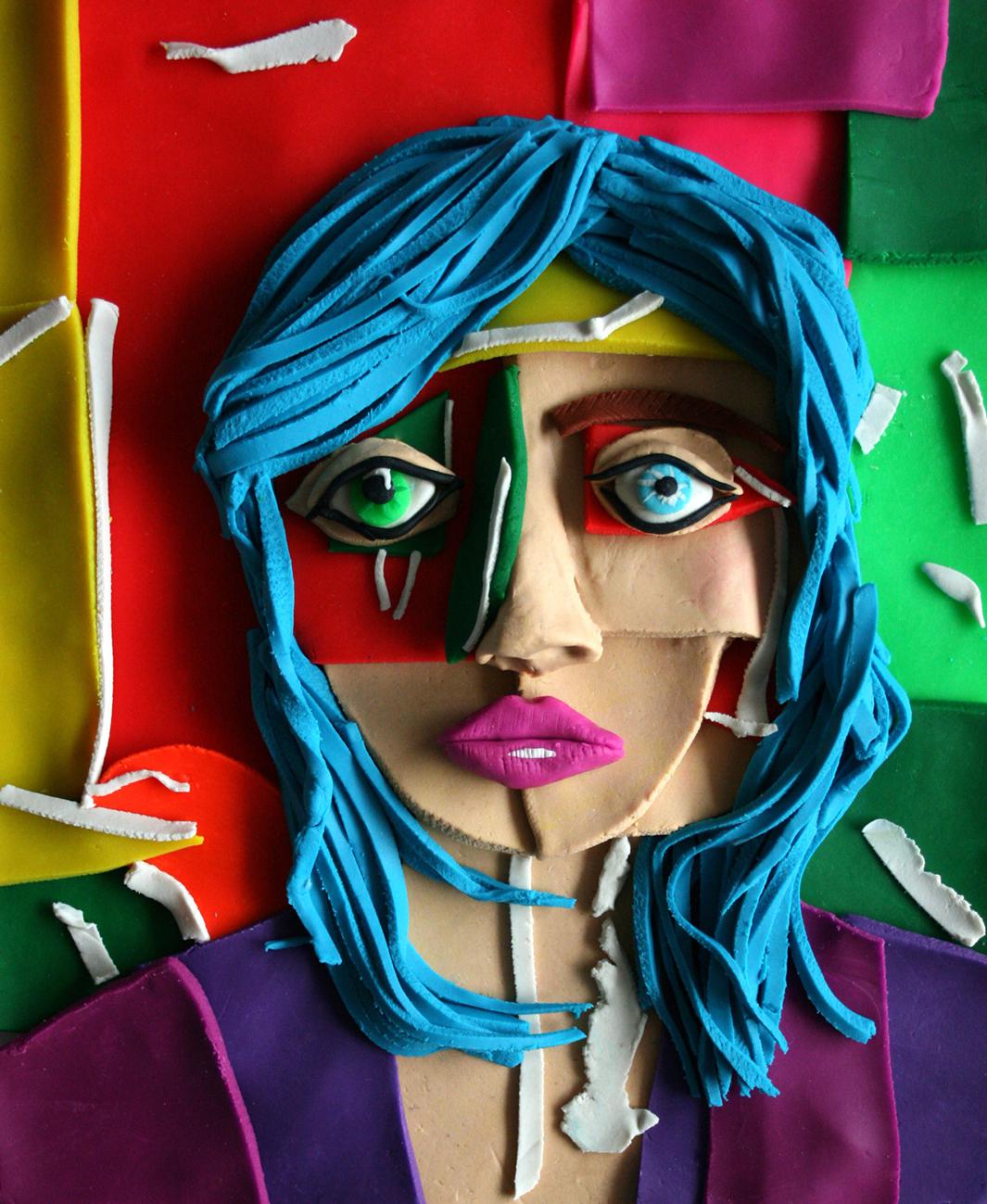 Original photograph: Portrait with Blue Hair, 2013 by Daniel Gordon
"Facial expressions take a long time," Macnair said about some of the artistic issues. "Sometimes I don't get it right at all, and sometimes I think I've almost nailed it, and occasionally I can get a bit of the original expression in the photograph. It sounds ridiculous, moving around pupils on a cocktail stick, but you can never get it bang on exactly right; it's so subtle and because it's Play-Doh which is not a subtle medium, trying to get something from the original expression, that's the hardest bit."
Last year MacDonaldStrand, the same publishers who hosted the pub quiz, put out a book of the series titled Photographs Rendered in Play-Doh. Macnair is unsure how long she'll continue to work on the recreations but for now, she's just happy that her work is getting noticed which means other people's work is as well.
"For my day job writing press releases, I take projects artists haven't spoken about or they have in complex language and I try to translate those ideas in a palatable kind of way; that's what I'm attempting to do with the original photographs in Play-Doh … you have to try to be a funnel between the artist and the rest of the world. People spend so much time seeing so many images each day but spend so little time on them. What this project does is grab their attention and hopefully leads them to look at the original image. I'm trying to catch people's attention to have a look at it in the first place."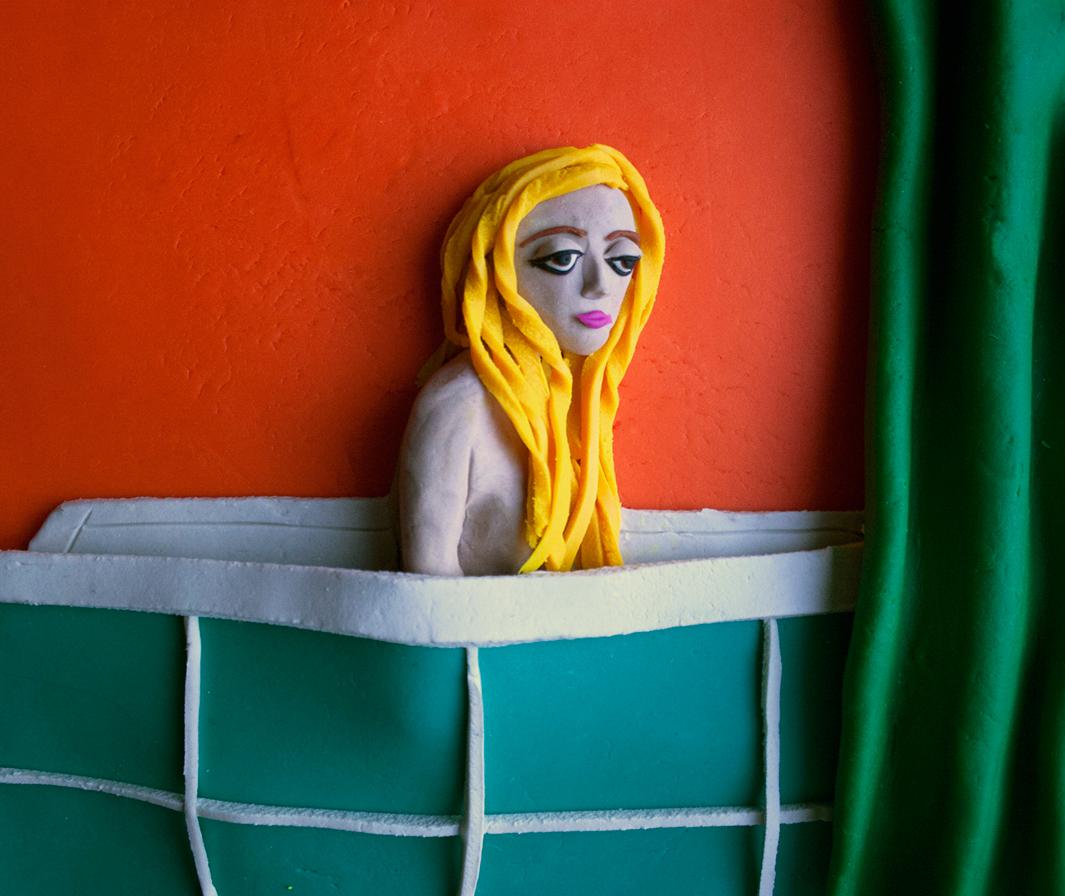 Original photograph: Lily from the series "Another November" by Laura Stevens.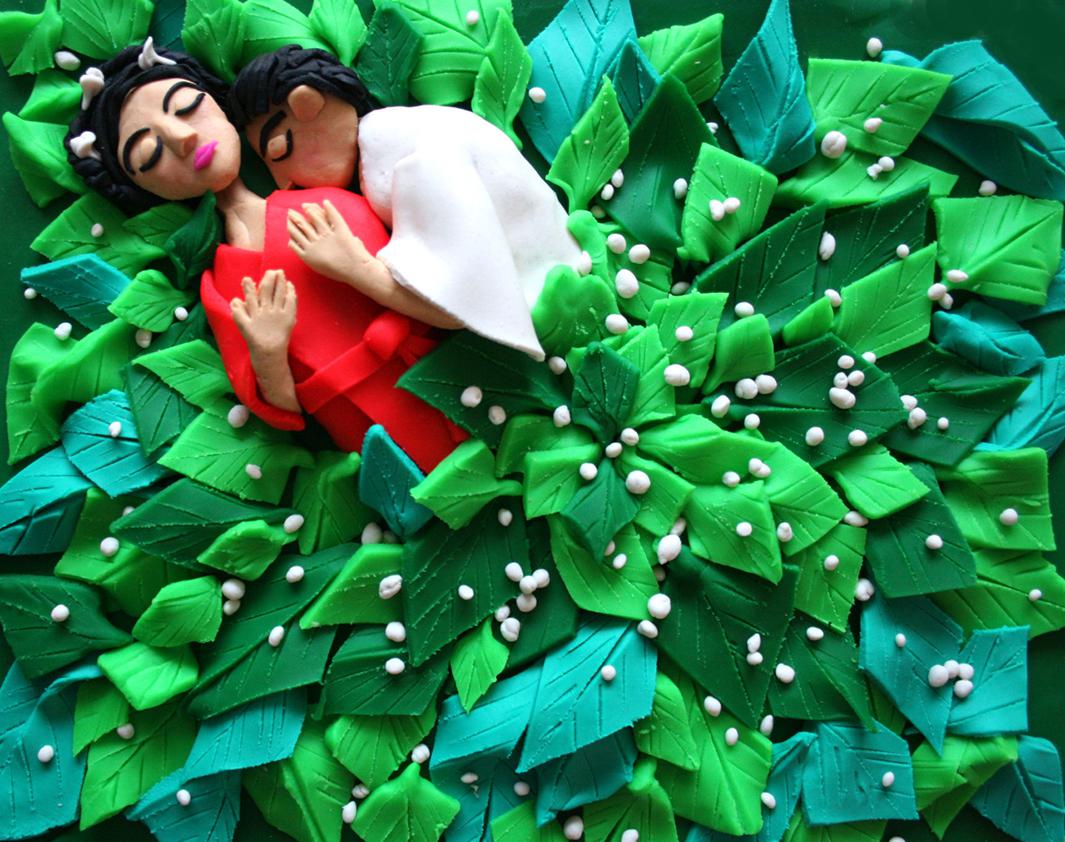 Original photograph: Kamaitachi #23, 1965 by Eikoh Hosoe.
Macnair's images will be part of the "Works" program at Look3 in Charlottesville, Virginia on June 12.