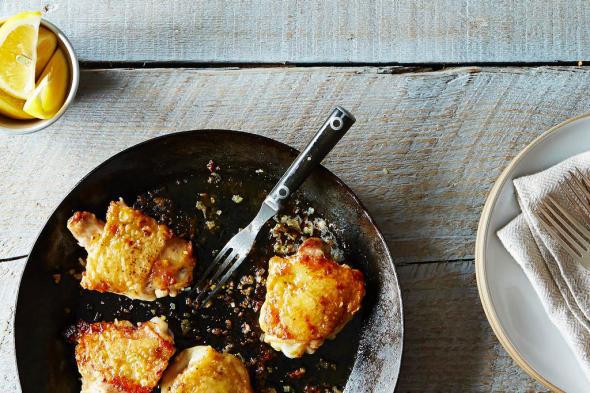 This post originally appeared on Food52.

"Short of turning chicken on a spit over live wood embers, I know of no better process for cooking chicken, nor one that delivers more satisfying or true flavors," Paul Bertolli wrote of this technique, which he calls "bottom-up cooking," in Cooking by Hand.
You don't sear, and you don't roast, and you don't grill—you don't do any of the things we're taught to do to chicken. Instead, you lay the chicken, skin side down, in a barely hot pan. Then you leave it mostly alone for about 30 minutes, flipping only once. The skin becomes impossibly crisp, enough so to satisfy your darkest fried chicken cravings.
Bertolli's is a worthy technique to play with, but Melissa Hamilton and Christopher Hirsheimer of Canal House have streamlined it for us. They use only thighs, which lie flat, maximizing the crisping area, and jigsaw easily into a round skillet. Unlike Bertolli, they also allow for a bit of olive oil to get the process rolling.
The simplest version of the sauce has only minced-up preserved lemon stirred into the pan juices at the end, but you can play with this technique as you like. Hirsheimer and Hamilton suggest two more seasoning variations—sherry and mushrooms, or bacon and olives. You can deglaze and make a gravy or a fancy pan sauce. Or just eat all the chicken as fast as you can.
Canal House's Chicken Thighs with Lemon
Serves 4
1 tablespoon olive oil
8 bone-in, skin-on chicken thighs
Salt
Freshly ground black pepper
Rind from half of a preserved lemon, finely chopped
Lemon wedges, for serving
See the full recipe at Food52.
Got a genius recipe to share—from a classic cookbook, an online source, or anywhere, really? Please send it my way (and tell me what's so smart about it) at kristen@food52.com.
More from Food52:
A Creamy Weeknight Chicken Marsala
10 Boneless, Skinless, Anything-but-Boring Chicken Breast Recipes
Jamie Oliver's Chicken in Milk
Fried Chicken as It's Meant to Be
Your New Favorite Way to Eat Bacon
A Cowboy's Guide to Cast Iron
---