This post originally appeared on Food 52.
Every other Thursday, we bring you Nicholas Day—on cooking for children, and with children, and despite children. Also, occasionally, on top of. Today: The wholesome, Official Cooperative Bakery Pastry of the Bay Area—and why you should add it to your regular breakfast rotation. 
A decade ago, I had a corn-cherry scone at the Cheese Board in Berkeley. It was delicious. A week later, I had a corn-cherry scone at an Arizmendi bakery in San Francisco. It was delicious. I think of the corn-cherry scone as the Official Cooperative Bakery Pastry of the Bay Area. That may not be a state-recognized designation, though. 
It is the perfect morning pastry, or at least the perfect morning pastry from a decade ago—an innocent time—back before new pastries came with trademarks and formerly obscure delicacies like kouign amann started showing up in the frozen aisle at Trader Joe's. As far as I can tell, the morning pastry of our new era is designed to blow out all your neural circuits immediately after coffee has restored them. 
I like kouign amann as much as the next dissolute hedonist, but sometimes a scone will do.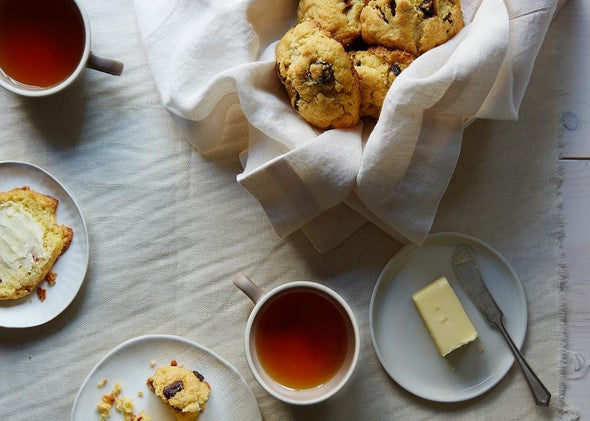 The Official Cooperative Bakery Pastry of the Bay Area is uncomplicated; you can make it with children, even your children. It is just sweet enough, and just savory enough that the sweetness of dried cherries is a perfect counterpoint. It is also just gritty enough. Grittiness is not a subject that gets a lot of play in baking cookbooks—it gets more play in developmental psychology papers—but medium-grind cornmeal is perfect here. It gives the scone texture and wholesomeness; it makes the scone feel earned. Did you earn it? Probably not. (Can you still make it with fine cornmeal? Yes, you can.)
Fair warning: It is extremely crumbly, and if you are eating with people whose fine motor control is somewhat uncontrolled, your floor will need to be swept afterward. But crumbs are an inevitable consequence of enthusiasm. And your floor needed to be swept anyway. Doesn't it look better now? 
Makes 14 scones
2 cups all-purpose flour
1/2 teaspoon baking soda
1 tablespoon baking powder
1/2 teaspoon kosher salt
2/3 cup sugar
1 1/2 cups cornmeal (medium grind, but fine is fine too)
1 cup cold unsalted butter (2 sticks), cut into 1-inch pieces
3/4 cup dried sweet cherries
1 cup buttermilk
See the full recipe (and save it and print it) here.
More from Food52:
How to Make Croissants From Scratch
13 Weekday Breakfast Recipes
Easy Breakfasts for Guests
10 Breakfast Dishes Fit for a Crowd
How to Make Healthy Grab-and-Go Breakfasts