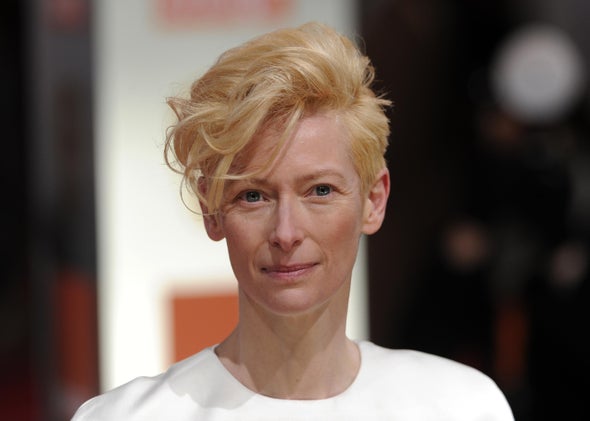 On Thursday Time published its fourscore and twenty movers and shakers: the 100 most influential people in the universe. 2015's crop includes an eminence of Titans (Kanye, Janet Yellen, Tim Cook), Pioneers (ballerina Misty Copeland, New Orleans educator Kira Orange Jones), Artists (Kevin Hart, Julianne Moore, Chimamanda Ngozi Adichie), Leaders (Angela Merkel, Vladimir Putin, Jeb Bush), and Icons (Bjork, Haruki Murakami, Pope Francis). Additional famous people wrote the bios. Rand Paul, for instance, advances the Koch brothers' status as twin Titans, like Epimetheus and Prometheus. (Does that make corporate political spending Pandora's Box?) Martha Stewart suggests that the Kardashians represent "today's Brady Bunch." Leaders (such as Hillary Clinton and Tom Friedman) blurb other Leaders (such as Elizabeth Warren and Ebola crusader Joanne Liu), and Icons (such as Taylor Swift) blurb other Icons (such as Ina Garten)—though it seems that Icons do not blurb Pioneers, Pioneers do not blurb Artists, and Artists do not blurb anyone.
The categories feel emphatically arbitrary—why is Reese Witherspoon a Pioneer, and Richard Linklater an Artist? Why is Kim Kardashian a Titan, Thomas Piketty an Icon, and Barack Obama a mere Leader? (One reason for the hazy distinctions may be that Time wishes to flatter celebrities into participating by juxtaposing Sudanese aid workers with actresses and beloved radio hosts.) Many blurbs are predictably fluffy. But a few stand out as clever, illuminating, and unexpected. In any event, Time 100—the first incarnation of which appeared in 1999—is by now a kind of canon unto itself, with its own recurring tropes. So to help orient you, we've created a taxonomy of Time 100 blurbs:
The Hot Take
In his Kanye West gloss this year, Elon Musk lets loose with a sharp, well-phrased insight on someone people've discussed to death. He quotes the West lyric, "We rappers is role models; we rap, we don't think," before noting, astutely: "But Kanye does think. Constantly. About everything." Huh.
See also: Emily Blunt on Amy Adams in 2014.
The Counterintuitive-And-Cool pairing
Common on activist Jimmy Lai. Jill Abramson on Emma Watson.* Kevin Spacey on Reed Hastings. Donatella Versace on Jet Li.
The Shout of Pure Enthusiasm Rooted in Personal Experience
Transgender teenager Jazz Jennings' love and respect for her hero, Laverne Cox, is heartwarming:
When Laverne and I met for the first time, it was honestly so exciting. She started screaming like a little girl, because she thought of me as a celebrity! She told me to keep up the good work, and how happy she was about my success. Now I want to do the same for her. Laverne, I love you and I'm so proud of you and you're definitely making a difference. Keep it up! (2015)
See also: Justin Timberlake's 2014 memory of working on his first solo album with Pharrell Williams: "I was 21 and ready to say something to the world. But I needed someone to help me translate exactly what that something was."
The Surprise Attack
Not all Time "100 Mosts" need to fawn. Sometimes they bite! Here's North Korean defector Kang Cheol Hwan, withering on the subject of Kim Jong Un:
The "progress" he has brought to the country is reflected by the construction of a massive water park that continues to operate despite power cuts to homes in Pyongyang. Supermarkets, Internet shopping, Italian restaurants, European beers and coffee shops are the luxuries he has made available for a tiny privileged class. The rest of the starving population is left neglected. (2015)
See also: Germaine Greer on Julian Assange:
Egregious to the last, he is convinced that his prosecution for rape in the Swedish courts was engineered by vengeful U.S. intelligence, unable to grasp the plain fact that his callous treatment made two women angry enough to seek redress. (2011)
The Sleeper "Wait, what?" Moment
From Kirsten Gillibrand's 2015 ode to Julianna Margulies:
When I met Julianna Margulies last year, it didn't take long to recognize a kindred spirit. It wasn't just that we quickly began finishing each other's sentences.
Kirsten Gillibrand and Julianna Margulies finish each other's sentences???
The Runaway Metaphor
This year, Oprah waxed inscrutable on Empire visionary Lee Daniels:
He knows how to rattle the nerves of the zeitgeist.
See also: Leslie Gelb on Condoleezza Rice in 2006, in which Gelb writes: "Could even Bismarck or Kissinger call down lightning from the mountaintop to tame those vipers?"
The Smarm Geyser
Carrie Underwood breaks the sap levees in her 2015 blurb about Audra McDonald:
Beautiful. Intelligent. Extraordinarily talented. These are just a few words that describe the incomparable Audra McDonald. She has acted on television and in movies, graced theater and concert stages and given a gift to countless fans with a voice that I can only describe as being blessed by God.
See also: Shailene Woodley on John Green in 2014, in which Woodley "would go so far as to call him a prophet."
The Press Release
Good work, Jessica Alba's assistant! You and Diane von Furstenberg's publicity team did a nice job getting in the relevant data points this year:
As an entrepreneur and philanthropist, Diane understands that changing the way women see themselves can also change the world. With the DVF Awards and the Diller–von Furstenberg Family Foundation, she acknowledges the extraordinary strength that women use to shape their communities for the better every day, everywhere across the globe. 
See also: Klaus Schwab on Christine Lagarde in 2010, and Sally Bedell Smith on Kate Middleton in 2013.
The Blurb-as-Performance-Art
How Tilda Swinton approached her 2015 gloss on Amy Schumer. She basically wrote a prose poem recasting Schumer as "the girl you knew at your fantasy school…with the quick, dangerous eyes"; then conjured up a wackadoo scene in which Schumer defends the reader from bullies. Her victory lap is an actual four-line poetic stanza.
Amy's got your back.
She's in your corner.
She's an honesty bomb.
And she's coming for you.
See also: Aziz Ansari on Amy Poehler in 2011.
*Correction, April 17, 2015: This post originally misspelled the last name of Jill Abramson.

---