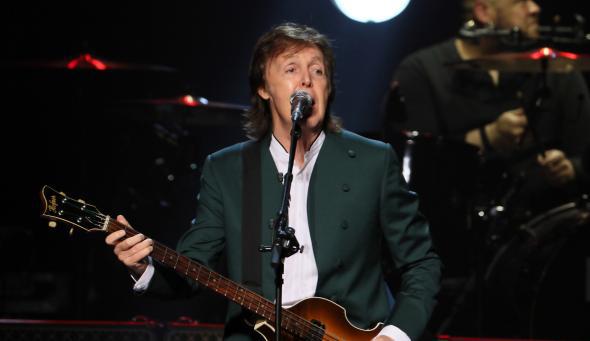 Well, this was a long time coming. Paul McCartney, who's currently touring Japan to make up for gigs he canceled last year, played Tokyo's Nippon Budokan on Tuesday, and midway through his set started into "Another Girl," the fifth track on Help!.
Seemingly ordinary stuff, except for the fact that McCartney's performance is the first time a Beatle has played the song live, whether as part of the band or as a solo musician. The moment had some sentimental value for Macca: He last played the Budokan in 1966, and told NME that "it was sensational and quite emotional remembering the first time and then experiencing this fantastic audience tonight … it was probably the best show we did in Japan."*
There's no official footage of the performance, but a few decent fan videos are circulating. Here's one that has good sound quality despite being filmed from pretty far off:

And here's another from a closer vantage point:
*Correction, April 29, 2015: This post originally suggested that the Beatles needed to dig deep into their back catalog while on tour. They stuck to set lists of around 12 to 13 of the same songs throughout their tours in the mid-'60s. The sentence has been removed. 
---