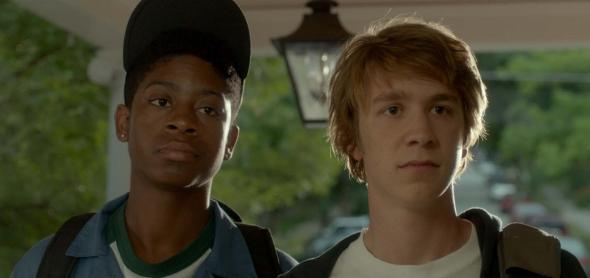 I missed out on Me and Earl and the Dying Girl at Sundance earlier this year, but it was impossible to escape the buzz. Following its premiere (where it received a standing ovation that reportedly lasted five minutes), it quickly attracted some of the highest bids in the history of the festival (it ultimately went to Fox Searchlight for an undisclosed amount), before walking away with both the Grand Jury Prize and the Audience Award.
From the looks of the first official trailer, it's easy to see what made audiences react so enthusiastically. With its indie-inflected soundtrack (that's Brian Eno's "The Big Ship" in the last minute), pastel-colored aesthetic, and abundance of symmetrical compositions and overhead shots, it screams "Wes Anderson." At the same time, it aims to tug at your tear ducts, with its Fault in Our Stars–esque young-teen-dying-of-cancer plotline. Consider its friendship focused around no-budget remakes of popular films, and you'll even find elements of Be Kind Rewind. Essentially, Me and Earl and the Dying Girl seems to have the kind of "something for everyone" appeal distributors look for.
As sentimental as the trailer seems at first, it does hint at a starker, more unsettling take on dealing with cancer, particularly in the eyes of teenagers. And Alfonso Gomez-Rejon, who's made a name for himself directing several episodes of Glee and American Horror Story, seems like a fitting choice to direct. Based on Jesse Andrews' debut novel of the same name (Andrews also wrote the screenplay), it stars relative newcomers Thomas Mann as Greg, Ronald Cyler II as Earl, and Olivia Cooke as the dying girl, Rachel. Nick Offerman, Molly Shannon, and Connie Britton round out the rest of the cast. It's due out in June, and you might as well start saving up your tissues now.
Read more of Slate's coverage of Sundance, including:
•    The Makers of Going Clear on the Evolution and the Future of Scientology
•    Shameik Moore on the Significance of Dope in the Wake of Trayvon Martin and Michael Brown
---