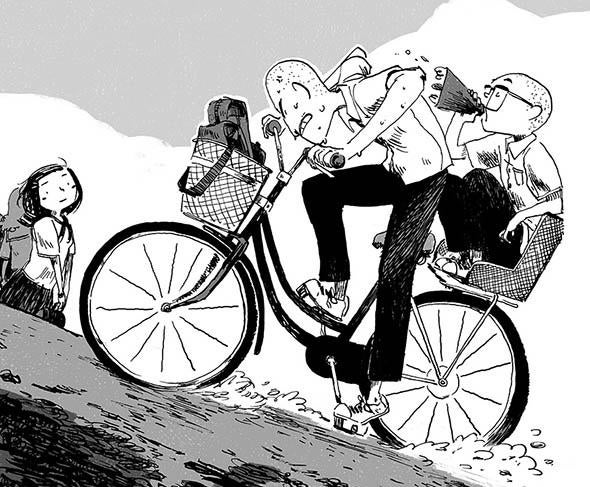 Years later, I still think about the limited-run comics adventure I Kill Giants, which debuted in 2008 from Image. The odd and fantastical story of Barbara Thorson, a misfit fifth-grader who sees fairies in her classroom, monsters in her attic, and giants all over her town, I Kill Giants was the brainchild of writer Joe Kelly, but it soared because of the manga-influenced artwork of cartoonist Ken Niimura. From epic action sequences to moments of intense internal conflict, Niimura's cartoons were loose, weird, and surprising, and they brought real emotion and energy to Barbara's tale.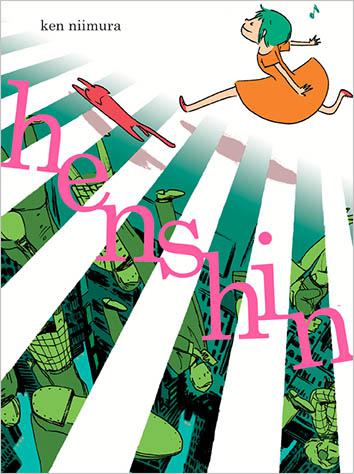 That's why I was so excited to read, this spring, a brand-new collection of short stories written and drawn by Niimura, Henshin. Laid out from right to left, manga-style, the stories in Henshin portray a delightful version of modern Japan in which action-movie characters live alongside elementary-school superheroes, and romantic-minded misfits search for love late at night. Interspersed with Niimura's fictional stories are charming autobiographical comics about cartooning frustration and cat poop. They're all drawn with the same unique and unmistakable spirit that I recall from I Kill Giants. We're really delighted that Ken Niimura has illustrated the April issue of the Slate Book Review.
—
Henshin by Ken Niimura. Image Comics.
See all the pieces in this month's Slate Book Review.
Sign up for the Slate Book Review monthly newsletter.
---