Chipotle announced on last week's earnings call that it has signed a deal with delivery startup Postmates to deliver its burritos, bowls, and tacos in 67 U.S. cities. Slate's preoccupation with Chipotle, and with burritos in general, has been well documented, so this news piqued our interest. A few staffers in our New York office decided to see if Chipotle, via Postmates, could dispatch burritos more efficiently than our usual burrito joint, Dos Toros.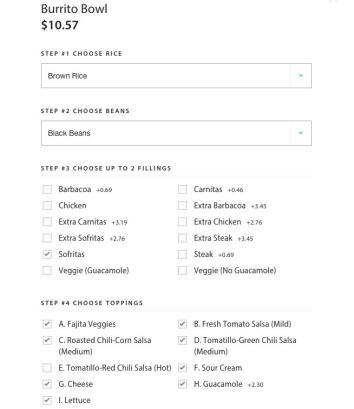 Two of my colleagues—let's call them Laura and Forrest, since those are their names—joined me in our test run of Chipostmates on Friday. I wanted a sofritas bowl, Forrest wanted a sofritas bowl with the sofritas on the side (à la When Harry Met Sally), and Laura wanted a steak bowl. I tried placing the order on Postmates' website, which is sleek and easy to use, with boxes to check for every possible ingredient one might want in one's bowl.
I had trouble modifying one of the orders in "shopping cart" mode, having noticed a mistake, but it was no big deal to delete it and re-add it correctly. I proceeded to my order summary, added a promo code I'd found on Coupons.com, and—in spite of two glaring "TBDs" in the "Service Fee" and "Delivery Fee" fields—decided to place the order.
I clicked "Get It Now" at 12:36 p.m. For the next two minutes, I waited as the Postmates robot attempted to place my order with a nearby delivery person. Like Uber drivers, Postmates couriers are independent contractors who receive assignments from the Postmates app. Eventually, the request expired and I got a new message saying, "All our couriers are busy. Please try again in a few minutes."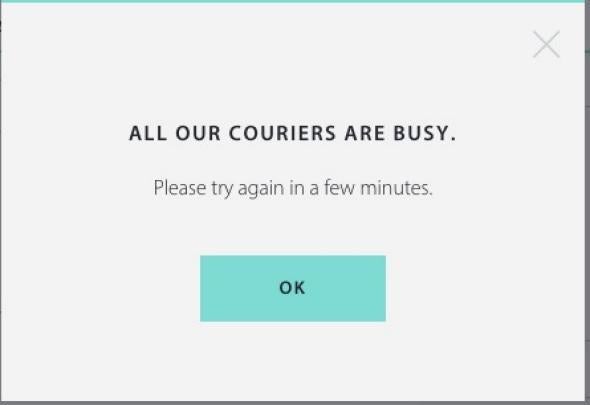 So I clicked "Get It Now" again. And then again. And again. And then three more times. Finally, on my seventh try, at 1:07 p.m., a courier accepted my order. His name was Randolph. According to the confirmation email, he would deliver our bowls within an hour. Laura, Forrest, and I were already very hungry.
I headed into a meeting around 1:30, my cellphone practically tethered to my wrist, my mind adrift. Where was Randolph? Why wasn't he calling? Had he gotten lost? Shouldn't I be getting some kind of email update? (My colleagues will tell you that I was not a particularly productive participant during the meeting.) Finally, at 2:30, I stumbled out of the conference room, dizzy with hunger, and found a brown, Chipotle-branded paper bag on my desk. Randolph had come and gone, without so much as a phone call or an email. (Slate's office manager had let him in and shown him my desk.)
One of our bowls had leaked all over the napkins at the bottom of the bag. Laura's, which was supposed to contain steak, contained no steak. Forrest's, which was supposed to have the sofritas on the side, had sofritas in the bowl. Mine was 100 percent accurate, if very cold. I scarfed it down with a complex blend of emotions: Gratitude, regret, and confusion about what had just gone down.
Once my blood sugar had leveled out, I decided to reach out to April Conyers, Postmates' director of communications, to try to figure out what had happened. Conyers immediately offered to refund the entire order, which was very kind but might have had something to do with the fact that I had identified myself as a journalist writing about problems I'd encountered while patronizing her company. I declined the offer—after all, the mistakes hadn't prevented us from eating the food that had been delivered.

Over the phone, Conyers explained that when consumers place a Chipotle order on the Postmates website or app, the order doesn't immediately go to Chipotle's kitchen (which is what happens when you place a takeout order on the Chipotle website). Instead, the Postmates order goes directly to your courier, who then goes to Chipotle, stands in line, and relays the details of your order to the Chipotle assembly line. Naturally, this protocol is not foolproof. "There's always human error," she said. "It's either on our side or on the restaurant's side. [With regards to] Chipotle, it's probably on our side when it comes to ordering, because … you do the walk-through of all of the different ingredients." However, Postmates is planning to work with Chipotle in the next few months to have each order sent into the restaurant's kitchen ahead of time to minimize mistakes.
Conyers also explained the difference between Postmates' delivery fee and its service fee, for which I was charged $6.75 and $2.88 respectively. The delivery fee reflects the distance between the pick-up and the drop-off locations, and can change depending on demand. Couriers take home 80 percent of each delivery fee. Thanks to Chipotle's agreement with Postmates, delivery fees for Chipotle orders are capped at $7.99, but couriers still earn 80 percent of what the delivery fee would have been without the cap. The service fee, which is 9 percent of the cost of each order, covers Postmates' overhead expenses. Users can also offer a tip to their couriers, and Conyers says most of them do. (I offered Randolph 10 percent, via the Postmates app, and I still don't know if it was too high, too low, or just right.)
So what should I have done, upon discovering that the steak was missing from my colleague's steak bowl? "Go to support—support@postmates.com—or the 800 number," said Conyers. "Either one of those channels is much better, because they can help you immediately, where the courier has probably already accepted their next job." Postmates customer support offers refunds, or service credits, depending on the gravity of the mistake.
And presumably, as Postmates deals with the influx of orders that come with being Chipotle's official delivery service, there will be lots of mistakes. Errors are bound to happen when there are hundreds of thousands of possible menu combinations. And so if you decide that it's worth maybe having to make repeated requests, waiting up to an hour, and paying service and delivery fees to have your Chipotle burrito delivered to your door, my advice is: Keep your order simple, and be flexible. If you absolutely must have your burrito fillings combined just so, you're probably better off placing your order in person.