This post originally appeared on Food52.
Every week—often with your help—Food52's Executive Editor Kristen Miglore is unearthing recipes that are nothing short of genius. Today: It's time to embrace burnt toast.
Toast soup—containing both toast and soup—ought to be the most primal of comfort foods, suitable to be fed to any ill person or baby. Not to mention the rest of us—grown, technically-well adults who've maybe had a long day. And, yes, toast soup is all that its name implies: soothing, restorative, uncomplicated. So what's it doing in a book called Bitter?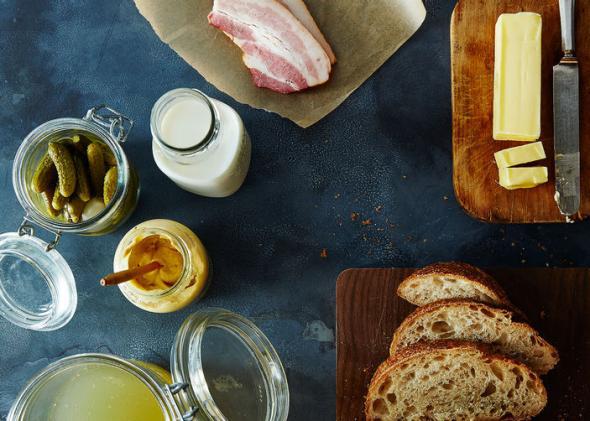 At first, the answer isn't clear. (It's not like it's called radicchio soup or lemon pith soup.) The bitter element here is the toast, which you burn intentionally. "Don't be afraid," the author Jennifer McLagan writes. "Toast that bread until it is burnt on the edges and very dark in the middle."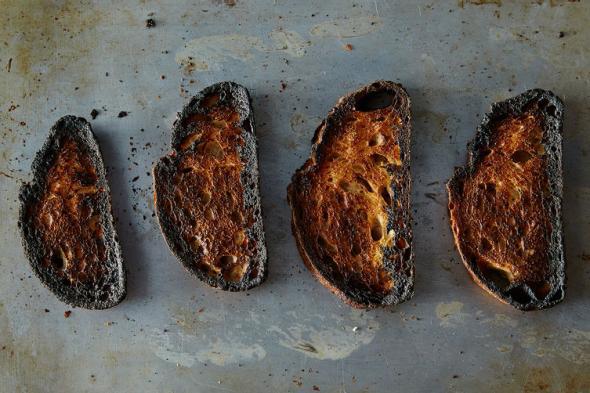 And she's right—if you don't burn the toast, the finished soup will lack depth. Mustard will run rampant and milk will wash the rest out, with nothing to pin it all in place. As Nicholas Day wrote in his review of the book on Slate, "If we cook without bitter, we cook with an impoverished palate; we eat food that has less character." Bar Tartine even advises putting burnt toast dust on roasted carrots, or anywhere else you'd like to add a little nuttiness and smoke.
More: If you like comfort-wrapped bitterness, try brussels sprout and chickpeas.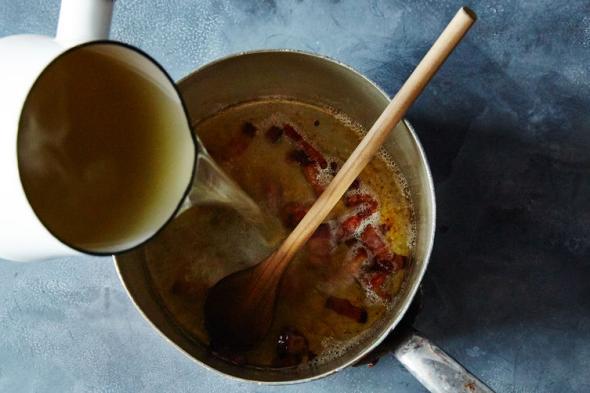 For toast soup, which McLagan adapted from L'Astrance restaurant in Paris, you'll first make an enriched broth out of bacon (a.k.a. let bacon sit in warm chicken stock for 20 minutes), then sop it up with burnt sourdough. After adding hot milk, Dijon, and vinegar from the jar of cornichons you forgot were in the fridge door, you blend all of it. Yes, even the bacon. Don't worry about it.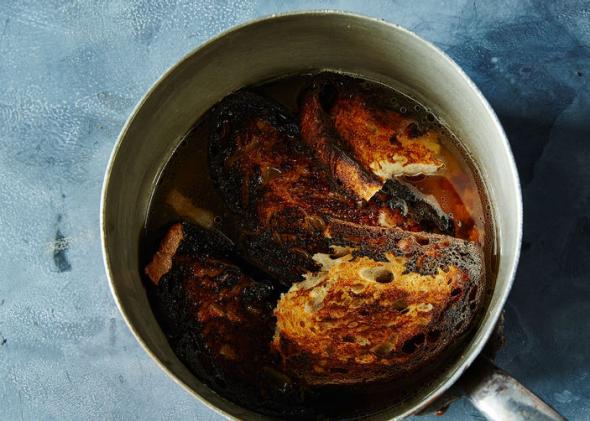 It's a soup out of almost nothing, and yet somehow, as written, the recipe will only work for people who eat meat, gluten, and dairy, and don't keep kosher. (The rest of you, please substitute at your own will.) It will look a bit like a full-bellied mushroom soup, but its taste—yeasty, earthy, tangy—is oddly reminiscent of a beer and cheese soup, without beer or cheese. I credit the bread, which also makes the broth thick and hearty, with delightful tiny bits of bacon and softened bread crust to bite down on as you go.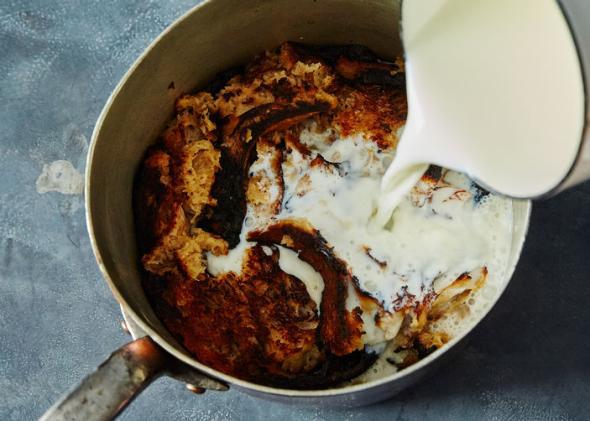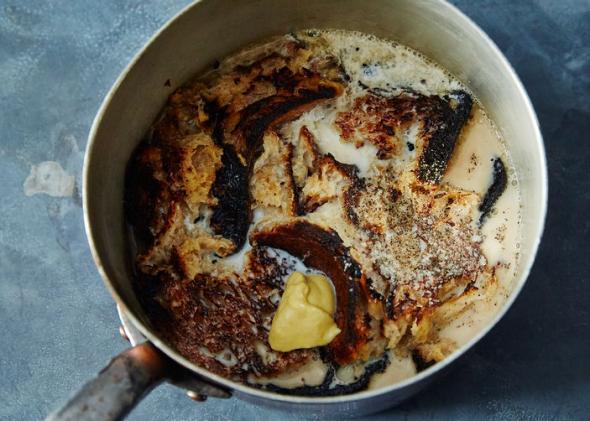 These ragtag ingredients balance each other gracefully, but you can do this anytime: Next time you make a bread soup—pappa al pomodoro, ribollita, salmorejo—consider toasting or even charring the bread first. The Maillard reaction isn't limited to steaks—browning just about anything will give it a more developed flavor.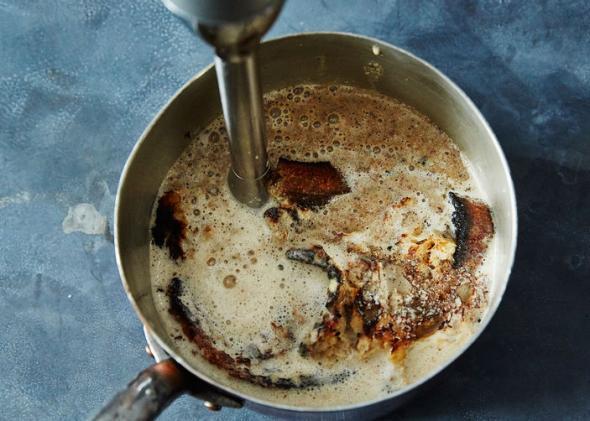 Should I have run this recipe, which we have been lovingly calling "brown sludge," in the more barren depths of winter? Maybe. But it will still comfort us until it gets hot enough that we want gazpacho instead. Once spring finally arrives in earnest, you may want to have your toast soup with a simple salad, rather than a platter of roast pork (or maybe not).
At any time of year, it would not be gilding the lily to serve with good bread on the side.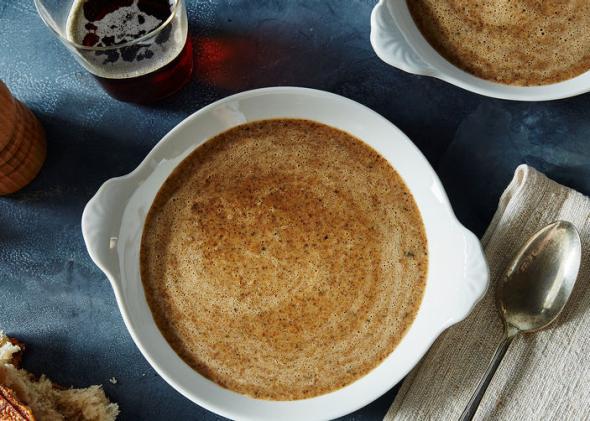 Adapted slightly from Bitter: A Taste of the World's Most Dangerous Flavor, with Recipes (Ten Speed Press, 2014).
Serves 4
1 3/4 ounces bacon (about 1 thick slice)
2 cups chicken or veal stock, preferably homemade
5 1/4 ounces sourdough bread, about three 1-inch slices
1 cup hot milk
1 tablespoon Dijon mustard
1 tablespoon vinegar from a jar of cornichons
Sea salt and freshly ground black pepper
1 1/2 ounces butter, cut into 6 pieces
See the full recipe (and save and print it) here.
Got a genius recipe to share —from a classic cookbook, an online source, or anywhere, really? Please send it my way (and tell me what's so smart about it) at kristen@food52.com. Thanks to Food52er hardlikearmour for this one!
The Genius Recipes cookbook is here! The book is a mix of greatest hits from the column and unpublished new favorites—all told, over 100 recipes that will change the way you think about cooking. You can order yours now.
More from Food52:
10 New Chicken Soups
The 13 Best Vegetable Soups
How to Eat Toast for Dinner
5 Amazing Avocado Toast Recipes
11 Weeknight Dinners You Can Make Without a Recipe