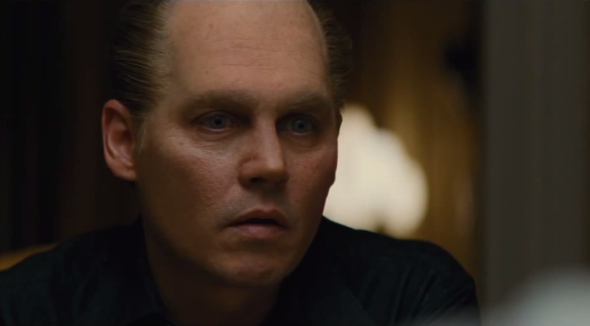 Nowadays, when most people think about Johnny Depp, their minds probably go immediately to wigs, colorful makeup, and very idiosyncratic performances. His last movie, Mortdecai, was a box office bomb earlier this year, continuing a recent downward spiral. It's safe to say that he's past-due for a McConaissance of his own, a series of roles that will return him to the glory of his earlier years when he was a critical darling and a regular Oscar contender.
Maybe Black Mass will be the movie that turns it all around? The first trailer for the crime drama, in which Depp plays notorious Boston gangster and convicted murderer Whitey Bulger, suggests that the actor's at least got the look down. The rapidly receding hairline, the steely blue eyes—for the first time in a long time, Depp seems to be employing elaborate hair and makeup for realism rather than fantasy, while still maintaining that unsettling manner he's used in roles like Edward Scissorhands. The voice isn't quite as on-point—Bulger, being from Boston, has a pretty heavy Bah-ston accent, and Depp seems to pull back a bit in this regard, but that might be better than going full Good Will Hunting.

As for the movie itself, there isn't much to go on here, though you will see a lot of mid to late 20th-century period costumes donned by Joel Edgerton and Kevin Bacon, and one very dapper mustache worn by Adam Scott. It will also conjure up images of every gangster film you've ever seen, as bodies are buried, wires are tapped, and Depp's Bulger delivers a thinly veiled threat to corrupt FBI agent John Morris (David Harbour). Directed by Scott Cooper (Crazy Heart), Black Mass also stars Benedict Cumberbatch, Sienna Miller, and Jesse Plemons. We'll see whether Depp can keep the Oscar buzz going when it comes out this September.
---