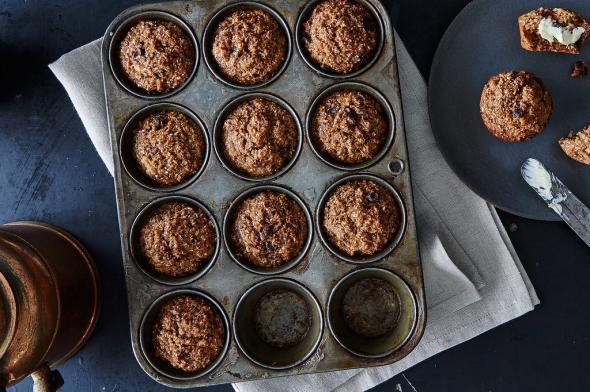 This post originally appeared on Food52.
Bran muffins have always been the Debbie Downer of breakfast. Even when they're not being categorically written off as dowdy and boring, someone is villainizing them as, essentially, liar health food.
This has been a lose-lose life for you, bran muffins, and we're about to make it all better.
Nancy Silverton might not seem to be a likely champion of bran—she's a chef beloved for her pizza crust and pastries, and I've celebrated her whipped cream in high-mounded bowlfuls.
But smart pastry chefs like Silverton, who are exposed constantly to the desserts that others only experience occasionally—and who know exactly what goes into them—are perhaps the most likely people to crave genuinely healthful ways of making sweets. (See also: Kim Boyce's Good to the Grain, Alice Medrich's Flavor Flours, Anita Shepherd of Anita's Yogurt.) They're also in the best position to do something about it.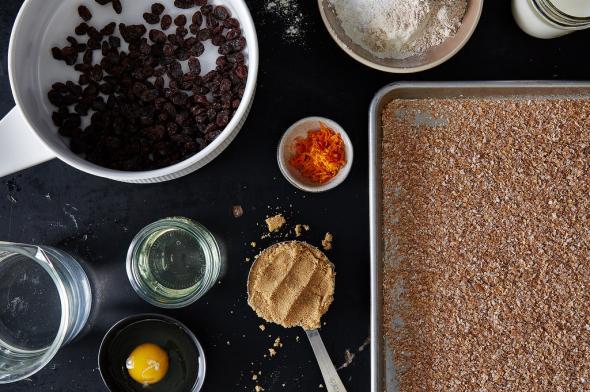 Silverton was uninspired by bran muffin recipes that called for processed bran cereals and lots of sugar. So she built a recipe based on unprocessed bran, which is pretty easy to find at health food stores and online. She toasts the bran briefly to develop the flavor, but otherwise stirs it straight in—so there really is no reason for using cereal, other than the fact that cereal marketers are good at their jobs.
To cut back on both some of the sugar and some of the fat, she also plumps raisins in simmering water, then purées them, which gives the muffins loads of moisture and a jammy sweetness that suits the earthy breakfast milieu well.
This is a muffin so flavorful and so squidgy that even I, a flagrant over-butterer, don't feel the need. But go ahead—sometimes I do it anyway.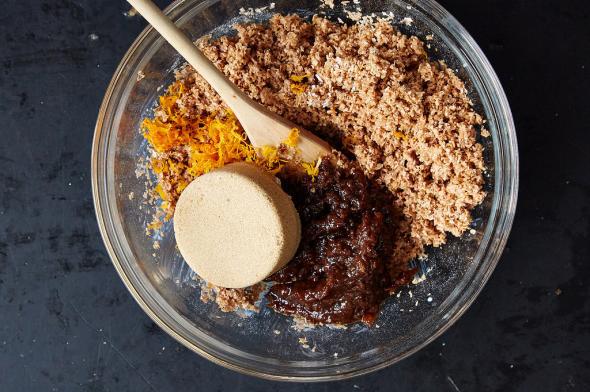 Nancy Silverton's Bran Muffins
Adapted slightly from Pastries From the La Brea Bakery
Makes 10 muffins (or 12 smaller ones)

2 cups unprocessed bran
1½ cups raisins, divided
1½ cups water, divided
½ cup buttermilk
1 teaspoon orange zest, finely chopped (about ⅓ of an orange)
½ cup light brown sugar, packed
½ cup vegetable oil
1 extra-large egg
1 extra-large egg white
½ cup unbleached all-purpose flour
¼ cup stone-ground whole wheat flour
1 teaspoon baking powder
1 teaspoon baking soda
½ teaspoon kosher salt
See the full recipe at Food52.
Got a genius recipe to share—from a classic cookbook, an online source, or anywhere, really? Please send it my way (and tell me what's so smart about it) at kristen@food52.com. Thanks to Food52's A Bushel & a Peck columnist Ali Stafford and David Lebovitz for this one!
More From Food52:
How to Make Perfect Muffins
13 Weekday Breakfast Recipes
How to Make Healthy Grab-and-Go Breakfasts
Your Favorite Easy Breakfasts for Guests
1 Box of Oats, 5 Breakfasts

---