In a brilliant marketing move, 20th Century Fox has released a series of stock photos starring the cast of the not-very-good-looking office comedy Unfinished Business. Stock photos, of course, are staged photos intended to illustrate abstract ideas that various media outlets might want to convey. They usually feature unknown, blandly good-looking models smiling, frowning, yelling, or otherwise conveying emotions as cartoonishly as possible. The Unfinished Business shoot was a chance for Vince Vaughn, Tom Wilkinson, and Dave Franco to put their hammiest acting to good use—let's examine their performances, starting with the best.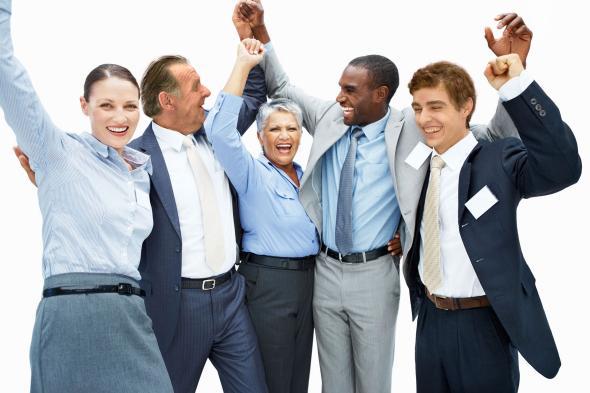 This is an A-plus recreation of a stock photo, and if I didn't recognize the Franco brother's weaselly face from 22 Jump Street, I would think it was real. Just as in any classic stock photo, the cast seems calculatedly diverse in terms of age, race, and gender; their clothing is color-coordinated; and their emotions are perfectly over the top—their body language and faces convey a joy more intense than most people experience during the happiest moments of their lives. Sure, the older woman's left hand appears to be a different color from the rest of her body, but this blatant Photoshopping just makes the photo seem even more like a real stock photo. If I were writing a story about teamwork, diversity in the workplace, or emotional contagion, I would absolutely license and download this stock photo.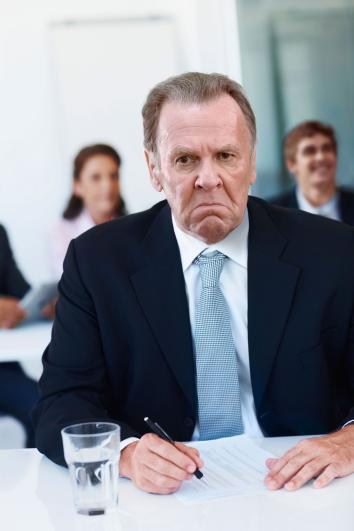 Though not nearly so eventful, this photo starring Tom Wilkinson writing on a piece of paper is almost as good. Wilkinson's emotion here is somewhat ambiguous: His mouth says "angry," but his eyes say "sad." But this means that the photo could work to illustrate any number of hot topics—the bleak prospects for older workers planning for retirement, the fact that wages haven't kept pace with productivity, the overwhelming white maleness in the upper rungs of most corporations. This picture would also work well atop an advice column answering a letter from someone dealing with a mean boss. The possibilities are myriad.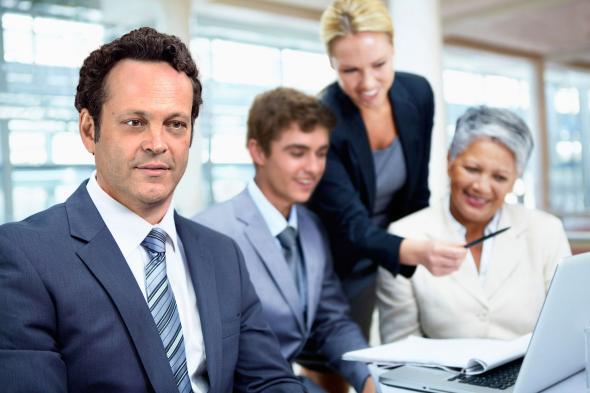 Unfortunately, the photos featuring Vince Vaughn, the ostensible star of Unfinished Business, are the worst of the batch. Take this one above, for instance. What is going on in this picture? Ask 10 people, and you'll probably get 10 answers. It's difficult to tell whether Vaughn's affect is positive or negative, whether he's indulging in a pleasant daydream or plotting to murder his colleagues. I never thought I'd say this about a Vince Vaughn performance, but Vince Vaughn's acting is far too nuanced. This picture could illustrate a number of concepts poorly—say, how to handle grief in the workplace, what to do when you don't get along with your coworkers, adult ADHD—but it cannot illustrate any concept well. More so than any of the others, the photos featuring Vaughn look like publicity stills. They appear to convey a specificity of character and scenario, and specificity of any kind is kryptonite for stock photos.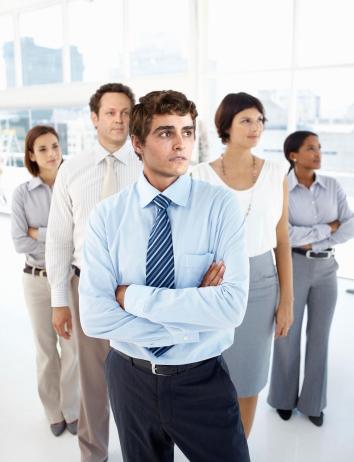 The rest of the Unfinished Business series (which you can see in full at Adweek) is fairly unremarkable, although I am impressed that the art director decided to shoot five people standing in a V-shape like a flock of geese not once but twice (see the top of this page and right). While the performance of the Franco brother in these photos, as in all the stock photos, should be commended, neither photo, in my opinion, lives up to this very serious classic of the genre.