Getting close to Kim Gordon, during her 30-year career in Sonic Youth, never felt easy. She was cool, in both an aesthetic sense and an emotional one. She seemed tough in general—tough to talk to, tough to decode. Onstage, Gordon was restrained, in sharp contrast to Thurston Moore's showy guitar theatrics. I still vividly remember a Sonic Youth concert I saw 20 years ago, and how Gordon stood completely still, firing her vocals at the audience in a staccato monotone, like she was tapping in Morse code. The one time I interviewed her, in 2004, she seemed icy and withdrawn.
"Onstage, people have told me, I'm opaque or mysterious or enigmatic or even cold," Gordon writes in her impressive and revealing new memoir, Girl in a Band. "But more than any of those things, I'm extremely shy and sensitive, as if I can feel all the emotions swirling around a room. And believe me when I say that once you push past my persona, there aren't any defenses there at all."  
Girl in a Band begins and ends with the slow-motion collapse of Gordon's 27-year marriage to Thurston Moore. In the first chapter, darkly titled "The End," chronicling Sonic Youth's final tour in 2011, she characterizes Moore as a big, overgrown kid. "Thurston double-slapped our bass guitarist Mark Ibold on the shoulder and loped across the stage," she writes about their final show. "I found that gesture so phony, so childish, such a fantasy."  In a damning chapter near the end of the book detailing Moore's infidelity, and the ugly fallout of their marriage, she writes that Moore "seemed lost in his own weather pattern, his own season," tapping madly on an iPhone, presumably to his new lover, and speaking awkwardly in a "big captain's voice."  Life with Moore, Gordon recounts, became "a pattern of lies, ultimatums, and phony promises, followed by e-mails and texts that almost felt designed to be stumbled on so as to force me to make a decision that he, Thurston, was too much of a coward to face."
When Gordon and Moore's split was publicly announced in 2011, the tectonic plates of rock and roll seemed to shift. To many fans, their separation felt wrong in some grand, cosmic sense. Gordon's discovery of the affair through text messages on Moore's iPhone seemed so impossibly sad and real and dull—an ordinary soap-opera breakup for an extraordinary couple, and an extraordinary band. The responses on social media were operatic, but Gordon's description is clinical, even brutal in its efficiency: "Marriage is a long conversation, someone once said, and maybe so is a rock band's life. A few minutes later, both were done."   
Gordon begins with this breakup story, but soon launches into a much more interesting narrative—the story of her own life. The early days of Sonic Youth, the longstanding friendships with artists like Dan Graham: These are stories she tells with a matter-of-fact air, dryly reeling out lines like "Once when Sonic Youth was on tour in Lawrence, Kansas, opening for R.E.M., Thurston and I paid a visit to William Burroughs. … That day, all I could think of was how much Burroughs reminded me of my dad."
Gordon's spare, unadorned writing style makes the occasional flourishes stand out. The descriptions of New York City, where she first moved in 1980, are poetic and memorable. "When I first drove down the Hudson Parkway it was bumpy and nerve-wracking, as if your car were being shot from a pinball machine down a slope into some rough forest," she writes. "It was all unknown and possibility." Writing about New York, as Gordon explains, isn't easy. "Not because memories intersect and overlap, because of course they do," she writes. "Not because incidents and times mix with others, because that happens too. Not because I didn't fall in love with New York, because even though I was lonely and poor, no place had ever made me feel more at home. It is because knowing what I know now, it's hard to write about a love story with a broken heart." It's easy to imagine to whom else she refers.
Gordon's characterizations of the other men in her life are much more fully formed than her representation of Moore. As a child growing up in Los Angeles, she looked up to her older brother Keller, but he teased her viciously, and fought with her constantly. His behavior became increasingly erratic: "At some point, while living in Malibu, my brother started dressing entirely in white," she remembers. "He grew a long beard and carried a Bible, not for any religious reason, he'd say if anyone asked, but more for its literary excellence. He began making up words, his own private alphabet and language."  
Keller, who was institutionalized, was "the person who more than anyone else in the world shaped who I was, and who I turned out to be," she writes. "He was, and still is, brilliant, manipulative, sadistic, arrogant, almost unbearably articulate. He's also mentally ill, a paranoid schizophrenic. And maybe because he was so incessantly verbal from the start, I turned into his opposite, his shadow—shy, sensitive, closed to the point where to overcome my own hypersensitivity, I had no choice but to turn fearless."
Her friendship with Kurt Cobain also went deep. She'll always remember his "smallness, his thinness, the frail appearance, like an old man, with those big, illuminated, innocent, childish, saucer-sized eyes like ringed planets," she writes. She has nothing but harsh words for Courtney Love, though. She depicts her as a manipulative narcissist with an underlying "disorder behind her tarantula L.A. glamour." She also has nothing nice to say about their short marriage, sighing: "It takes so little time to forge a life, or in this case, a brand."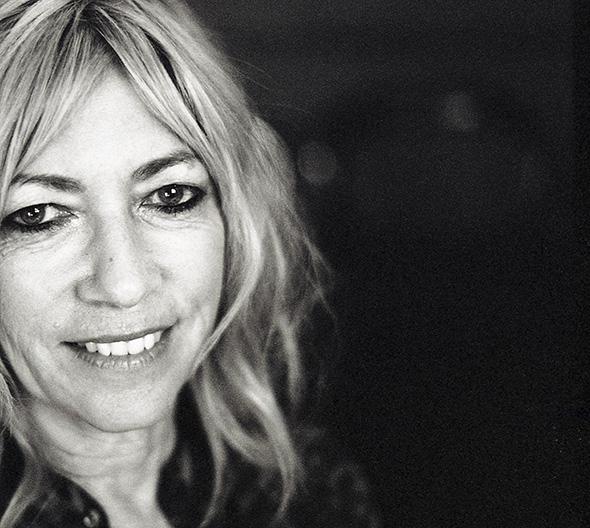 There is so much that Kim Gordon seems to loathe, or at least be annoyed by, in this book—Lana Del Rey, Moore's new partner, Billy Corgan, the shiny new New York—that you begin to wonder: What does Kim Gordon like? What does she love? Her descriptions of the people closest to her often seem cool and detached, and sometimes it's hard to grasp the passion underneath. A description of the life and tragic death of her longtime friend, the artist Mike Kelley, reads almost like a newspaper article. It's probably—quite understandably—too painful to express in words, but sometimes the book feels as though she wrote it in shorthand: a list of names with the sentences barely filled in, as if we should already know the story.
She discusses her long history in Sonic Youth mainly through describing various songs. "I could barely hold it together during our first song, 'Brave Men Run,'" she writes of Sonic Youth's uncomfortable final tour. "At one point my voice fell like it was scraping against its own bottom, and then the bottom fell out." The song, as many Sonic Youth fans know, is one of the high points of the group's 1985 album Bad Moon Rising; Gordon wrote the lyrics in a tenement apartment on Eldridge Street in New York, where she was living with Moore. To a reader familiar with Sonic Youth's music, the song, referencing the stoic women in Gordon's own family, feels charged with meaning, but this is one of many points in Girl in a Band where a non-fan could feel lost.
Girl in a Band feels appealingly rough around the edges; the rare window it offers into Gordon's life leaves the reader with a more nuanced perspective. There are reasons for the cool distance she injects between herself and the crowd. "The rock star thing has always felt dishonest to me—stylized and gestural, even goofy," she writes. "I've always felt uncomfortable giving people what they want or expect."  
—
Girl in a Band by Kim Gordon. Dey Street Books.
See all the pieces in this month's Slate Book Review.
Sign up for the Slate Book Review monthly newsletter.