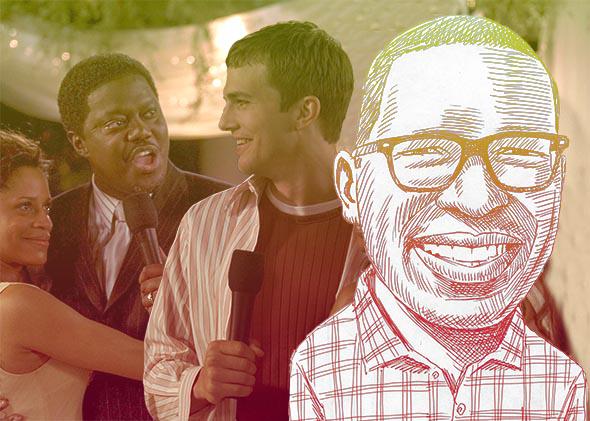 We remember plenty of movies from 10 years ago. Wedding Crashers. War of the Worlds. The 40-Year-Old Virgin. But what about the movies that ruled the box office for a week, then disappeared forever? In this weekly Slate Plus members-only column, What We Were Watching, Slate staff writer Jamelle Bouie will check back in with the top-grossing movie for this week 10 years ago. Does it hold up? Why was it a hit in the first place?
Steve Harvey runs an empire, D.L. Hughley has a radio show, and Cedric the Entertainer is … somewhere. But the late Bernie Mac still stands as the only real star to come out The Original Kings of Comedy. He was effortlessly funny and hugely charismatic—often, the best part of anything he was in. And from 2001 until his death, he was in everything.
On his Fox sitcom The Bernie Mac Show, he was America's cranky but lovable dad—a black Archie Bunker. In Bad Santa he was a sleazy security chief, and in the Chris Rock vehicle Head of State he was the only thing worth watching.
Which brings us to 2005's Guess Who, starring Bernie Mac, Ashton Kutcher, and a not-yet-action-star Zoe Saldana. It's Mac's second starring role (the first was in Ice Cube's directorial debut The Players Club) and it came at the peak of his success; the previous year, he had reprised his role in the hit Ocean's Twelve, the sequel to the mega-hit Ocean's Eleven. In those films Mac was part of an ensemble. Here he's the entire draw, and almost certainly the reason this movie hit the top of the charts in the last week of March 2005, earning $21 million in its opening weekend and eventually grossing more than $101 million at the box office on a reported budget of $35 million.
Guess Who, of course, was a remake of 1967's Guess Who's Coming to Dinner, the famous (if dated) look at a white woman (Katharine Houghton) who brings her black beau (Sidney Poitier) home to meet her parents (Spencer Tracy and Katharine Hepburn). The original Guess Who wasn't a perfect movie—Poitier's character was so ideal a person that it would have been ludicrous for the parents to reject him, black or not—but it was charming and genuinely daring for a time when interracial marriage was a live issue in American political life.
Fast-forward to 2005, and interracial marriage isn't an issue. Most Americans were pretty optimistic about "race relations" and—at the time the film was released—race wasn't even a particularly hot-button issue, culturally or politically. (Hurricane Katrina was still months away.) Given the context, the decision to remake Guess Who's Coming to Dinner doesn't make much sense.
But Guess Who isn't just a straight remake. The whole conceit of this version is to flip the script. Instead of a white woman bringing a black man to her white family, it is a black woman bringing a white man home to her family. Bernie Mac plays the patriarch of this well-to-do black household, and he leans hard as the irritated father, treating Ashton Kutcher—who plays the mostly innocuous, or at least not grating, boyfriend of Zoe Saldana—as if he were a closet Klansman.
What's next is 100 minutes of standard movie high jinks. Saldana is nervous about her potential future with a white husband, Kutcher is desperate for her father's approval, and Bernie Mac is merciless until he sees how much his daughter loves Kutcher and quickly has a change of heart. The whole thing is fine for what it is: a competent and formulaic comedy that's saved by Bernie Mac's incredible chemistry with everyone on screen. That's not an exaggeration. Whenever Mac is in a scene, the film lights up. When it's anyone else—and especially Kutcher and Saldana, who have little to no chemistry—it slumps. Sans Bernie Mac, the movie just falls apart.
As low-stakes comedy, Guess Who is fine. As social commentary, however, it doesn't make any sense. Black Americans are among the most racially egalitarian of all Americans. In 2004, when the movie was filmed, 87 percent of black Americans approved of black-white marriage. Which, given our history, makes sense. Interracial couples and biracial children were accepted in the black community long before they were among white Americans.
But the idea of an affluent, integrated black family bewildered by interracial dating is just ludicrous. If the theory of the Guess Who remake was that you could palette-swap the original and get a decent facsimile, the reality is that making that move gets you nothing but nonsense.
Was Guess Who's box office win a rightful triumph, a justified success, or should it have been a flop? A justified success. Bernie Mac is really funny! And for a movie like this, that's all you need.​
---