In 2012, Josh Levin and Jim Pagels ran down the most hate-worthy moments in Duke history. Their article is reprinted below.
Also in Slate, Alan Siegel writes about the most likable player from the great 1991–92 Duke team, Ron Burt.
Hating Duke is as much a rite of March as marking up your bracket with a red pen. Some years it's the Blue Devils' excessive self-regard that's loathsome. Other seasons it's the faux purity of Coach K's young charges that galls the most. And every year, without fail, there's something profoundly annoying about the Blue Devils' inability or unwillingness to maintain a dribble.
Lest you forget all the reasons why Duke is America's favorite sports villain, we've assembled a list of the 18 most hateable moments in modern Blue Devils history—one cringe-inducing item for every flop in a typical Duke game. Scroll through the roundup below and prepare to be irritated anew by Christian Laettner, the Cameron Crazies, and all of those tiny point guards.

1986: The birth of Duke fan narcissism and self-congratulation. In Mike Krzyzewski's sixth year as head coach, Duke students begin pitching tents in "Krzyzewskiville" before major games at Cameron Indoor Stadium. What started as a simple line has since devolved into a Byzantine three-color classification system with wait lists and line monitors. "At the end of Black Tenting, all remaining Black Tent groups will continue tenting under Blue Tenting rules," the Krzyzewskiville site explains. Oh, however much fun!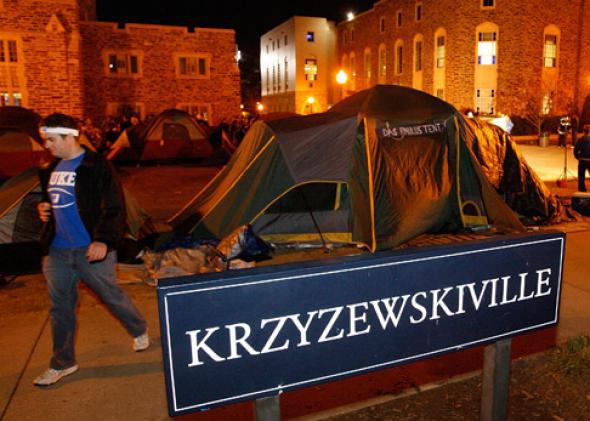 1990: After Duke's student newspaper gives the Blue Devils a B+ at the halfway point of the season, Coach K invites the paper's sports staff in for a get-together with the team and his assistant coaches. "I'm not looking for puff pieces or anything like that," Krzyzewski tells the student journalists, "but you're whacked out and you don't appreciate what the [bleep] is going on and it [bleeps] me off." Coach K later apologizes, but only for using profanity. "I haven't had too many experiences lately where what I said, the reason I said it, was misconstrued," he says to the New York Times. "I've got to be clearer." If only Krzyzewski knew that a B+ is above-average for the typical Duke player.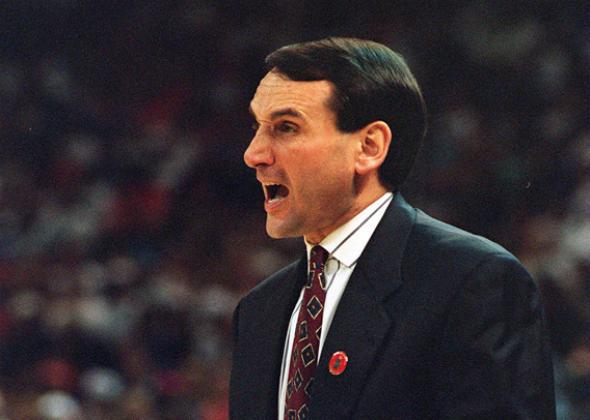 1992: Sports Illustrated features coach and occasional student-press critic Mike Krzyzewski in a profile headlined "Blue Angel." It gets worse from there. His "face looks as if someone has taken a diamond cutter's tools to a chunk of marble," Alexander Woolf writes. "It is abruptly faceted, with sharp lines of nose, cheekbones and hairline, and it looks as if it has come from a faraway country or time." Future North Carolina player Reggie Bullock would disagree with this aesthetic critique, noting in 2010 that the Duke coach "looks like a rat."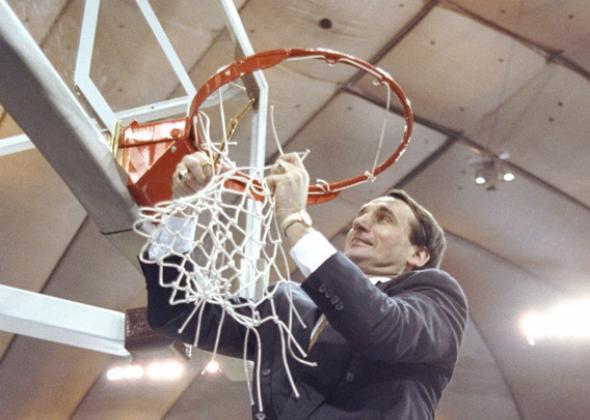 1992: All-American Christian Laettner has a perfect game in the Blue Devils' classic regional final against Kentucky: 10-10 from the floor, 10-10 from the free throw line, 1-1 on kicks to freshman Aminu Timberlake's chest. Instead of getting ejected for stomping on an opponent and strutting away from his prone body, the refs merely give Laettner a technical and let him play on, allowing him to hit his infamous game-winner. "That's just part of the game," Laettner says of the altercation after Duke's victory. His teammate Cherokee Parks' take: "It's such a Laettner move to do something like that."
1995: During an atypically lackluster season, Krzyzewski takes a leave of absence, citing back pain and exhaustion. Long-time assistant Pete Gaudet takes over in Coach K's stead, guiding the Blue Devils to a 2-14 ACC record. Contrary to the practice at other schools, these wins and losses stay on Gaudet's permanent record. "I think I should have been credited with all the losses," Coach K says in 2007. "It must be difficult for Mike Krzyzewski to influence the Duke athletic department," Deadspin's Emma Carmichael wrote earlier this season, "because the losses stayed where they were."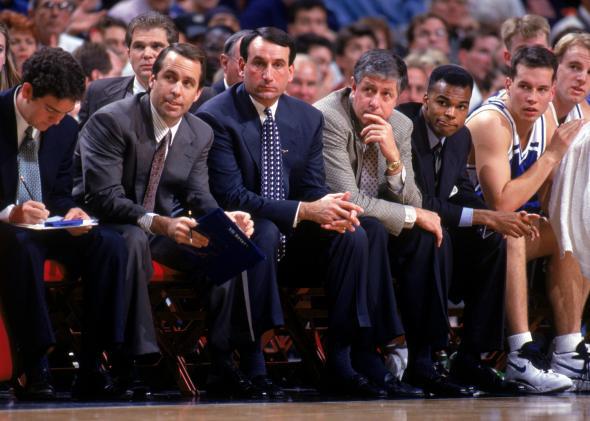 1999: Duke alum Jennifer Taylor emails star forward Elton Brand to "express my disgust for your decision to leave the Duke program after only two years," explaining to Brand that "he will not be considered part of the Duke family, in my mind as well as many others." Brand's response: "Thank you very much, for reminding me of the reason why I left Duke. … Never being considered a part of your posh group of yuppies really hurts me to the heart." In 2001, the then-Chicago Bull confirms the authenticity of the email exchange to Slam Magazine, cementing Taylor's position as the ultimate Cameron Crazy.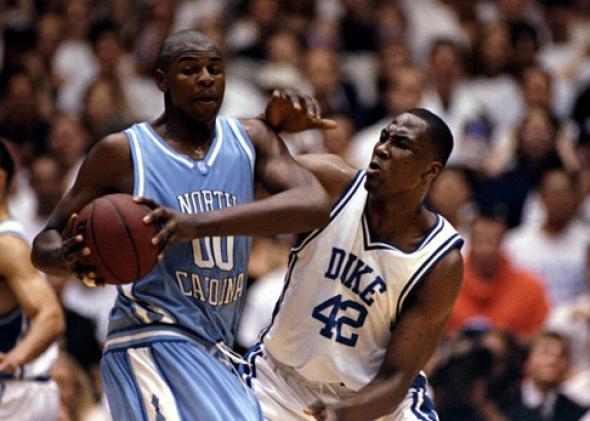 1999: The exodus of talent from Durham continues when guard William Avery leaves Duke after his sophomore season, breaking a promise to Krzyzewski to stay one more year. Coach K doesn't take it well. In an ESPN the Magazine piece, Curry Kirkpatrick writes that Krzyzewski told Avery's mother Terry Simonton, "Your son is going to fuck my program." For her part, Simonton claims that Krzyzewski "lied to us about where William would go in the draft." (Later, Simonton partly recants, saying that Coach K never cursed in front of her.)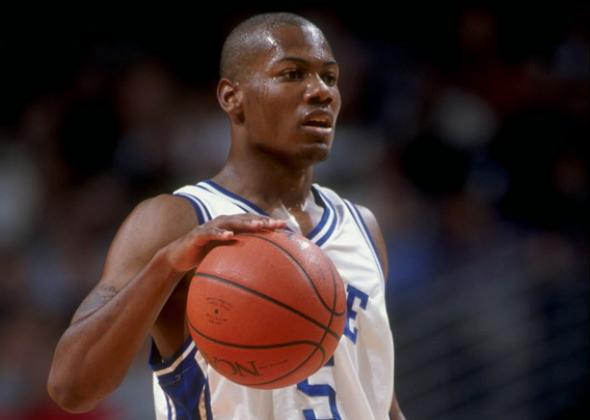 2000: After leaving Duke, former star Corey Maggette admits to accepting thousands of dollars from summer-league coach Myron Piggie. Though such payments would presumably have made Maggette ineligible, the NCAA declines to strip Duke of its Final Four appearance. The Blue Devils, in fact, aren't punished at all. This undoubtedly confuses John Calipari.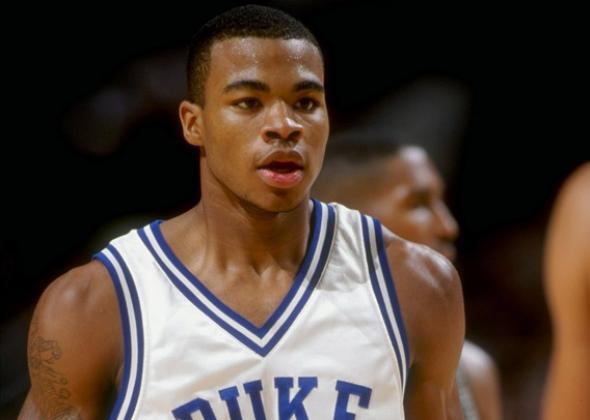 2001: Duke's run to the national title is abetted by typically Blue Devil-friendly officiating. In the NCAA final against Arizona, the refs refuse to blow the whistle on star Duke guard Jason Williams. (By the unofficial count of the Washington Times' Tom Knott, Williams ends the night with seven fouls.) "I think in any sport there's a tendency at times to blame something that shouldn't be blamed," Krzyzewski says, taking a brief break from working the refs to pooh-pooh the zebras' ardor for the Devils.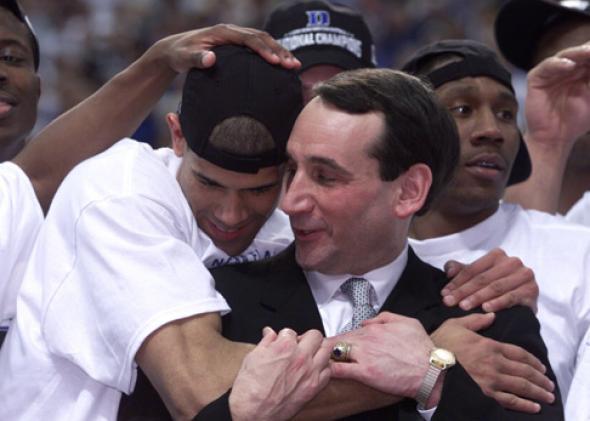 2003: An investigation by the New Orleans Times-Picayune reveals that point guard Chris Duhon's mother "landed a job working for a Duke booster; co-workers say the job opening was never posted and that Harper was overpaid and lacked qualifications." Again, Duke gets absolutely no heat from the NCAA.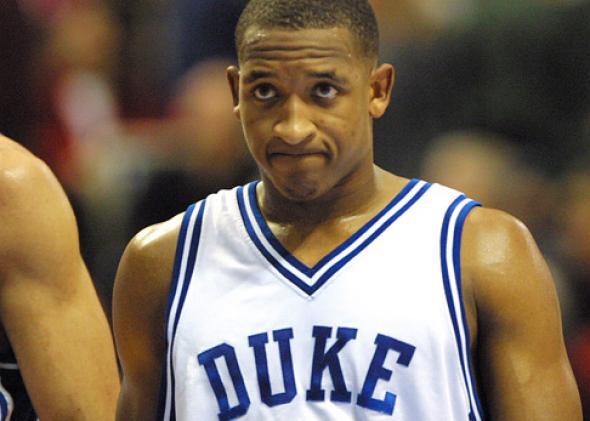 2003: Duke's Fuqua School of Business names its leadership and ethics center after Coach K. "I believe in leadership and doing things in an ethical manner," explains the noted moral philosopher.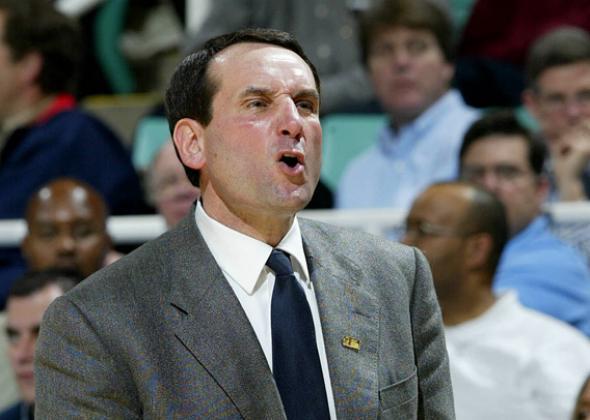 2004: Krzyzewski is heavily recruited to become the coach of the Los Angeles Lakers after the departure of Phil Jackson. After a week of very public soul searching, he ostentatiously turns down the Lakers' $40 million offer. "Duke has always taken up my whole heart," he says, ending the flamboyant flirtation. The brief affair comes three years after Krzyzewski had signed a "lifetime contract" with the school. "There are times where you just have to celebrate commitment, and this contract celebrates commitment," the coach said at the time. "You do it in marriage, and you do it in a number of things—I'm doing it with my university on this day."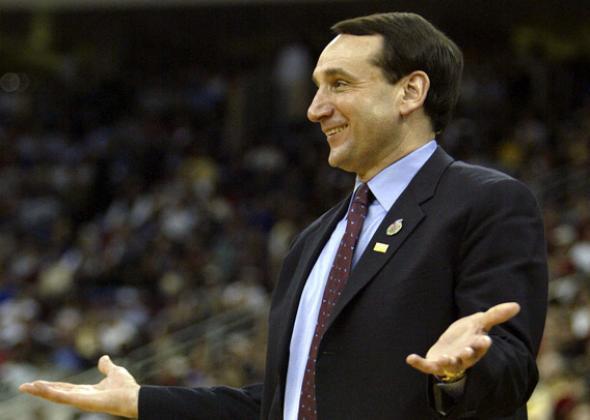 2005: "I look at myself as a leader who happens to coach basketball," Krzyzewski explains pompously in an American Express ad that airs roughly eight billion times during the NCAA Tournament. "I want you armed for life. I want you to develop as a player. I want you to develop as a student, and I want you to develop as a human being," he continues, declining to mention that the spot gives the Blue Devils an unfair recruiting advantage.

2006: Experimental poet and national player of the year J.J. Redick is arrested for drunken driving two weeks prior to the NBA draft. Redick's agent Arn Tellem says this run-in with the law shouldn't affect Redick's draft status. "Everyone knows his character and his body of work during his four years where he's been a great player and person at Duke," Tellem explains.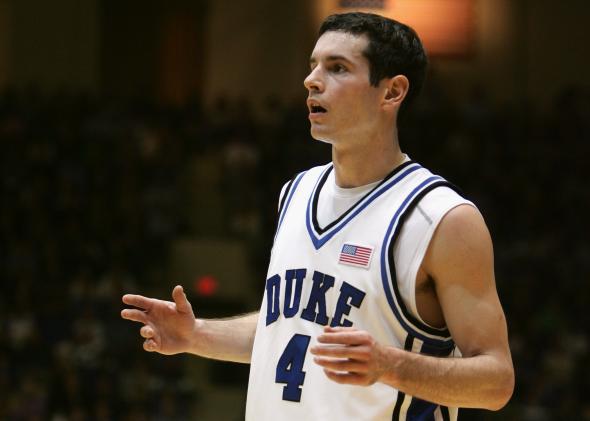 2007: Duke loses to VCU in the opening round of the NCAA Tournament on a last-second shot by Eric Maynor. Earlier in the game, runty Blue Devils point guard Greg Paulus performs the Duke-iest flop yet recorded, falling to the ground in a heap while a VCU ball handler sidesteps him completely. In 2009, SI.com awards Duke and Paulus with the ultimate honor: flop of the decade.

2009: NFL linebacker Shawne Merriman wins a nearly $4 million judgment against former Duke co-captains Laettner and Brian Davis, who apparently slept through Coach K's business ethics lectures. "During the past two years, they first denied they owed the money and then made false promises they would repay Shawne," Merriman's lawyer says after the ruling comes down in his client's favor. It's not just Merriman who's likely felt the urge to stomp on the Blue Devils' chests. Among the others who've sued Laettner and Davis: a Duke law professor, ex-Duke captain and assistant coach Johnny Dawkins, and Scottie Pippen.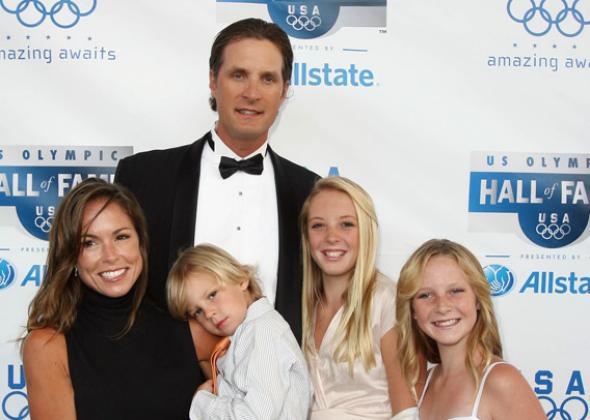 2010: After Duke's national title win against Butler, Nike publicly congratulated the Blue Devils with a full-page ad in Sports Illustrated. The simple slogan: "Order Has Been Restored." The nation's hatred, which understandably flagged a bit during the pitiful Paulus era, is instantly restored to Laettner-ian levels.
2012: The Duke Chronicle reports that the student section at Cameron Indoor has been reduced from 1,200 to 650 seats due to declining interest. "It does take a lot to go to K-Ville and wait outside, sometimes in the cold and in the rain, and then go into Cameron where you have to stand and jump up and down," co-head line monitor Ellie Garrett tells the paper. Though standing upright hasn't been a major problem for hominids since the Homo erectus era, let's still credit the student body for finally realizing what the rest of us have known for decades: Duke basketball is a gigantic annoyance.