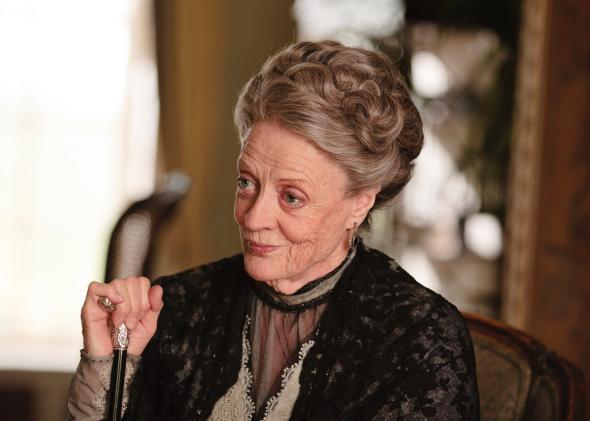 Today's news that Season 6 of Downton Abbey will be the last was hardly shocking. The show has long been a shadow of its early self. Creator Julian Fellowes exhausted all his original ideas a long time ago—by Season 2, Seth Stevenson, Dan Kois, and I were already complaining about plot lines we'd seen before. But there was comfort in all that repetition, and I'll be sad to wave goodbye.
Downton's greatest asset—its Englishness—was always also its biggest weakness. Americans fell for the show's charms because those English accents and the PBS imprimatur of quality made it seem like something more than a soap opera. Personally, I am an unashamed lover of soaps, but it seems pointless to deny that many Americans look down their noses at them. Soapy dramas like Scandal and Empire are in ascendance right now—and Downton played a large part in re-legitimizing the genre.
But while Britain has "real" soap operas—shows like EastEnders and Coronation Street, which run for decades, air multiple times per week, and dominate the prime-time ratings—most U.K. shows have short lives. Fawlty Towers famously aired only 12 episodes. With its eight- or nine-episode seasons, Downton Abbey simply couldn't hold on to its big-name talent, and the show was never the same once actors like Dan Stevens (Matthew Crawley), Jessica Brown Findlay (Lady Sybil), and Siobhan Finneran (O'Brien) started to depart. As with Glee, another show that just concluded after six seasons, none of the late-arriving characters ever caught on like the originals.
The end was foretold earlier this month when Dame Maggie Smith said of the show and of her character, the dowager countess: "I can't see how it could go on. I mean, I certainly can't keep going on. To my knowledge I must be 110 by now." Downton could never have survived the loss of Violet Crawley, and I'm glad it won't have to. PBS will air the final season starting in January 2016, so we can look forward to one more cycle of the dowager countess laying down some vintage burns, Lady Mary being horrible to Lady Edith, and the Earl of Grantham losing the family's fortune one last time.
---