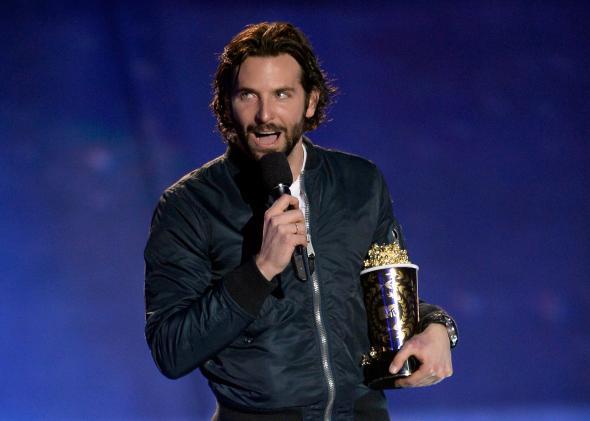 On April 12, the MTV Movie Awards will dole out a "golden popcorn" statuette for Best Shirtless Performance. There will be no acknowledgments for cinematography, writing, or directing. That is to say: These are not Serious Film Awards and don't pretend to be. But this year, I'd argue that the MTV Movie Awards somehow stumbled into a better lineup than the 2015 Oscars.
The list of MTV Movie Award nominees, announced yesterday, includes nods to Ellar Coltrane of Boyhood and David Oyelowo of Selma, both unforgettable performances that were overlooked by the Oscars. The academy famously shut out people of color from all 20 acting nominations this year. MTV's much longer list of acting nominees is pretty white, too, but it includes not just Oyelowo, but Chris Rock, Kevin Hart, Zoe Saldana, Rosario Dawson, and J. Lo. And there are plenty of new faces, too, including apparently real people named "Dylan O'Brien" and "Halston Sage." Oh, and Meryl Streep, too—it's still an awards ceremony, after all.
MTV doesn't pretend to cover the entire American film industry, but it takes a much more generous approach to comedies than the academy does, with multiple nominations this year for Guardians of the Galaxy and the solid, silly 22 Jump Street. Being MTV, they also have respect for teen entertainment, with The Fault in Our Stars and The Hunger Games: Mockingjay Part 1 both up for movie of the year. Scary movies, too: Actors in The Purge: Anarchy and Annabelle were nominated for Best Scared-as-Sh**T Performance. Even if you don't think those were great movies, which I do not, we can give MTV credit for variety, compared with the academy's slavish devotion to the kind of middlebrow dramas your parents are really excited to see when they come out on DVD.
And about that dull, dutiful Oscar-bait: MTV pretty much ignored it! The Imitation Game did not garner a single MTV nomination. Eddie Redmayne's Oscar-winning performance as Stephen Hawking received a nod only for Best On-Screen Transformation. Most brazen of all, Birdman—the Academy Award Best Picture-winning tale of an aging millionaire actor who must bravely refinance one of his homes in order to produce a bad Broadway play—didn't even receive a nomination for MTV's top award.

I'm betting that this year's host, Amy Schumer, is going to be funnier than Neil Patrick Harris, too. Poor Harris, stuck with a show that everyone watches and everyone hates, or at least love/hates. One of the perennial complaints about the Academy Awards is that the ceremony itself is far too long. By contrast, the MTV ceremony is a reliably raucous affair, and everyone in the audience seems to be having plain, tacky fun. There's a lesson in here for the Academy: If you're going to throw a fancy self-congratulatory awards ceremony that ignores much of the year's best work, you might as well be in on the joke yourself.
---