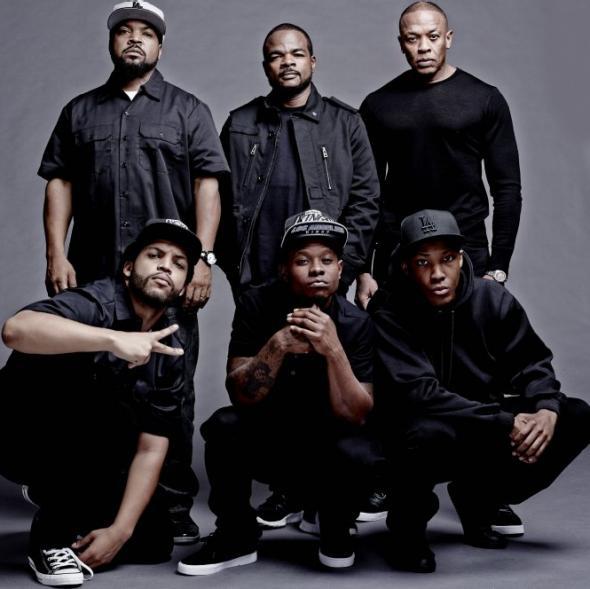 Late last year, unofficial footage of the trailer for the upcoming NWA biopic Straight Outta Compton—shot by a fan at an Ice Cube concert—made its way online. With the thumping energy of the song name-checked in the movie's title blasting in the background, images of Ice Cube (played by his son, O'Shea Jackson, Jr.), Dr. Dre (Corey Hawkins), Eazy-E (Jason Mitchell), MC Ren (Aldis Hodge), and DJ Yella (Neil Brown, Jr.) riding in fast cars, counting tons of cash, and surrounding themselves with oodles of scantily clad women played out like a fantasy. It looked almost like a trailer for Bad Boys, only with recognizable real-life characters.
Now the first official (and pretty NSFW) trailer has arrived, and the mood is much darker and more attuned to this cultural moment. The rap video-esque braggadocio and half-naked women are still there, but they're sandwiched in between explorations of the group's provocateur image and various political firestorms. Coming after a minute-long intro that finds the real Ice Cube and Dr. Dre—who have now seemingly reconciled after their long-standing feud—reminiscing as they cruise through Compton (there's even a cameo from Kendrick Lamar), the trailer soon settles on NWA's public battles with censorship against the backdrop of the Rodney King beating and growing tensions between police and black communities in the late '80s-early '90s.
Of course, it's impossible not to make the connections to Ferguson, Eric Garner, and so on, and it's an oddly pleasant surprise to find this movie rolling out in time to enter that debate. If Straight Outta Compton manages to really zero in on these tensions (instead of just focusing on the behind-the-scenes drama one usually finds in music biopics), this could prove to be a film as relevant to the discussion around police brutality as it is likely to be of interest to hip-hop heads. Directed by F. Gary Gray (Be Cool), the movie is set for release August 2015.
---