One of the most important shows in early television, it was NBC's first public color broadcast and one of the first shows aired nationally. Its 4 million fans included John Steinbeck, Thornton Wilder, Orson Welles, and Adlai Stevenson. Edward Albee based the protagonist of The Sandbox on one of its characters. Tallulah Bankhead was such a fan that she asked friends to keep notes on the episodes she missed while she was traveling. " 'Addicts,' " wrote one journalist, "is not too strong a word to use in speaking of the devotion generated among the followers."
And its stars were puppets.
Kukla, Fran and Ollie was a live television show that aired from 1947–1957 on NBC and ABC. Today, it's best remembered as a children's show, but in its heyday it inspired astonishing ardor in adult viewers. Certainly, children's shows have continued to appeal to adult audiences, who generally appreciate them for the kinds of qualities that Emily Nussbaum recently praised in a review of Adventure Time: They are "childlike, nonlinear, poetic, and just outside all the categories that the world considers serious."
Kukla, Fran and Ollie shares those characteristics, but its history also complicates how we understand such attachments today. Perhaps mass media haven't only been a mirror for what New York Times critic A.O. Scott recently described as the "slow unwinding" of a once-dominant patriarchal authority. It would be easy to suggest that Kukla, Fran and Ollie challenges Scott's argument that this is a 21st-century phenomenon simply by extending it: Adulthood as we know it was as "conceptually untenable" in 1947 as it is in 2015.
The show's conceit was simple: It revolved around the antics of the Kuklapolitan Players, a theater company made up of one human—radio actress and vocalist Fran Allison—and a dozen puppets, all of which were animated by the show's creator, Burr Tillstrom. The puppets talked and danced and sang on a small stage while Allison stood in front of it and talked and danced and sang with them.
The plots usually involved planning for the company's upcoming performances. They staged re-enactments of The Mikado and Shakespeare's plays, historical pageants, and an original presentation of St. George and the Dragon, which they performed with Arthur Fiedler and the Boston Pops. (Ollie, a dragon puppet, had a starring role.) One of the show's running gags was that Ollie was always quite eager to stage a puppet show—they themselves, of course, were not part of a puppet show—and occasionally convinced everyone to try using marionettes. It was quirky—mostly improvised, in fact—charming, and unlike most everything else on television, then and now. Even as other shows contributed to the creation of the formulas that still dominate the industry, Kukla, Fran and Ollie avoided them entirely.
Chicago puppeteer Burr Tillstrom got his start in high school theater; in 1935, he left the University of Chicago after one semester in order to join a puppet theater company run by the city's parks department and funded by the Works Progress Administration. Originally titled Junior Jamboree, the show debuted on WBKB in October 1947, broadcast at 4 p.m. to Chicago's 3,000 television sets, most of which were in taverns and saloons.
From the beginning, the show was wildly popular with both children and adults, especially as more and more consumers bought televisions. Just six months after its debut, station directors estimated that more than 60 percent of Chicago's 20,000 television sets were tuned to Kukla, Fran and Ollie each day, and the audience was evenly split between children and adults. In 1949, NBC picked the show up for nightly carriage in a prime-time slot. Nielsen reported that by 1952, the show reached 1.5 million homes each night, for a total of 4 million viewers.
In 1951, NBC trimmed the show from a half hour to 15 minutes, and a national storm of protest erupted, a story that dominated headlines for days, even weeks. The network received 2,000 letters of protest in the span of two or three days. The New York Times, whose television critic Jack Gould devoted multiple columns to the crisis, likewise received hundreds of letters. "Some of a television viewer's best friends are having a stormy winter," Gould wrote, "at the hands of the busy little vice presidents who can't leave well enough alone."
It's hard to explain what Kukla, Fran and Ollie was like. It was gentle and funny; you could often hear the crew chuckling at the jokes, a charming real-life laugh track. Because the show was shot with one stationary camera, Allison alternated between turning her head to chat with the puppets and then, while listening to them, turning back to the camera with a pleasant, somewhat blank expression. The pace was slow and shaggy, with long pauses that would today be edited out.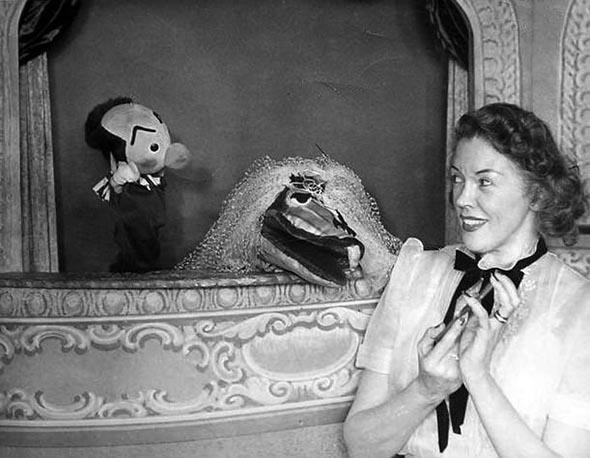 It was also astonishingly smart. Kukla, Fran and Ollie wasn't just something that adults wouldn't mind watching: It was clearly engaged with the adult world. "Don't think this is a show just for kids," Television Forecast told potential viewers in 1949—"no one we know thinks that way." When Life magazine published a famous two-page chart classifying "everyday tastes from high-brow to low-brow" in 1949, Kukla and Ollie dragged the magazine onstage and the three stars discussed where their puppet colleagues fit in. This was typical for a show so sophisticated that New Yorker television critic Philip Hamburger said that he couldn't "cope": The show, he wrote, operated "on so high an intellectual level that my ear loses contact with my brain."  
Unlike more formulaic children's shows, Kukla, Fran and Ollie was responsive to the world around it. Tillstrom, Allison, and the show's producer and music director would meet daily to roughly outline the week's plots and run through some songs, but everything else was ad-libbed. Thus, the day Hamburger's column appeared, a magazine writer later reported, it became fodder for the show:
Kukla lugged "The New Yorker'"up on the stage, and he and Ollie read the piece together. They quietly agreed that Hamburger had a perfect right to his own opinion, managing in the process to get across the idea that it was just possible that he wasn't very bright. That program ended with a wrestling match; Ollie had suggested that Hamburger might like that kind of entertainment better.
Audiences, too, cared about them passionately. At its height, the show received 10,000 letters a day, many addressed specifically to Kukla or Ollie. Sometimes they apologized for preferring one character over another. Viewers also sent in hundreds of gifts: an ermine cape for Buelah Witch, handmade wooden dentures for Ollie, necklaces and bracelets for Allison, and, for Kukla, 40 hand-knitted nose cozies, 79 potatoes that resembled him, and, when he blew his nose on the stage curtain, 250 handkerchiefs.*
When ABC canceled the show in 1957, viewers again responded passionately. Many threatened to throw their television sets out the windows. (These letters, in addition to reams of other fan mail, have been preserved in the Burr Tillstrom Collection and Archives at the Chicago History Museum.) But viewers' hyperbolic expressions of outrage were accompanied by a profound sense of loss. "Since they have been off the air," wrote one viewer, "life has seemed to lose some of its sweetness and charm. We always took our trays into the living room and listened to the Kuklapolitans … I simply cannot get used to their absence." Echoed another, "Your going off made me cry. You're all real and precious to me."
Today, we watch television not as curious viewers dipping into a creative and experimental new form of entertainment, but as audiences conditioned by genres, formulas, and network mandates. Without these limitations, Kukla, Fran and Ollie created a new, gentle intimacy with its audience, one shaped by routine but not bound by formula, in which it was always possible to be delighted or moved. Perhaps it's less that it's strange for adults to feel strongly about children's television and more that we've coded such qualities as childlike, that genres have become rigid enough that shows like Adventure Time are one of the few places we can expect to be charmed.
Or maybe more than charmed: Adulthood's not over, but it's still lonely and exhausting sometimes. Among the most poignant letters Burr Tillstrom received in 1957 was one from a middle-aged woman. "After my husband died a year ago," she wrote, "you were really friends. Because you came, I did not need to eat dinner alone … I could count on you to be as understanding of me and my loneliness as you are of each other's problems and those of the other Kuklapolitans." We've long accepted the notion that television isolates us from one another, that it hurts social and communal bonds. But Kukla, Fran and Ollie suggests that this other possibility—that it might foster warmth, connection, and even community—has also been there all along.
*Correction, Feb. 17, 2015: This article originally misspelled the name of the character Buelah Witch. (Return.)