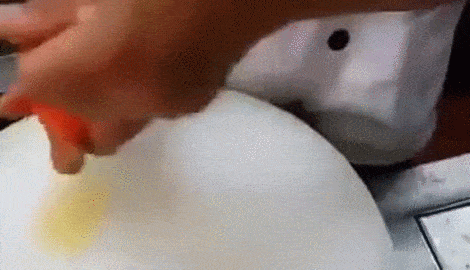 This week's viral cooking video—appearing on sites as wide-ranging as Gizmodo, Grub Street, and the Irish Examiner—shows a chef turning a carrot into a net. It will definitely make you think Whoa, dude—or as the OC Weekly put it, "I Don't Know What Happened to This Carrot, But It Was Magical." It also made us ask ourselves a question none of these posts were answering, which is "Why would you want to turn a carrot into a net?"
The answer—as well as detailed step-by-step instructions for making one—can be found in chef Francis T. Lynch's 1987 cookbook Garnishing: A Feast for Your Eyes. I found this cookbook via the website Yuckylicious, which "seeks to showcase examples of … awful cookbooks as well as recipes from decent vintage and classic cookbooks for dishes we no longer eat." I object to Yuckylicious' characterization of Garnishing as an awful cookbook—as the following passages amply prove, it is an awesome cookbook.
According to Garnishing, it's necessary to soak each carrot in salt water for at least eight hours before transforming it into a net, and each net will last a week (assuming you're not planning to eat it). The uses of a "Carrot Fishing Net," as Lynch calls it, are:
To accent a seafood platter or to drape over a presentation of a whole fish. The nets look attractive when trailed off deck of a Daikon sailboat and, as described below, can be hung like a hammock between green pepper palm trees.
Now, I realize these sentences raise more questions than they answer. First things first: A "Daikon sailboat" is, as you might guess, a miniature sailboat carved out of a daikon radish. You can see a picture of such a sailboat by clicking "Look Inside" on Garnishing's Amazon page and typing in the search term "sailboat"—it's worth it. The purpose of a daikon sailboat is, according to Lynch, "As a table decoration for parties having a nautical theme or for parties that feature seafood."
A "green pepper palm tree," similarly, can be used "As a table accent for a luau or a party with a seaside or tropical theme." If you're having trouble envisioning a green pepper palm tree, here is a picture. Know that the "leaves" are made of green pepper, the trunks are made of carrot, and the ground is made of the end of a pineapple. 
I have not read the whole book, but based on these online samples, I feel confident recommending Garnishing as a resource for your next nautical-themed party. Just be careful with your knives, please—carrot hammocks, green pepper palm trees, and daikon sailboats may look impressive, but they're not worth a trip to the emergency room.
---